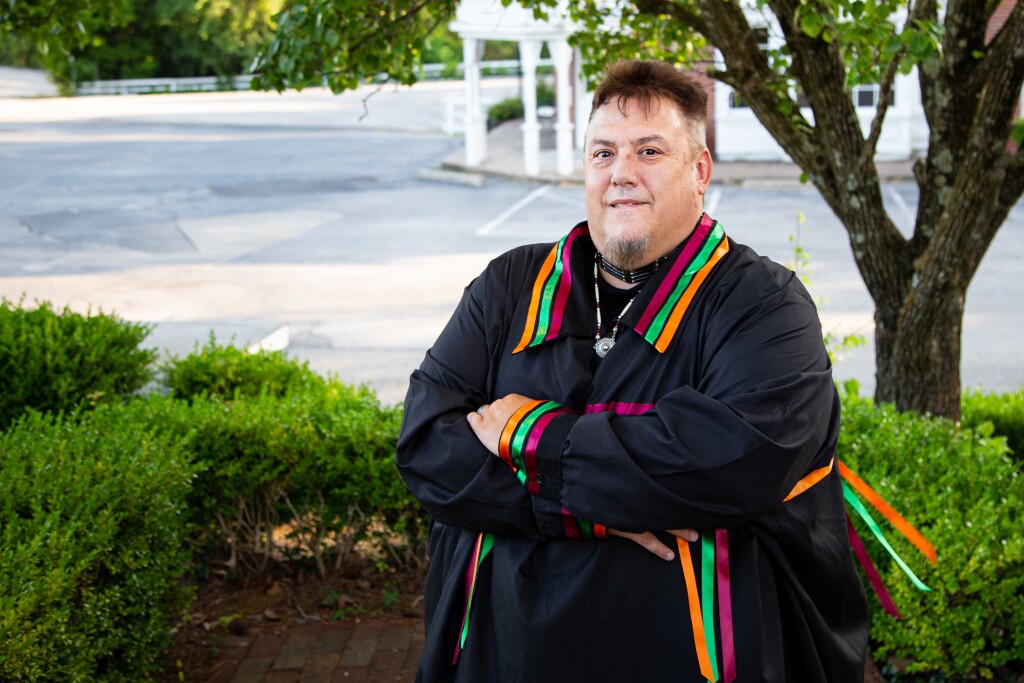 By Emily Christensen | Photos by Melody Dollarhide and The Fortress (1992)
In 1989, Jay Kelley '93 left his home in Oaks, Okla., to study history and play baseball at Wartburg. As a member of the Cherokee Nation with a strong tie to the land from which he came, he was ready to explore the rest of the country but always felt the internal pull that would eventually lead him back to his home state.
"I didn't actually become a minority until I stepped foot on campus at Wartburg," Kelley said. "I was very naïve about race back then. I didn't realize that there were such stark differences between how the white culture and Native culture and Black culture were viewed."
Though he experienced some incidents of overt racism, Kelley also learned how he could help change the narrative through education. During his time on campus, international students were introduced during Opening Convocation and encouraged to say "Hello, my name is …" in their language. Though Kelley wasn't from another country, Native Americans do have dual citizenship, and he was invited to address his classmates in Cherokee. In addition to sharing his personal experiences, Kelley was excited to be on campus when Wilma Mankiller, the first female principal chief of the Cherokee Nation, spoke on campus. In the classroom, Kelley enjoyed classes like Dr. Terry Lindell's Historiography, the study of historical writing.
"Dr. Lindell was good at helping us understand how history is taught. History is written by the dominant culture. Our American knowledge of the Cold War, it's from an American perspective, not the Russian Communist perspective," Kelley said. "I specifically remember when Dr. Lindell gave us timelines of events in World War II that led to the creation of the Soviet Bloc. The first was an American timeline and the other was from the Soviet perspective. They were so different in how the information was presented. And I think we know now that this country doesn't traditionally have a good track record when dealing with anyone who isn't Northern European."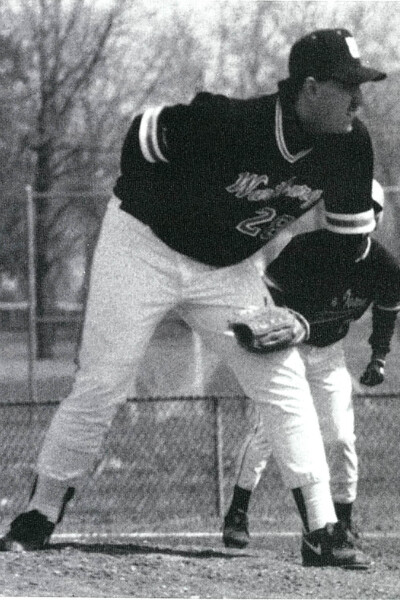 A prime example, Kelley said, was the Tulsa Race Massacre. As a student in the Tulsa public schools, he had a teacher who marched with Dr. Martin Luther King Jr. In the classroom, she taught them about the 1921 attack on a prosperous Black neighborhood in Tulsa even though it wasn't mentioned in their history books, though Kelley said it was later added.
As a history teacher on the Standing Rock Reservation in North Dakota; in Osceola, Mo., and Riceville, Iowa; and at Oaks Mission High School, Kelley was able to bring that same kind of truth to his students.
"Being Cherokee, we are very aware of our history and our culture, but not everyone takes advantage of that," he said. "White America has never known what to do with natives. They knew the land belonged to the tribes, and they found a way to justify the taking of those lands. Whenever I teach about native history, I tell my students the truth about how the different tribes were treated. They wanted us to go away, but we weren't going anywhere. We persevered and still have our culture."
Now, Kelley worries that the nation is at a turning point in the teaching of history. And while he thinks American schools should teach the entirety of the nation's history, he understands the difficulties in doing so when history classes are usually crammed into one hour (at most) a day and cover a vast expanse of time. However, Kelley also believes teaching history through the lens of today's values is irresponsible.
"Slavery was wrong. Segregation was wrong. Japanese internment was wrong. Certainly, all the actions taken by the United States government towards the tribes were wrong: broken treaties, removal, tactical and biological warfare, assimilation, termination, and relocation, among other actions, including all-out genocide," he said. "When I teach history, I tie in everything to give a full perspective of this country; we've had our bumps and bruises, but I want my students to know the only restrictions on their success should be the ones they place on themselves."
Like the Blacks of the Greenwood neighborhood in Tulsa who prospered, when left to their own devices, Kelley said the Cherokee Nation has been "allowed to thrive." Cherokee people were moved around the country and taken away from their livelihoods; in 1934 the Indian Reorganization Act was passed to decrease federal control on American Indian affairs and allow for the re-creation of tribal governments, though relocation programs continued for years to come as part of the Bureau of Indian Affairs' relocation policy, which promised families jobs in metropolitan areas. Their autonomy grew in 1975 with the Indian Self-Determination and Education Assistance Act, and today, the Cherokee Nation, the largest Native American tribal government in the U.S. with 385,000 citizens, owns and operates Cherokee Nation Businesses, which boasted revenues topping $1.1 billion in 2019 and employs more than 7,500 people in 26 countries, all 50 states, and two U.S. territories.
And Kelley is finally back home among them.
After bouncing around for several years, he returned to Oklahoma and the Oaks Indian Mission, where he spent some of his formative years. The family of Kelley's father had been "relocated" by the federal government to Compton, Calif. When his father returned to Oklahoma alone, he was sent to Oaks, an ELCA social ministry that cared for and educated abused, abandoned, or neglected Native American children. Later, his mother and father worked at the school and Kelley attended classes. As an adult, Kelley was on staff at the school for nearly three years before being called to serve the Cherokee Nation of Oklahoma. As a family advocate, Kelley works to reduce student truancies and improve relationships between Cherokee families and the schools.
"I'm thrilled to be home serving my own people. It's a very common Native characteristic to not venture far from home. I did, as did my sister, who is an assistant professor at the University of Texas. My experiences … have given me a wealth of knowledge I can share in my vocation working in the Cherokee Nation," Kelley said. "We are proud as Cherokee people. Most of us are educated, employed, and thriving. We can have more. It is my hope that my efforts can help lift up more people to success."