By Emily Christensen | Submitted Photos
Antonio Hitchcock '98 may have laughed the day his on-campus student employment supervisor told him he would get two educations while at Wartburg. The first would come in the classroom where Hitchcock was studying social work. The second one would come behind the scenes, where Hitchcock would learn about HVAC, how to strip and wax floors, how to care for turf fields, and how to manage facilities for a multitude of events.
"He couldn't even remember my name. He always called me Antone," Hitchcock said. "But I coupled everything I learned from him with my business experience, and realized that I had found my niche."
After more than 15 years as the director of athletics and facilities at Detroit's Allen Academy, in 2015 Hitchcock opened Integrated Operations Services LLC, a full-service education facility operations management company that provides custodial, security, facility assessment, consulting, after-school program management, and faculty and staff training services for K-12 schools, colleges, and universities. Since the first year, when Hitchcock's team landed a $1.7 million contract, the business has continued to grow its services and its territory, now serving institutions in Florida, Ohio, and Indiana in addition to Michigan.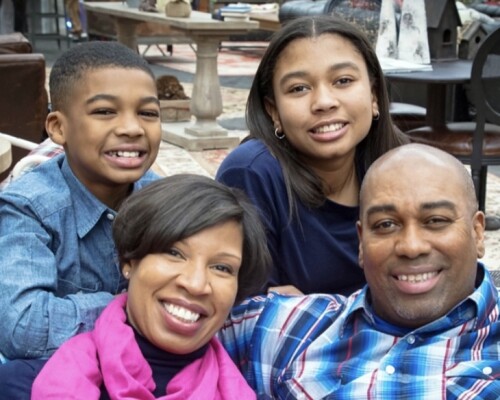 Remembering his social work background and years playing and coaching basketball, Hitchcock's business also partners with local nonprofits that help his community and the people living in it, including sponsoring youth basketball camps and adopting families in need during the holidays.
It's a far cry from where Dr. Susan Vallem '66, his Wartburg social work professor, thought he would be 20-plus years after graduation, but it's right where Hitchcock knows he is needed the most.
"Susan always said she saw me as some big social policy person. She saw me working in D.C., because of my personality, I think," he said. "But, I knew I needed to be back in Detroit. A lot of people with situations like mine feel a responsibility to go back to their community and do good for a while."
Hitchcock, who grew up in one of the roughest neighborhoods in Detroit, remembers the story his friend told him about his hometown prior to the 1960s, when Black people weren't allowed to live in the suburbs. Doctors lived next to janitors and lawyers next to line workers. The Black community supported each other. But when well-to-do Blacks were given the opportunity to leave, most took it, and took their support for the Black community with them.
Though Hitchcock, his wife, Jamii, and their three kids (Gabrielle, Jemal, and Mason) no longer live in the inner city, he spends plenty of time in the old neighborhood visiting family and friends and finding ways to re-invest in the community that raised him.
"Me and several family members have formed a coalition to help others start businesses in the neighborhood and hire local labor to staff them," he said. "We have a responsibility, even if we don't live there, to help them gain access to the resources they need to bring themselves out of poverty."
For Hitchcock, that meant accepting an invitation from Head Coach Howard Gauthier to play basketball at Wartburg. It also meant accepting help from his on-campus mentors, like Jamie Hightower, then director of financial aid, and Assistant Athletic Director Marcus Newsom. It meant making friends with "farm boys," like his roommate Matt Sherriff '99, who hailed from the small town of Sheffield, Iowa.
"Matt's family 'adopted' me. I spent so many weekends on the farm feeding the horses. If I couldn't make it home for a holiday, I knew I always had a place to lay my head and a place that felt like home with Marcus and Jamie," he said. "In the fast-paced environment I came from, making it to school every day was a challenge. At Wartburg, if I had the slightest issue, there were all these people there to help. They truly cared for my overall well-being.
"If I didn't have my experiences at Wartburg, I wouldn't be where I am now. I was just a JuCo transfer from the inner city. Wartburg likely saved my life."