By Emily Christensen | Submitted Photos
Inclusively inviting and intentionally recognizing." These five words, first shared with Rocio Ayard Ochoa '08 by Dr. Jason Woods, who worked in the Wartburg Admissions Office while she was a student, now guide her in both her personal and professional life.
Born in Mexico, Ochoa moved to the United States when she was just 2 years old. She was the first in her family to graduate from high school, and with financial help from Wartburg's McElroy Scholarship, she also was the first to graduate from college.
"At Wartburg, I got a beautiful experience through the lens of a first-generation student," she said. "I still have plenty of great relationships with faculty and staff who are there and some who have retired. A fierce student advocate was Krystal Madlock, who displayed great kindness and empathy for every student she supported."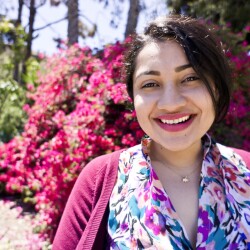 As a student, Ochoa worked with Madlock, director of multicultural student services, on diversity issues and founded the student organization Mosaico Latino. She used those experiences as a starting point for her professional résumé, which includes stops at Cornell College as the assistant director for intercultural life and two years as a cultural ambassador for the Education Office of the Embasy of Spain while earning a master's degree in estudios Latinoamericanos: cultura y gestión at the University of Granada. After returning stateside she served in student engagement roles at Ashford University and the University of Nevada, Reno. Today, she is the director of the Multicultural Center at Western Illinois University.
Since the killing of George Floyd in Minneapolis on May 25, an estimated 21 million people around the world have participated in protests, and later riots, decrying police brutality and the killing of black men and women by officers of the law. Ochoa said these events "created a sense of urgency for a lot of people to do a double take."
"These are pressing matters that need to be addressed at many levels. We have been doing the work in multicultural affairs, but now we seem to have the ability to have more open conversations about coming to terms with the polarization that exists in this country," she said. "We always knew it existed, but now it is a more shared experience."
At Western Illinois, where about 20 percent of all students are Black and another 12 percent are Hispanic/Latino, this has meant creating sometimes uncomfortable "Brave Spaces," where students, faculty, and staff can be vulnerable to understand each other.
"We can't ensure these spaces are safe spaces, because we can't guarantee that people won't be uncomfortable, but that is the point," she said. "Our end goal is that these opportunities will help make positive changes on our campus and in the community."
The WIU Multicultural Center also is home to the Casa Latina Cultural Center, LGBT*QA Resource Center, Women's Center, and Gwendolyn Brooks Cultural Center, which provides support services for Black-American, African-American, and Native-African students while honoring the contributions of people from the African diaspora.
In addition to her work with diversity issues on the Wartburg campus, Ochoa, who graduated with a degree in sociology, also gained experiences that she still relies on today through her study abroad opportunities. As a sophomore, she traveled to Brazil with the late Dr. Peter Nash, professor emeritus and the former Franklin I. and Irene Saemann Endowed Chair in World Communities.
"That course really set the tone for the rest of my study abroad opportunities. It taught us to get to know a country and the people through the lens of someone who was a visitor. We learned the role we played in bringing our knowledge to the communities we visited, but more importantly receiving knowledge," she said. "It also was in that class that I started to learn more about social justice; it really expanded my world view. For me it was so exciting to connect what we were learning in the classroom and then be able to see it in practice and observe how it makes sense."
She later traveled to Paris for an intense month of language and cultural education and then spent a "life-changing" term in Rome.
"This was when I decided what I wanted to do with my life. I knew I wanted to contribute to the learning of others. I had already had a lot of experiences working in admissions and as a resident assistant, and I realized there was a field out there that is student affairs," she said.
In addition to her experiences with Nash, Ochoa also gained a deeper understanding of social justice and diversity, equity, and inclusion work under the tutelage of former community sociology professor Dr. Kathy Kremer.
"That was when I realized it was very easy to relay these messages to others and that I had the ability to get them very excited about this work and why it is very important to understand each other and to work with each other even if there might be some intercultural differences," she said. "Student affairs lets me help create those spaces where people can understand each other. Because of the diversity of the students I work with every day, it's like I am doing the work that I did while I was studying abroad, learning about others' experiences and sharing mine, only in a domestic setting."