Wartburg College junior Brittany Strause was one of 290 students from across the U.S. selected by Campus Compact to be among its 2020-21 cohort of Newman Civic Fellows.
Strause, a social work major from Plano, Ill., has served as the volunteer coordinator for the Department of Social Work's Holiday Shoppe, a program that provides Christmas gifts for hundreds of Bremer County children, for the last two years and was herself a volunteer with the program as a freshman.
"This experience strengthened my idea of what it means to help those in your community in a way that you don't have to be high up in leadership or a millionaire to do," Strause said. "You can just be a college student who wants to help."
She also is an Orientation Staff Leader and serves on the Student Senate Diversity Committee, an opportunity that has helped her learn more about the college's American multicultural and international students."Hearing them out about experiences they have that I don't go through has helped me find ways to incorporate my desire for advocacy into helping them," she said.
Helping others is nothing new for Strause, though. As a young teenager she volunteered at Hesed House, the second-largest homeless shelter in Illinois, in the clothing closet. As a Wartburg student, she did a summer internship through AmeriCorps with the shelter. As a high school senior, Strause was on the receiving end of some much-needed help. When her biological father died, a counselor saw her through the difficult time and showed her how she may be able to use her experience to help others.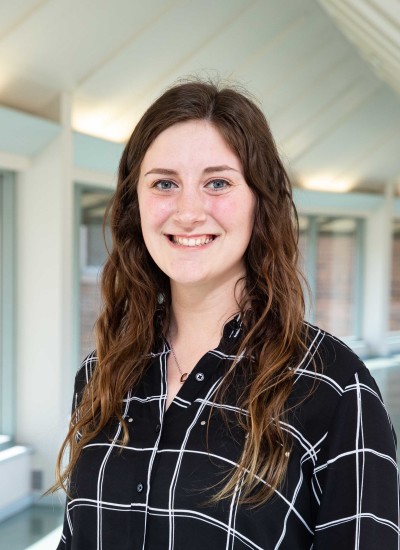 She still has time to decide her plans after graduation, but she's already starting to identify her career interests.
"I know I want to do more micro work, helping families or individuals or small communities, rather than macro work. I know policy is super important, but just not something I have the confidence yet to do," she said. "I also recently sparked an interest in hospital social work, but also think that mental health and substance abuse are really important, as well. I'm looking at grad schools now, but there are just so many avenues to explore."
The Newman Civic Fellowship, named for Campus Compact co-founder Frank Newman, is a one-year experience emphasizing personal, professional and civic growth for students who have demonstrated a capacity for leadership and an investment in solving public problems. Through the fellowship, Campus Compact provides a variety of learning and networking opportunities, including a national conference of Newman Civic Fellows in partnership with the Edward M. Kennedy Institute for the United States Senate. The fellowship also provides fellows with access to apply for exclusive scholarship and post-graduate opportunities.
"We are proud to recognize each of these extraordinary student leaders and thrilled to have the opportunity to engage with them," said Andrew Seligsohn, Campus Compact president. "The stories of this year's Newman Civic Fellows make clear that they are committed to finding solutions to pressing problems in their communities and beyond. That is what Campus Compact is about, and it's what our country and our world desperately need."
The Newman Civic Fellowship is supported by the KPMG Foundation and Newman's Own Foundation.