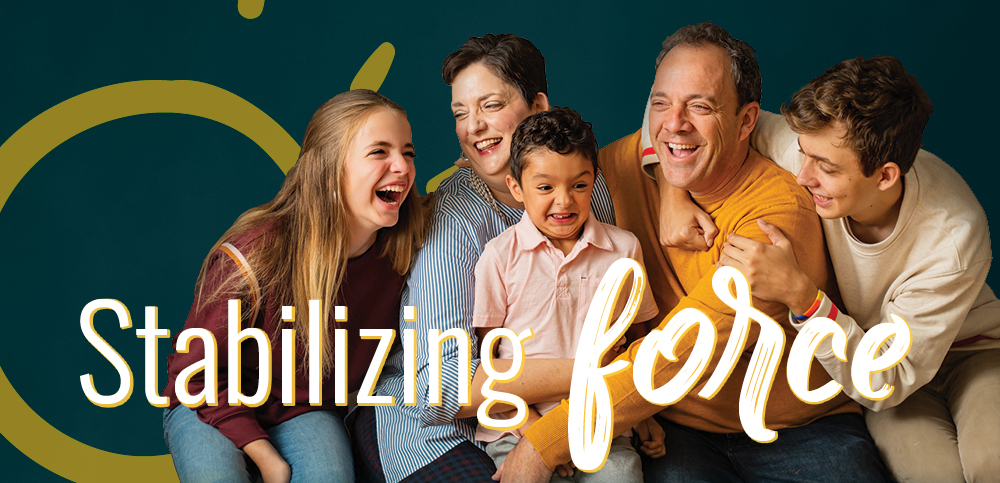 Only three hours separated the culmination of the foster care certification process and the call asking Brian '93 and Renee Benzel '93 Bernhard if they would temporarily accept a 28-day-old baby boy into their home. Two years later the little boy, Andy, became an official Bernhard. Shortly thereafter, armed with the knowledge from their own experiences and a desire to help others walking a similar path, the couple launched Foster Source, a nonprofit that works to make life easier for families by providing foster parents with the physical supplies and emotional nourishment they need to continue offering a safe space for children to land.
"We were already doing a lot of this work informally through our own networks, so this seemed like a good next step," Renee said.
Early in the Bernhards' fostering journey, the couple found a small group of other area foster parents they could speak freely with and who understood the unique challenges that come with fostering. The families, children included, would meet in the Bernhards' home where they could laugh, cry, and share recommendations for things like therapists, low-cost or free supplies, and dentists who accepted Medicaid.
"After that meeting, we always felt more nourished than we did attending our county-sanctioned support group, so we approached the county and asked if they would give us the same continuing education credit for our informal support group that they gave for attending their groups," Renee said. "They said 'yes,' and through that we just slowly started helping people find the resources they needed."
Their commitment to the cause was recognized in 2015 when they were named the Adams County Foster Parents of the Year. In 2016, they closed their home to new foster children — it was hard on their children to see other young people come and go — and launched Foster Source. For two years Renee operated the nonprofit out of their guest bedroom. More recently they rented space (for $10 per year) in the Adams County Human Services Building. This building has been perfect for them because while children are meeting with their biological parents, the foster parent(s) can wander down the hall, chat with Renee or the other volunteers, pick up supplies, and if it's a really bad day, leave with a Starbucks gift card to give them a boost for the afternoon.
Larger events, like support groups and trainings, are usually held in area churches — the nonprofit serves all of Colorado — but unlike many county-sponsored events, Foster Source always provides free child care, which means that both foster parents can attend.
"Parents need these hours. They are required to do 20 hours of continuing education each year, but there are so few child care or respite options for foster parents that we would often attend the trainings alone," Renee said. "One of us would come home and feel nourished and ready to tackle the next week while the other is sitting in their secondary trauma."
These also are priceless opportunities for the foster children to connect with others who are walking the same path. Children who are struggling can see others in similar situations enjoying the moment, and it gives them hope that happiness is possible for them, too.
"There is something special about getting up on a Saturday morning and watching those foster parents come in with their kids. It's a feeling that this is the right thing and exactly what we are supposed to be doing," said Brian, who is a senior practice group manager working on immigration issues for Ogeltree Deakins, one of the largest labor and employment law firms in the world. "How blessed are we that we can do this? This work is truly my calling."
Foster Source is also a resource for foster parents who need additional or replacement items in their home. Throughout the year, the organization collects extra diapers, strollers, car seats, and other essentials. When they don't have what is needed, the volunteers will take to their social networks to find it, whether that means hunting down a new mattress or a bunk bed frame.
Sometimes, they even collect cash to help offset the cost of replacing flooring that has been urinated on — a common coping mechanism for some older trauma victims. Renee said these kinds of resources aren't available from the county and are often the reason that a family will close their home to additional foster children.
"For us, the difference is we have been in their shoes. We know how hard it is. When someone thanks us, we always say that they are the ones doing the hard work. We just want to walk with them to make it a little easier," she said. "So far we have about 92 percent of our parents saying they will foster longer because of Foster Source, and that is what we need. Every time a child moves, that is another trauma. Our goal is to recruit, retain, and nourish our foster parents."
Trachte had two other items on his wish list for the new chapel: "Having lived in Germany for two years, I also wanted bells. I want students, when they leave campus, to miss the bells." The second was a baptismal font with running water. "We're an ecumenical community, and the one thing we all have, whether we're Baptists, Methodists, Lutherans, Presbyterians, we all share a baptism. We were baptized into the body of Christ, and that's part of what makes us one."