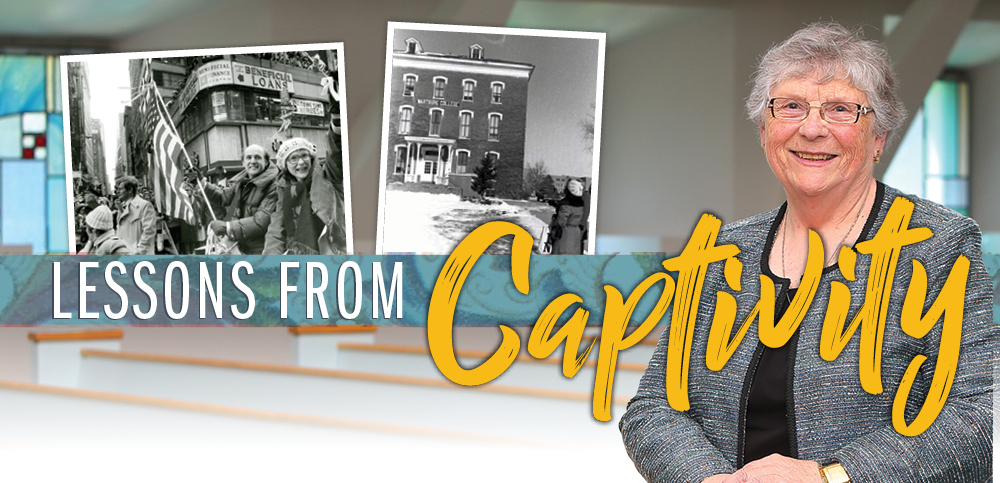 By Stephanie Robbins Boeding '99
Forty years ago, alumna Kate Koob '60 was at the heart of an international crisis. Koob, a U.S. Information Agency employee, had moved to Tehran, Iran, on assignment in July 1979. Just a few months later, on Nov. 4, Iranian college students and supporters of the Iranian revolution suddenly took over the U.S. Embassy in Tehran and held American diplomats and staff hostage, including Koob. They demanded the U.S. return the exiled Shah to Iran to be put on trial for crimes committed during his rule. The Iranian Hostage Crisis would extend to 444 days before the 52 hostages were released in January 1981.
An exhibit in Vogel Library (view online at this link) features the sparse possessions Koob was allowed and that she treasured during her captivity in Iran, plus a selection of letters, pins, artwork, and photographs that are part of the Kate Koob Collection held at the Wartburg College Archives. Over the years, the college's archives has preserved Koob's items, which transport viewers back to the time of Koob's confinement in Iran and when a nation held its collective breath for the safe release of the hostages.
The collection includes handmade decorations Koob crafted to celebrate holidays in her room, gifts she made for a fellow hostage, the Bible she used daily, letters from family and well-wishers that were sporadically delivered, examples of yellow ribbons worn by well-wishers across the country, and much more. Also included in the collection are drafts of her memoir, Guest of the Revolution, published in 1982, and many vintage photographs, including of her visit to Wartburg's campus in 1981 to extinguish the light atop Old Main that had burned brightly during the crisis.
How did your experiences at Wartburg help you get through your time as a hostage?
Kate: When you come to Wartburg, you change your lifestyle. In terms of professors here, they challenged my beliefs but said it's OK to ask questions, and that's one of the most important things. It's so easy to fall into the trap of "this is what I was taught when I was 5"… you have to grow. That basic truth you were taught at 5, that Jesus loves me, grows until you find that manifestation of love comes in so many different ways, so you have to grow and mature.It was the process of maturing, of knowing it was alright to challenge things and question things, that was really important. And when things don't always go the way you wanted them to, you have to accept, adapt, and move forward.
In your memoir, you seem to hold back at times during your ordeal, and you carefully choose your moments to speak your mind to your captors. How did your theater studies as a Wartburg student help you?
Kate: One guy who thought he was the head guy came in and was saying, "When you return the Shah…" and I said, "Don't give me that … the Shah is dead and you know it!" And he said, "Who told you? How do you know?" and I said, "YOU just did."
I was pretty sure he was dead, because the Shah had terminal cancer, and it was that kind of bluff that came from theater. You do those things sometimes for survival, and you use the talents God gave you.
When you talk to people about this time 40 years ago, especially for those who were not alive then, what do you want them to know about your experience as a hostage?
Kate: We often face things we have no power over, like an unexpected illness, death of a loved one, loss of a job, so many different things. And yet we have the grace of God to face those things with the support of friends and family. Even though I wasn't talking with my friends and family, I knew that they were praying for me. You use those resources you have, and you deal with the unexpected in your life one day at a time, or 15 minutes at a time. Sometimes, it was just, "Dear Lord, get me through the next 15 minutes."
What was it like to come back to campus in 1981 and extinguish the light on Old Main?
Kate: It was an honor to be remembered that way. But again, then I looked at professor Bob Smith, who had been my speech professor when I was a student at Wartburg, and he persevered with polio and he was still making his mark on campus. Those were the models that I had. … Bob Smith, who didn't let polio stop him from a career that he loved, working with students. It was pretty phenomenal. And being part of the assembly and hearing the choirs sing Give Me Jesus. That song particularly, because I had heard choirs sing that one all over.
When you came back to teach at Wartburg in 1999, how did your hostage experience come through in your courses?
Kate: (Religion professor) Kit Kleinhans asked me if I would be available to teach a May Term class, and that's how I started teaching a course on reconciliation, because that's something I had worked on so much. Turning to the scriptures of course happened after I got a Bible at Christmas time (during captivity in 1979). Luke 6 says, "Love your enemies." And it doesn't say it just once; a few verses later it says it again, "Love your enemies." It doesn't say, "Think about loving your enemies" or "Try to love your enemies" or "Do your best." It says, "Love your enemies." I said, "OK, God, this is something we've got to work on."
I had done a lot of work while I was in Iran, and I'm so grateful because I came back with no anger, bitterness, or hatred. … If you carry that burden with you, you live under the power of those people who wanted to do you harm all the time. If you can find it in your heart to forgive them, they lose their power. Because there's a stronger power, and that's the power of God's grace and love.
What do you hope that someone today who sees the exhibit would come to know?
Kate: That faith changes and moves, grows and develops. (Fellow hostage) Ann Swift put that cross on the rock because she said, "You talk about it so much." I wasn't even conscious of it, but I do. We talk about the bedrock of faith, and the wise man who built his house upon the rock, and you don't realize how integrated those symbols become in your life, until someone quotes them back at you, I guess. Life isn't static; it grows, changes, and changes again, but you have to have a bedrock on which to found it. You have to know you're loved and God's grace is sufficient.
What changes have you seen in those decades from when you were a student to when you returned to teach at Wartburg?
Kate: The students were just as engaged as they ever were. And the accessibility to the outstanding faculty and staff we have here was as accessible as it ever was. The spirit of Wartburg was the same. Students who were for the most part serious about their work, professors who did their best to give the best training, the high standards. The traditions, like Outfly and Christmas with Wartburg. There's a wonderful French saying, "plus ça change, plus c'est la même chose"— "the more it changes, the more it stays the same."
It's building on what was good and recognizing that those things are what moved the campus forward.
About the Archives
The Wartburg College Archives is housed on the third floor of Vogel Library and collects, preserves, and makes available materials that document the development, operation, people, activities, and history of the college. Items include administrative records, vintage photographs, college memorabilia, audio-video recordings, digitized versions of The Trumpet and The Fortress, and much more.
Though Koob's collection is the most extensive one held on campus, the Wartburg College Archives also boasts personal items from well-known college faculty members Grant Price,
Gustav Neumann and Otto Proehl, who was the college president when the campus was located in Clinton during its controversial closure and move to Waverly.
Vogel Library also houses the Archives of Iowa Broadcasting, which recently added more than 500 digitized recordings from WHO Radio that are now accessible at the AIB website, knightguides.wartburg.edu/aib.
A searchable catalog of materials and more information can be found at www.wartburg.edu/archives. Visitors may visit by appointment only by emailing vogel.archives@wartburg.edu.
Dr. Penni Pier, the Grant L. Price Endowed Department Chair in Journalism and Communication, is working with Koob to record an audio history of her experience in Iran. The college's social media will share the complete project so you can hear Koob's incredible story in her own words.