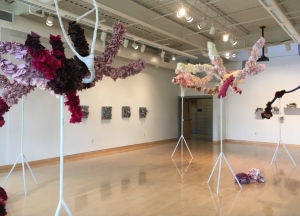 The work of Fayette artists and educators Laura Colby Gleissner and Elissa Cox Wenthe will be on display in Wartburg College's Waldemar A. Schmidt Art Gallery beginning Monday, Feb. 17.
"Artificial Order" will run through March 29. An opening reception will be held Friday, Feb. 21, from 6 to 8 p.m., with a gallery talk featuring both artists at 7 p.m.
Gleissner, an assistant professor of art at Upper Iowa University in Fayette, is a painter with a concentration in oil and mixed media. An active member of FATE (Foundations in Art; Theory and Education), she also serves as the gallery director of the Bing-Davis Memorial Gallery on the Upper Iowa campus. She also is a Waverly native and 2005 Waverly-Shell Rock graduate.
"Inspired by nightmares and waking up to unrecognizable shapes of light, my early work aimed to capture blurred compositions of light and form," Gleissner said in her artist's statement. "Playing with perception and visual distortion, often using gentle shifts of color throughout a composition, my new work still extrudes information of line, shape, texture and reflection from architectural references."
Wenthe is a botanical landscaper who portrays the appearance of different natural forms. She is the McCosh Endowed Fine Arts professor and chair of the Department of Communications and Fine Arts at Upper Iowa.
"My sculptural language is formed by surrounding landscapes and nature; engaging with themes of memories, identity and place. I want my work to suspend one's imagination into a different time or place creating works inspired by natural beauty and unknown forms," Wenthe said in her artist's statement.
"Artificial Order" focuses on the similarities between the architecture of interior, man-made works and the structural similarities that can be found in the natural world.
The exhibit is free and open to the public. The gallery, located in the Bachman Fine Arts Center, is open daily from 9 a.m. to 7 p.m.