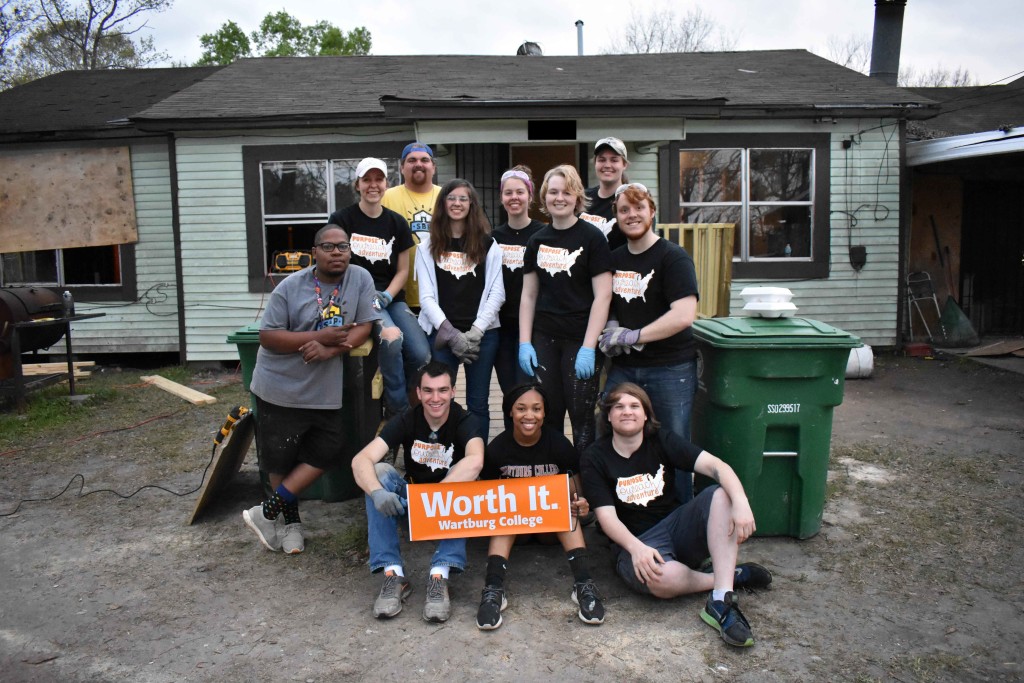 Wartburg College has claimed the No. 2 spot in the 2019 Break Away National Alternative Break Survey for the second consecutive year.
During the 2018-19 academic year, 147 Wartburg students (nearly 10 percent) participated in 13 trips organized by the college's Service Trips program and student leaders. Students visited locations as diverse as Arizona, Tennessee, Wisconsin and North Carolina, helping with flood recovery, sustainability, homelessness, hunger and several other social issues.
Mattie Barr, Wartburg Service Trips student director, recently led a trip to Little Rock, Ark., where her team worked with Habitat for Humanity.
"Service trips are so unique because they connect you to people you typically would never spend time with or get to know at Wartburg because of different majors or interests," Barr said. "This is a time where you are not only serving others, but you are serving each other and bringing that back to the Wartburg community. You make the best friends and memories by going on a service trip, and in my opinion, everyone needs to go on one while at Wartburg."
Break Away, founded in 1991, is a national nonprofit promoting quality alternative break programs where college students can engage in meaningful volunteer service. Rollins (Florida) College earned the No. 1 spot with 20.2 percent participation. Wartburg was No. 1 in 2016-17.
Kristin Teig Torres, director of community engagement, said this ranking illustrates the college's long-standing commitment to the value of Service Trips and the connection to the college's mission of leadership, service, faith and learning.
"Wartburg students flourish through the Service Trips program," Torres said. "They discover so much about themselves and their world by serving others. The lessons learned on a service trip cannot be duplicated in the classroom."
Paige Deppe, who led a trip to the Cumberland Trail near Chattanooga, Tenn., said this Break Away ranking "speaks volumes to how involved Wartburg students are outside of the classroom."
"Service trips are an ideal way for students to discover their strengths, passions and their calling to serve, not only in our community but across the United States," she said.
According to the report, the 17,170 students from the 172 schools participating in this year's survey ventured out on 1,882 trips. They partnered with 2,676 community organizations and logged more than one million hours of service.