Wartburg College will celebrate the 25th anniversary of the Wartburg Chapel on Friday, Oct. 11, with the dedication of a "Lebenskreuz" sculpture on the west Chapel lawn at 4 p.m.
The sculptural representation of a Neuendettelsau "Lebenskreuz," or "Cross of Life," depicts the Seven Acts of Mercy found in Matthew 25:35-40. These acts, also known as the Parable of the Last Judgment, were a source of inspiration for Wartburg's founder, Wilhelm Löhe, who also founded a social ministry enterprise still operating today in the town in which he served as pastor for most of his life.
Tom Stancliffe, professor of art at the University of Northern Iowa, fabricated the 600-pound cross out of stainless steel and stained glass. The sculpture sits on a 1.5-ton limestone base quarried by Weber Stone Company of Stone City that matches the pillars and foundation of the Wartburg Chapel and many other buildings on campus. Total height, including the base, is 12 feet.
"It is intentionally open, not solid, to contribute to the sense of openness to which the church strives," Stancliffe said. "Stainless steel reflects the light of day and moods of the sky in ways that augment the desire for lightness. The arrangement of the iconographic seven mercies is organic as compared to the framework and intended to undulate and suggest the body of Christ. Lighting adorns the sculpture from both the front and back.
"The cross was created with blessing from Löhe's Diakonissenhaus Neuendettelsau (now known as Diakoneo). The Wartburg Chapel's Cross of Life was inspired by David and the late Cindy Carlson, after Cindy visited Neuendettelsau and learned about the "Lebenskreuz" during a Wartburg College Lutheran Heritage Seminar for faculty and staff in 2010. The Carlsons' vision was brought to life through a leadership gift from Mike and Marge McCoy, a generous gift from Vern and Jean Byl, and contributions from additional alumni and friends of the College.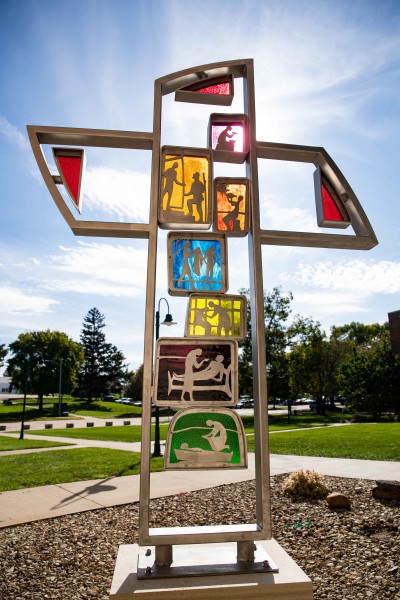 "The sculpture reaffirms the College's commitment to instilling ministry and service into the hearts of all students, faculty and staff, and reflects Löhe's original vision of ministries of mercy guided by Matthew 25's Seven Acts," said Tara Young, daughter of David and Cindy Carlson and a 2003 Wartburg graduate.
In addition to the dedication, the public is invited to the Wartburg Chapel Open House on Saturday, Oct. 12, from 10:30 a.m. to 5 p.m. On Sunday, Oct. 13, Homecoming Worship will begin at 10 a.m. in Neumann Auditorium. The Rev. Brian Beckstrom, dean of spiritual life, will preach.