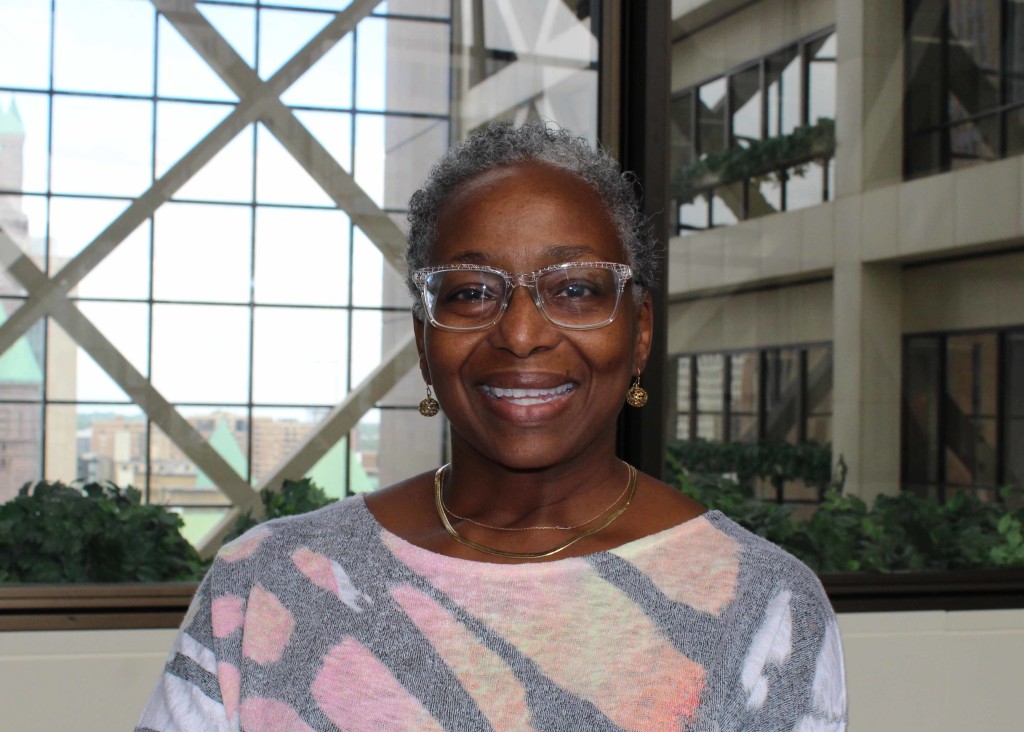 Growing up, Felecia Boone '93 regularly found herself in situations where she was "one of only a few." As a child, she attended a Missouri Synod Lutheran school in Minneapolis where she was in the minority. In her years at Wartburg there were always fewer than 50 American multicultural students on campus. As a junior, the Spanish major spent a year studying in Madrid, Spain, an experience Boone classified as fantastic overall but began with her first time facing blatant racism head-on as she and her roommate sought housing accommodations.
In response to a racially charged event on campus, Boone said the college brought in a speaker who could talk with authority about culture, race, and being black in a small Iowa community.
"These are more popular now, but we also did a privilege walk, and that was powerful," she said. "It was probably the first time I heard someone talk about white privilege and what that is."
These early experiences, though Boone didn't realize it at the time, would play a significant role in her later work as an advocate for diversity, equity, and inclusion in Hennepin County, Minnesota, and the ELCA church body.
Today, Boone works in the county's Diversity, Equity and Inclusion Division.
"We believe diversity, equity, and inclusion is not an online training; you need to be in the room with folks and see each other and talk to each other and experience each other's stories for that to be effective," Boone said, adding that topics vary from the county's nondiscrimination and respectful workplace policy to how to have conversations about race and racism.
Boone also is trying to effect change in her church community. She was elected to the Minneapolis Area Synod Council about five years ago and currently serves as vice president.
Her focus for the coming four years will be to improve equity and inclusivity within the church. According to a 2015 report from Pew Research Center, 96 percent of all ELCA church members are white, the highest of any U.S. religious group. And this study comes 27 years after the ELCA set a goal of increasing minority membership to at least 10 percent by 1998. In 1993, the church released Freed in Christ: Race, Ethnicity, and Culture, a social statement expressing the ELCA's calling to celebrate culture and ethnicity.
"Knowing that one of Bishop (Ann) Svennungsen's commitments is to racial equity, I knew this would be a good time to make some movements on those fronts," she said. "We have to take a hard look at our system and what it is that keeps this denomination in the U.S. so white when Protestantism is increasingly becoming more brown outside of the U.S."
In Boone's synod, a Unite Table was formed in 2012 in an attempt to bring together people who can foster conversations about diversity, equity, and inclusion in the church as well as work toward producing and implementing action plans that could improve each of those areas over time. The executive committee also has requested each of the synod's 145 congregations identify a racial justice coordinator; 50 already have done so. The synod has a congregational organizer for racial justice who is working with the remaining churches.
"People are learning how to have this conversation with a biblical basis, and I'm feeling hopeful. Our churches are engaging in using the Intercultural Development Inventory to figure out where they are at culturally, what are the things that are getting in the way of being culturally diverse — and that goes beyond race — and what is the work we need to do to become more culturally competent as the church. I am hoping that out of our synod we can do something that can be a model for the rest of the church.
"The church is supposed to be a soft place to land, not fluffy, but soft when you are dealing with adverse conditions. Yes, we need to be challenged, but in my day-to-day, if I am facing this, I want the church to be the one place I am not fighting this fight. That is what drives me."