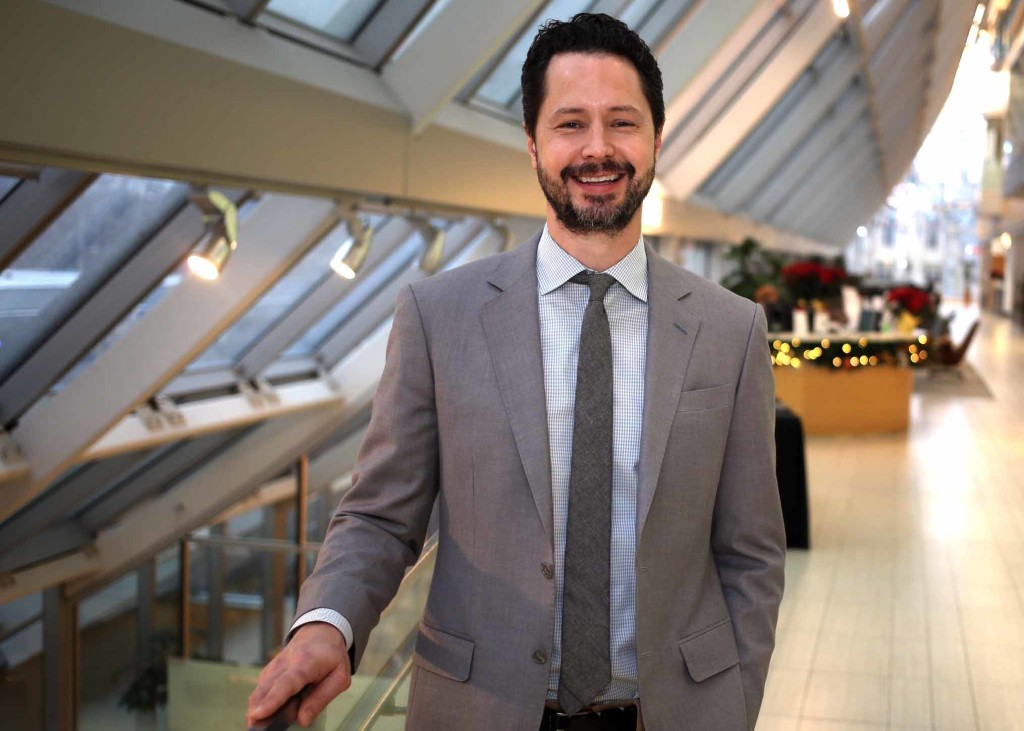 In the 18 years since Bryan Traughber '01 has left Wartburg he has completed medical school, spent two years conducting research at the National Cancer Institute, landed his dream job at Case Western Reserve University School of Medicine, founded two medical device companies, claimed several patents, performed a first-of-its-kind procedure to treat advanced cervical cancer, and still found time to start a family.
That's not a bad list of accomplishments for someone who originally wasn't even considering a career in medicine.
"I majored in chemistry and biochemistry but was always unsure about being a physician. I wanted to earn my Ph.D. and be a chemistry professor," Traughber said. "My dream actually was to be a chemical engineer and work for NASA on polymers for space shuttles."
His professors had other ideas about his future. "Dr. (David) Hampton was the organic chemistry professor, and he did a bait and switch on me. I was a guinea pig in the biochemistry program with him, but what he was really doing was lining me up for a career in medicine.
"He set me up on internships. I followed some general surgeons and primary care physicians and hated every minute of it," Traughber continued. "What tipped it for me was a summer research internship with Richard Wahl. He was a nuclear medicine physician at the University of Michigan and was able to do cancer research and treat patients."
For Traughber, being able to treat patients using the information he discovered in his own research was the best of both worlds and made a career in medicine not only palatable but desirable. During his senior year, Traughber applied and was accepted to Des Moines University and the University of Iowa Carver College of Medicine. However, never one to take the well-trodden path, Traughber deferred his acceptance to Iowa in favor of another year with Wahl, a 1973 Wartburg graduate who had moved his lab to the Johns Hopkins University School of Medicine in Baltimore.
Wahl continued to push Traughber to reach for more, including a place at a more research-driven medical school. With his acceptance to Iowa in his back pocket, Traughber took a leap and applied to additional medical schools, and in fall 2002 he entered the UCLA David Geffen School of Medicine, which offered one of the top cancer molecular imaging programs in the world.
"I definitely would not have gotten into UCLA without him," Traughber said.
Wahl, who was featured in the Winter 2019 Wartburg Magazine, said he has been "delighted at the contributions Bryan has made in the field."
"That's one of the most exciting things about academics, to see someone you had even a brief interaction with do well," Wahl said.
It was during his medical school years that Traughber helped found his first company, Vidatak. While doing rotations in the intensive care unit, he took an interest in the research being done about "sedation holidays," a protocol that showed promise in decreasing the duration of mechanical ventilation. Unfortunately, there were often complications during these "holidays" as patients struggled to communicate with those around them while intubated. Traughber and his business partner devised a marker board with 20 to 30 of the most basic communications needed for a person in the ICU. The boards were later refined and began attracting interest from other hospitals.
"We started selling them out of our garage. We would go to med school during the day, and then come home, check the fax machine, and fill orders for a couple of hours every night," he said.
Traughber again put his formal schooling on hold in 2005 for a two-year training grant at the National Cancer Institute – National Institutes of Health in Washington, D.C., doing cancer imaging and therapy. He finished medical school at UCLA in 2008 and headed east to Ohio, where he would eventually land at Case Western Reserve University School of Medicine in Cleveland specializing in cancer imaging and cancer therapy.
"After my internship with Dr. Wahl, I really thought I wanted to be a radiologist, but I did one year of diagnostic radiology and didn't like it," Traughber said. "Day-to-day they are looking at images on the screen, and I missed taking care of patients. So, I switched to a radiation oncology residency program where we still do a lot of imaging and engineering-type work, but we work directly with patients on a daily basis, which was a better fit for me."
It was during this time that Traughber secured two grants from the National Institutes of Health. The first allowed him to study the traditional nurse call button and how the delays associated with the model can lead to injuries and a decrease in patient satisfaction. From the research, Traughber helped launch Eloquence Communications and designed a new software-based nurse call system that underwent a large preclinical and clinical trial at the University of Michigan. The system is now available for purchase for any health care facility. The second grant from the National Institutes of Health focused on the development of quantitative imaging techniques that could be used in clinical trials for cancer patients.
Today, Traughber is the director of the Quantitative Imaging Laboratory at Case Western Reserve University School of Medicine and a practicing radiation oncologist at the Case Comprehensive Cancer Center. His expertise includes cancers "below the belly button," such as cervical, prostate, and bladder cancers. He also specializes in brachytherapy, a treatment option that places radiation inside the body, and in 2017 was the first in North America to use a new gynecologic brachytherapy applicator designed to treat advanced cervical cancer. His research is focused on better cancer imaging, which can lead to more targeted therapy, improving his ability to cure patients and reduce side effects in the process. More recently, he's identified a new biomarker in prostate cancer and developed a drug that targets it, which can be used for imaging or therapy.
Even with all of his success after his time at Wartburg, Traughber remembers where his passion for medicine and research took root.
When Wartburg launched its first Fund the Fortress crowdfunding campaign for a new thermal cycler that would be used by all biology and biochemistry majors, Traughber remembered the plaque above the nuclear magnetic resonance spectroscopy unit in his old chemistry labs.
"It recognized the alumni donors who helped fund the project, and I thought it would be good to give back in that same way," he said. Traughber also is following in the footsteps of his mentor, having offered a position in his lab last summer to Ethan Lemke '19, a biochemistry major from Clinton who is headed to the University of Iowa Carver College of Medicine in the fall. Lemke worked with Traughber's post-doctoral fellows on a new drug they had invented.
"He was fantastic. I gave him a hard time just like Dr. Wahl gave me a hard time, and he fit right in with the lab," Traughber said. "We did some mock interviews with him to get him ready for his medical school interviews. It made me feel nostalgic; I remember Dr. Wahl doing that stuff for me about 20 years ago now."