Sanah Munir, a Wartburg College senior majoring in neuroscience and psychology, was awarded an R.J. McElroy Student/Faculty Research Award to study how a stressful activity can affect a student's perception of stress.
The Waverly native will work with Todd Reiher, Wartburg psychology professor, to complete the work during the upcoming school year.
"I have always been interested in the interaction of both the biological and psychological aspects of mental health, particularly anxiety," she said. "In this experimental study, I will also examine the modifying roles of parenting, attachment and personality through changes in perception of anxiety."
Munir's research will be used to understand the psychological underpinnings of state anxiety, which reflects the psychological and physiological reactions directly related to an adverse situation.
"Last year, I conducted a related study, which investigated the role of biological indicators of stress and anxiety, measured through salivary cortisol and salivary alpha amylase levels. Thus, the proposed study, funded by the McElroy Grant, will help me gain a more comprehensive neuropsychological understanding of stress," she said. "Findings will have implications for the role of early socialization—parenting, attachment and personality—on perception of stress in the long-term."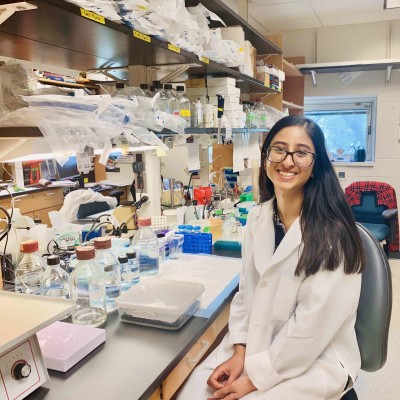 This summer, Munir is serving as an undergraduate research assistant at the University of Michigan in the Department of Human Genetics as part of the Neuroscience Undergraduate Research Opportunity. In the lab, she is working on a project that is examining the Ash1L gene and its implications for Autism Spectrum Disorder.
"The Ash1L gene has a variety of important functions in the body, including the regulation of proper growth and development. Mutations in this gene have been found to be linked with ASD," she said. "As part of this research, I am using techniques, such as protein modeling, qPCR, in situ hybridization and immunohistochemistry, to understand the structure, function and location of the Ash1L gene in brain regions that have been implicated in ASD."
At the conclusion of her internship, she will present her findings at a poster session for the program.
Building on the knowledge she gained in her Wartburg courses, Munir is using this opportunity to learn new techniques in the lab and better understand the use of reagents, chemicals and specific procedures in her work. Outside of the lab, she has participated in workshops and seminars to learn more about the research process.
"This experience has been an amazing learning opportunity for me," Munir said.