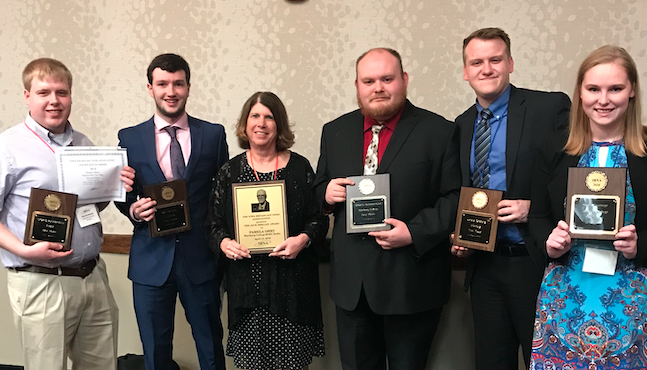 Two Wartburg College students swept the three scholarships awarded by the Iowa Broadcast News Association during its annual convention April 13 in Johnston.
Annika Wall earned the Grant Price Scholarship, while Ryan Reebenacker took home the John Bachman Scholarship and Dick Petrik Outstanding Student Award.
In addition to the scholarships, several students and recent graduates also were honored for their work in campus media.
At KWAR, the college's FM radio station, first place went to Jon Mohwinkle in Sports Play-by-Play for coverage of the men's basketball game versus Simpson, Hunter Werner in Public Affairs for Wartburg politics and Courtney Moser in In-Depth Series for sexual assault at Wartburg. Josh Voigt earned a second-place finish in In-Depth Series for his stories on Wartburg maternity leave. Mohwinkle and Corbin Brungard earned second place in Sports Play-by-Play for men's basketball versus Buena Vista, and Nathan Stephany earned second place in Public Affairs for TEDx Talks.
Under the Knight Vision News division, Wall earned a first-place finish in Sports Coverage for her package on wrestler Brock Rathbun, while Reebenacker earned first in General Reporting for a Waverly hospital renovations package. Reebenacker teamed up with Tyler French, a 2018 Wartburg graduate, for a first-place finish in Sports Play-by-Play for women's basketball versus East Texas Baptist. The entire "Cedar Valley Today" staff received first place in Best Newscast for the Nov. 30, 2018, show.
Mohwinkle and Reebenacker also earned an honorable mention in Sports Play-by-Play for Wartburg football versus Central.