Twenty-seven Wartburg students were recognized for their work with student media at the annual Iowa College Media Association awards Feb. 7 at the Marriott Convention Center in Des Moines.
KWAR-FM, the campus radio station, and Cedar Valley Today/Knight Vision won seven awards each while the Trumpet student newspaper won two awards.
The Trumpet won first place in the Best Page 1 category for "Wartburg College Dance Marathon Stomps Goal" by Megan Stephenson, Annika Wall and Kendall Erenberger and first place for Best Graphic or Illustration by Anthony Quesada Sanchez with his "National Coming Out Day" illustration.
Knight Vision swept the top three Best Sportscasting awards. First place went to Ryan Reebenacker and Jonathon Mohwinkle for Wartburg versus Central football; second place to Reebenacker and Tyler French for Wartburg versus East Texas women's basketball; and third place to Mohwinkle and Samuel Sides for Wartburg versus Dubuque men's basketball.
Third place for Best Short Documentary went to the Capstone film "When They Return," created by Miranda Fober, Alyssa Hewitt, Megan Offerman, Reggie Prather and Jenna Winter. Honorable mention in that category was awarded to the "Bonnie Campbell" documentary by Aubree Taylor, Allison Stahmer, Kaz Onoo, McKenzie Kielman, Marisa Falco and Megan Burke.
Knight Vision's Cedar Valley Today program received honorable mention for Best Newscast (March 23, 2018) with Robert Newell, Taylor Webb, Megan Offerman, Ryan Reebenacker and Courtney Moser; and honorable mention for Best News – Public Affairs for "Mallory" by Annika Wall.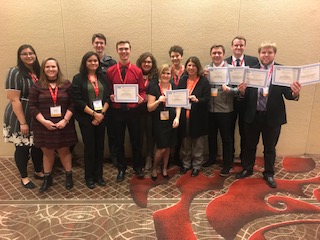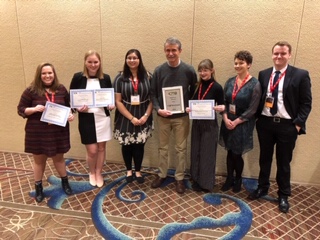 KWAR was presented with four first-place awards – Annika Wall for Best Newscast with an 89.9-second news update; Nathan Stephany for Best News Programming with "Wartburg Ted X Talks," Rob Gomez for best promo with "Car Talk," and Jon Mohwinkle and Corbin Brungard for Best Sports Broadcast for Wartburg versus Buena Vista men's basketball coverage.
Mohwinkle also won second place in Sports Broadcasting for Wartburg men's basketball versus Simpson. Ryley Seymour garnered a second-place finish in the Best Air Personality category for his "Weird News Monday with Ryley" show. Matt Kerns took second in the Best Promo category for the "Eggnog Pong Tournament Promo."
All of the contests were judged by media professionals in the industry, including Indiana news publications, independent film producers, and WHO Radio News.
Faculty media advisers in the Wartburg Journalism & Communication Department are Pam Ohrt (KWAR), Dr. Jessica Martin (Trumpet), and Ron Johnson (Cedar Valley Today). Dr. Penni Pier, department chair, oversees the Capstone program.