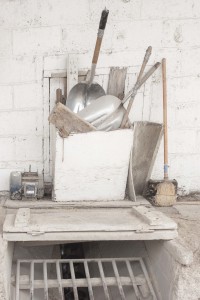 The work of Christine Flavin will be on display in Wartburg College's Waldemar A. Schmidt Art Gallery beginning Monday, Feb. 18.
"Memory Beads" will run through Sunday, March 31. An artist reception will be Friday, Feb. 22, from 6 to 8 p.m., with a gallery talk at 7 p.m.
Flavin captures the intimate essence of desolate interior spaces and well-worn objects through the use of handmade salt print photographs. One part traditional and one part history lesson, "Memory Beads" pairs Flavin's imagery alongside displays of the historical tools of the photographic trade: antique cameras, daguerreotypes, tintypes, albumen cabinet cards and more.
Flavin, who earned her bachelor's degree at the University of California, Berkeley, and her Master of Fine Arts from the University of Iowa, has published two photographic manuals for students and teachers and has lectured nationwide at museums and universities on the history of photography.
The exhibit is free and open to the public. The gallery, in Bachman Fine Arts Center, is open daily from 9 a.m. to 7 p.m. For more information, visit www.wartburg.edu/gallery.