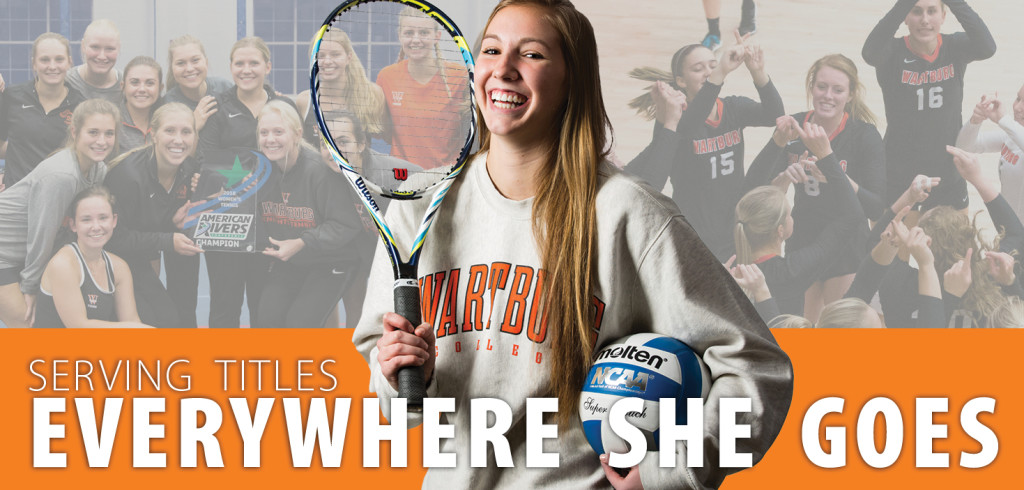 Very few athletes are able to balance the rigors of two sports in college. Then, there's Sydney Rottinghaus '21. She's a two-sport athlete — both in the fall season.
Rottinghaus, of Mason City, plays No. 3 singles and No. 2 doubles on the women's tennis team and is a defensive specialist on the volleyball team.
On Saturday, Oct. 6, 2018, the two worlds collided, sending Rottinghaus back and forth across Northeast Iowa. Her day started at 6 a.m., traveling 75 miles northeast of Waverly to American Rivers Conference powerhouse Luther College for a 9 a.m. tennis start time.
By the time Rottinghaus was done playing, the Knights were tied at 4-4 going into the No. 2 singles match. Though Wartburg had never defeated Luther in its program's history, Rottinghaus left Decorah early so she could make it back to Waverly to warm up for a 3 p.m. volleyball match against conference opponent Central College.
"Driving back in the car, my sister Ashley was texting me scores. I knew the meet was really close," said Rottinghaus. Ashley, a senior, is also on the tennis team. "When they told me we got the last match to get the 5-4 win, I was almost in tears, I was so excited. It was an incredible moment."
Sydney, who got back to Waverly in time for warmups, entered the volleyball match in the third set and later served for match point to seal the 3-0 sweep for the Knights. "Being able to contribute and serve for match point was just the cherry on the top to end that incredible day."
Though she was confident in her physical ability to compete that day, she knew the mental side would be a challenge.
"To be focused for both matches, I had to focus on what I was doing in that specific moment," she said. "Tennis was just one point at a time, and once I got into the car, I started to think about volleyball and what I needed to do there."
Before the season, Chris Gustas '11, head women's tennis coach, and Sydney discussed which fall matches she would be tabbed to play and settled on Coe and Luther.
"Those were the closest matches this spring, and we knew with rosters coming back, those would be the toughest matches to get a win," she said.
For Sydney, the opportunity to continue to play both sports was a large factor in her college decision.
"I like them both and couldn't decide which one I wanted to play, so coming to Wartburg and being able to continue both was the best of both worlds," she said.Though it takes a lot of scheduling, communication, and time management, Sydney can boast a 4.0 GPA.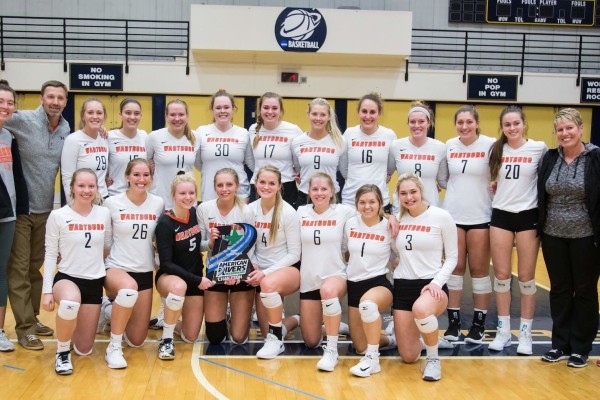 "I had to plan each day out week by week. I laid out my schedule and communicated with my coaches when I would be at practice or hit. I had to know what to expect each day and what to spend my time on when I wasn't practicing."My practice schedule did get a little crazy this fall," she continued. "I'd get up in the morning and hit a couple hours and then go to classes during the day. Volleyball was from 3:15 to 6 each afternoon, and then sometimes I'd do tennis again depending on what day it was."
While her individual accomplishments are unique, Sydney is quick to appreciate the support from her family, coaches, and teammates.
"I knew this fall would be a lot of work," she said. "All of my coaches and teammates were so supportive. For tennis, I wasn't always at the practices, or I might miss an occasional volleyball practice, but everyone was encouraging for me to do both."
With an earlier season win over Coe and the comeback win over Luther, the Knights were able to accomplish a conference championship in tennis, a first in program history.
"To be a part of the first team to ever win a conference championship is just unlike anything else," she said. "Practice is always competitive, and we put a lot of hard work in over the summer. To see that payoff is extremely worth it."
The volleyball team clinched its fourth-straight championship in a 3-0 sweep over Buena Vista on Oct. 23. Sydney is the youngest of three siblings who all have attended Wartburg. Her older brother, JT, who graduated in 2017, played basketball and tennis; Ashley, her tennis teammate, will graduate in 2019.
"Having my brother go here is how I originally learned about Wartburg," she said. "Being involved in athletics at Wartburg is a one-of-a-kind experience. The best of the best come here. I love all of my teammates; we work really hard and have a great time. There are high expectations, but I'd want nothing else as I know we can achieve that."