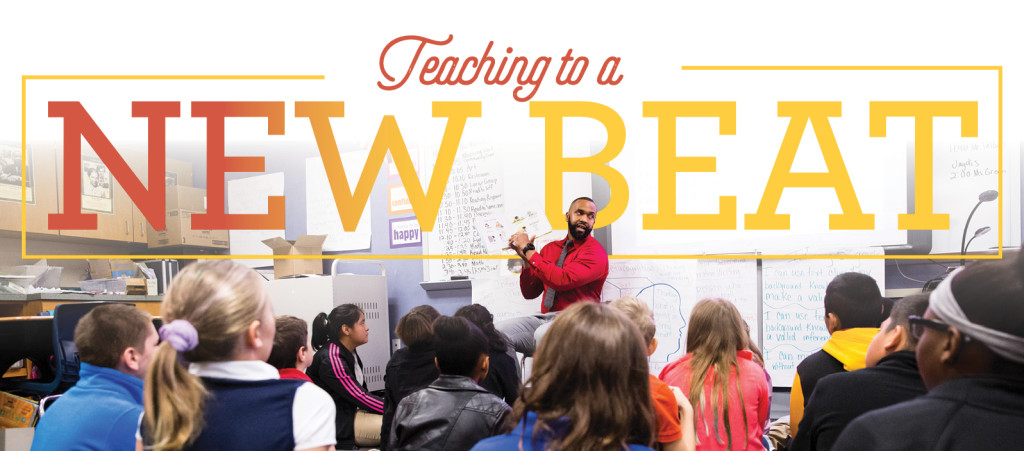 When you walk into Lamont Muhammad's fifth-grade classroom at Irving Elementary in Waterloo, the sense of community is obvious. The students' desks are arranged in groups, and posters around the room show students' commitments to themselves and each other.
Each morning, the class gathers at the front of the room in a circle to do something the 2006 Wartburg graduate calls "recognitions." Muhammad picks out a student he wants to recognize for the good work they are doing, like when he witnessed one student standing up for another the day before. Then, two students choose one of their peers they can lift up. Muhammad said this activity, like much of his teaching, is based on the personal mission statement he crafted as part of his Wartburg education.
"I wrote that I wanted to use education as a tool to cultivate the innate gifts in each one of my students and then put it into a service for the community, nation, and world," said Muhammad. "I knew that I wanted to teach in a way that I could use my gifts, and one of those was rhyming and using words in a certain manner."
Muhammad came to Wartburg as a nontraditional student through the Dr. Walter Cunningham Teacher Memorial Project, a partnership between the Waterloo Community Schools and Wartburg College designed to shrink the achievement gap between African-American students and their white counterparts. Like with any other student, Wartburg nurtured Muhammad to embrace his passion for education and music, which led to his work as a teacher, author, musician, co-founder of an after-school program in Waterloo, and co-director of Hip Hop Literacy. For this, and his other work in the community, Muhammad was named one of the Waterloo-Cedar Falls Courier's 20 Under 40 in 2018.
After teaching in two Waterloo schools, Muhammad landed a position in Cedar Rapids working with at-risk high school students in conjunction with Dr. Shuaib Meacham, co-founder of Hip Hop Literacy and associate professor of literacy education at the University of Northern Iowa. Last year, the Literacy Through Hip-Hop summer program brought him back to Waterloo, and he is now working on his doctorate at UNI while teaching in Waterloo.
Hip Hop Literacy, which involves students creating raps connected to the district's writing curriculum, has opened countless doors for students.
"Initially, it focused on the lyricism aspect of choosing a beat and topic, brainstorming words, and putting it all together. The students memorize them, learn how to project them, and then record the raps to perform," said Muhammad. "This year, we added more elements, like art, dance, blogging, social media, videography, and emceeing. Students gravitated toward the ones they had the most interest in."
One song in particular, I Can, struck a chord locally and around the world. Muhammad and his students created a video for the song and performed throughout Waterloo and Cedar Falls. Somewhere along the way, the group was noticed by a broader audience, which resulted in an invitation to participate in the International Young People's Concert Group, part of the Hangzhou Citizens Leisure Festival, a world music showcase in China.
The four students performed five times, including three at the festival, one in downtown Hangzhou at a fashion show, and another at a new development in Hangzhou.
"Initially, I didn't know if the trip was going to happen because we didn't know how we would get the money and visas. Some students had parents who are incarcerated, so getting the paperwork for them to travel is difficult. Dr. Meacham's faith in the situation added faith to mine. This experience is changing my outlook on what I can do," Muhammad said.
Looking forward, Muhammad and Meacham will continue to seek new opportunities, including new partnerships and a permanent home that would allow them to open the Hip Hop Literacy program to all school-aged children. They are even considering invitations to perform in Thailand, Hungary, and Korea.
Muhammad also plans on authoring additional books that draw on his experiences and connect them to young people in Waterloo. Driven by the obstacles he has overcome in his own life, Muhammad said the most rewarding part of his career is seeing how he impacts his students' lives.
"I didn't always have role models, but I had people that I was able to draw from. I want to be that type of person for students who may have similar backgrounds. I want to be able to inspire them. I also want to teach them how to not become a statistic and show them that they can overcome when it looks like the odds are against them."