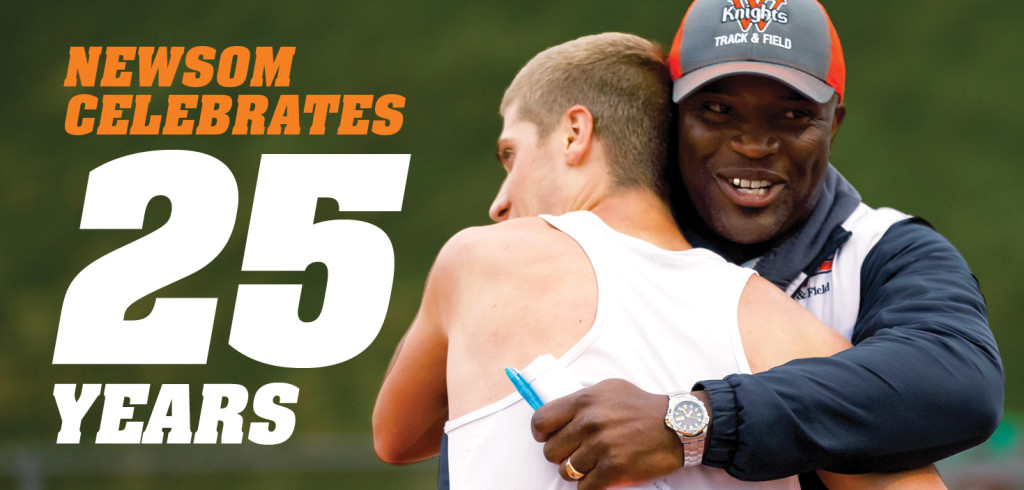 By Stephanie Robbins Boeding '99
Marcus Newsom, director of cross country and track and field, has racked up an incredible list of accomplishments since taking the lead in 1999. Under his leadership, Wartburg track and field student-athletes have turned in 235 indoor and 302 outdoor Division III All-American performances and competed in 35 individual events earning national championship honors. 
His national coaching honors are just as impressive. Newsom is a six-time United States Track & Field and Cross Country Coaches Association Division III indoor women's Coach of the Year and three-time USTFCCCA Division III outdoor women's Coach of the Year.
Though bringing home the hardware is a definite perk of the job, Newsom said it most certainly isn't the best. 
"I love watching the overall development and growth — as a person, student, and athlete — of each of the young men and women throughout their four years," Newsom said. 
Newsom was recruited to Wartburg in 1994 by Richard Torgerson, then vice president of development. The two met at Bethany College while Newsom was a student and Torgerson was interim president. 
"He and his wife, Judy, became a second family to me," Newsom said. 
Wartburg has won 15 of 16 indoor women's conference championship/conference invitational titles from 2003 to 2018 and nine men's indoor championships since 2001. The women have won 18 consecutive outdoor titles (2000-17), and the men have won nine league outdoor titles since 2002.
Newsom's student-athletes always knew it wasn't just about the accolades. 
"In high school, I was a three-time state champion, but didn't have a lot of training. Marcus helped transform me as an athlete," said Tashina McAllister Steggall '14, the 2014 national champion in 60m hurdles. 
On the national level outdoors, Wartburg women have won five national championships and finished in the top 15 at nationals 18 times under Newsom. The men produced their best national finish in school history in 2008, tying for fifth place at the outdoor championships. 
 On the national level indoors, Newsom's teams have finished in the top 20 of 13 women's team competitions, including three national championships, and the men have placed in the top 20 six times.
"He believes that with hard work, mountains can be climbed, barriers can be broken, and what goal might seem impossible isn't only possible but is reality just waiting to happen," said Steve Johnson, retired head men's and women's cross country coach and assistant track and field coach at Wartburg (1991-2016). "His passion sets a standard of character for everyone in the program to act with integrity and sportsmanship."
In 2009, his women's teams became only the seventh in NCAA Division III history to sweep indoor and outdoor national titles in the same season and joined the Wartburg cross country program in earning the USTFCCCA's prestigious Deb Vercauteren Program of the Year award. The program also earned this award in 2012, 2013, and 2014. 
Though Newsom will say the reason he's stayed at Wartburg as long as he has is because of the special students, alumni, faculty, and staff, others know he does more than just talk the talk.
 "When he said he'd take care of my kids, he did, but it's not just my kids, it's every kid in the program," said Scott Ganshirt, a parent of three Wartburg student-athletes. "You hear a lot of people talk about how their team is a family, but at Wartburg it truly is family."