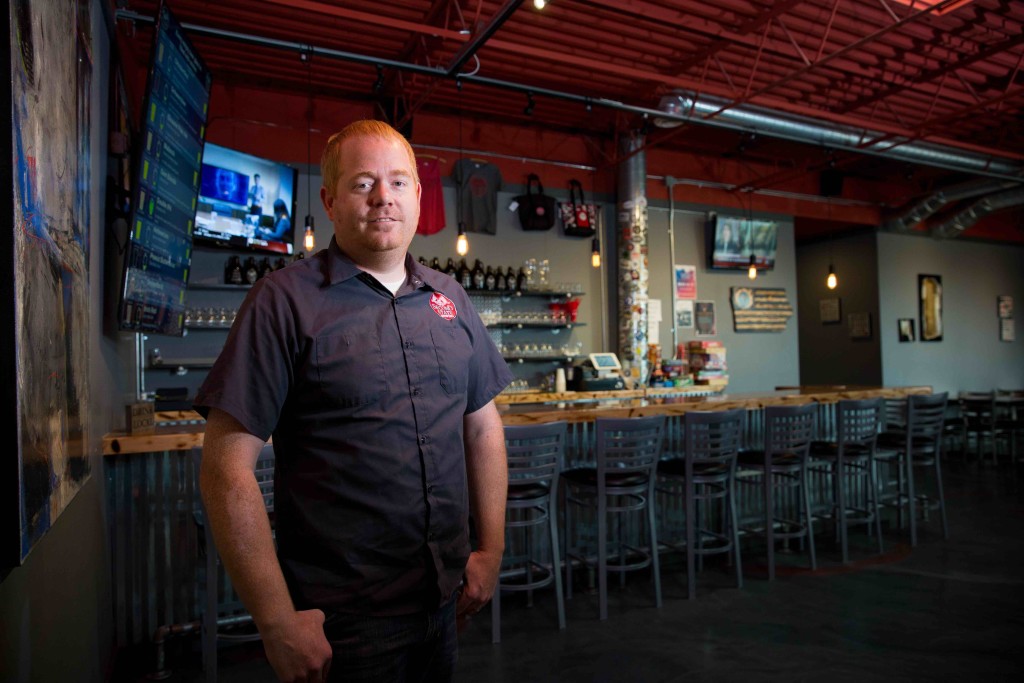 Nick Newgard '06 is used to being his own boss. As a college student, he eschewed minimum-wage jobs to start his own company providing agriculture consultations and selling fertilizer.
But Newgard, a Cedar Falls native who earned his degree in business administration, found his passion wasn't in fertilizer sales. In 2007, he started growing a home-brewing operation. What started with a small setup in the basement eventually ballooned to 11 kegs, a four-tap commercial kegerator, and an automated electric system.
"Oktoberfest beers were some of my favorites, and back then, you could only get them for a couple months out of the year," he said. "Making my own meant I could drink it anytime I wanted to, so I did that."
It didn't take long for Newgard's entrepreneurial brain to begin turning. By 2010, he was talking about opening his own brewery. At the time, there were about 620 microbreweries in the U.S., according to the Brewers Association. By 2014, when he started to think seriously about this new undertaking, the number of microbreweries had more than doubled. Seeing the potential for success, Newgard's friends agreed to help bankroll the endeavor should he decide to make a go of it.
"People say they want 'in' a lot. I put together my business plan and came up with the numbers we needed. I was lucky enough that, when I called them up, they said they would help without hesitation," he said.
Newgard opened Second State Brewing Co. in Cedar Falls on March 23, 2017.
"Opening night was insanity. Within half an hour I had a line from the bar all the way out the door," he said. "It was craziness for a while."
Second State opened with just four beers on tap. Today, the brewery boasts 10 options, including an Oktoberfest, Schwarzbier (black beer), Hefeweizen, and Peanut Butter Stout, and a small kitchen that prepares an ever-changing menu sourced for numerous local suppliers. As the number of microbreweries continues to increase — the Brewers Association reported more than 3,800 microbreweries nationwide in 2017 — Newgard knows he must find a way to stay relevant in the ever-growing market.
"Our philosophy in beer is a little bit different than the trendy push right now. I would say everyone is going bigger, crazier, weirder. It's never been my style," he said. "I don't see that being long term for beer. We're being different by being more traditional. We always have several old-school German lagers on tap, but our tap is always changing. We've also made a name for ourselves with our Peanut Butter Stout, Vanilla Cream Stout, and around the holidays, our Pumpkin Pie. My goal is for someone who is drinking my beer to say that they want another one when they're done."
Providing a community-oriented, fun atmosphere also is top-of-mind for Newgard, who regularly partners with local organizations to bring in trivia and game nights as well as hosting meetings and gatherings. He believes his successes are largely attributed to the strength of his core values — leadership and service — which were instilled in him at a young age and nurtured while at Wartburg.
"You can never stop learning in this business. I don't have any formal training in brewing, so there's a lot of lifelong learning and a desire to continue figuring things out. It's led me to where I am, and, without that, I wouldn't know how to even start trying to do this kind of thing," Newgard said, adding that his Wartburg network also has helped him along the way. "You never know how many people are out there and when somebody is going to be the right person to know."