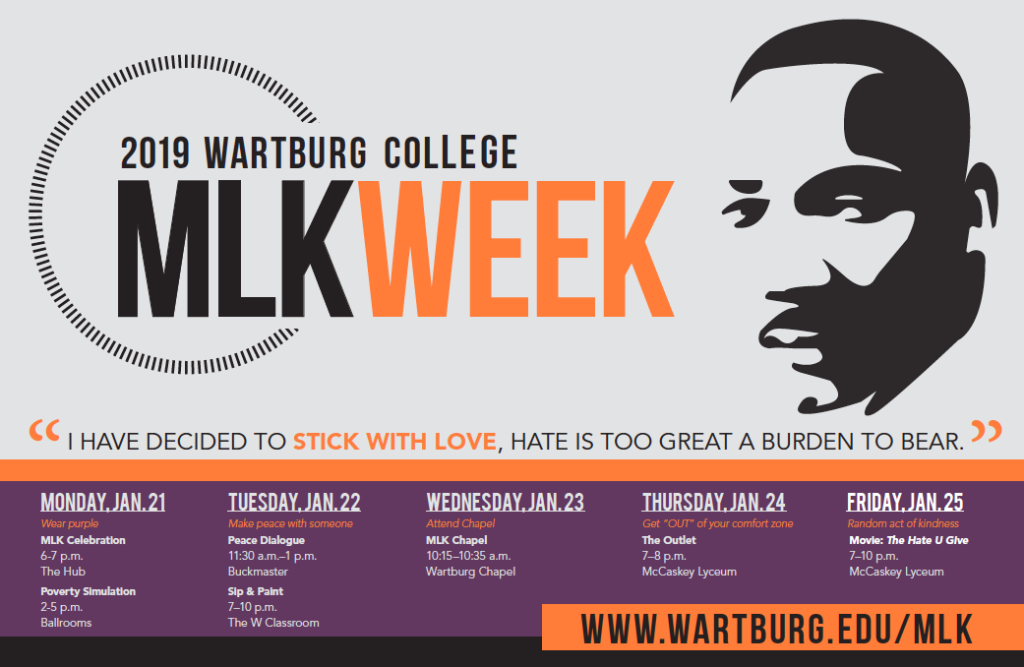 Wartburg College will host several events honoring civil rights leader Martin Luther King Jr. during MLK Week, Jan. 21-25.
As part of its MLK Week tradition, the college will shorten its class schedule Monday to allow all students to participate in a variety of service projects organized by the student-run Volunteer Action Center.
The MLK Week Committee is partnering with ETK, the college's student-run entertainment organization, to host a screening of the movie "The Hate U Give" on Friday, Jan. 25, at 7 p.m., in McCaskey Lyceum. The event is free and open to the public.
"This movie covers the hard-hitting topics of white privilege, police brutality and so many other things that should be left open for discussion to end our week," said sophomore Kaylee Michael, MLK Week Committee chair. "We specifically placed the movie as our last event because we thought it would leave the group with questions. Our goal is to push our audience to go and research the questions they are left with and to challenge themselves to learn more about who they are and what their place is in the current American society."
Other events include:
A poverty simulation, Monday, Jan. 21, 2-5 p.m., in Knights Ballroom of Saemann Student Center.
An MLK Celebration, Monday, Jan. 21, 6-7 p.m., in The Hub in Saemann Student Center.
A Peace Dialogue, Tuesday, Jan. 22, 11:30 a.m.-1 p.m., in White House Business Center Room 214.
Sip & Paint, Tuesday, Jan 22, 7 p.m., in The W classrooms.
The Outlet, featuring performances by a diverse group of students expressing social justice through dance, poetry, song and various performances, Thursday, Jan. 24, 7 p.m., in McCaskey Lyceum.