The Beisners
As high school students in Cedar Falls, twins Luke '20 and Noah '20 Beisner never thought they would attend the same college. Their parents, Les '87 and Marit Scherer '88 Beisner, never pushed their boys to attend their alma mater.
But when Noah suggested a Wartburg visit, Mom and Dad were happy to oblige, knowing their own Wartburg experiences helped shape them into the adults they are today. Luke, who had set his sights on Iowa State University, opted to tag along. Both were impressed by what they saw and whom they met.
"I also visited Central College and Grand View University, and they were pretty convincing, but Wartburg just did everything better," Noah said. "Wartburg was the college to beat."
When the twins finally decided on Wartburg, the elder Beisners, who met in a bowling class, were happy to see the family legacy continue (Les's older sister, Carole Beisner Henning, graduated in 1982). Marit, an education major, and Les, who majored in business administration, knew their sons would receive a quality education (Luke in engineering science and Noah in business administration) and have opportunities outside the classroom that would help lead them to find new passions (Noah is now considering a law career).
For all of the Beisners, though, the Wartburg experience is also about the people they've met along the way. Marit's maid of honor was her best friend, Dawn Drewes Creed '88. When the boys began looking at Wartburg, Les and Marit were pleased to know that Professors Gloria Campbell and the late Cheryl O'Brien (who died in October 2017) remembered them from their school days. Jack '53 and Marietta Schemmel, who were instrumental in developing Wartburg West and now live in Waverly and are on campus several days a week, instantly recognized Noah as Les's son—Les was in the first Wartburg West class—and even sent Marit a card when she was named a Gold Star Teacher in April. Luke, who will transfer to Iowa State next year for mechanical engineering, developed close relationships with his band directors and credited them with his desire and ability to continue playing trumpet despite a rigorous academic schedule.
"No matter how many years have passed, Wartburg always feels like home," Marit said.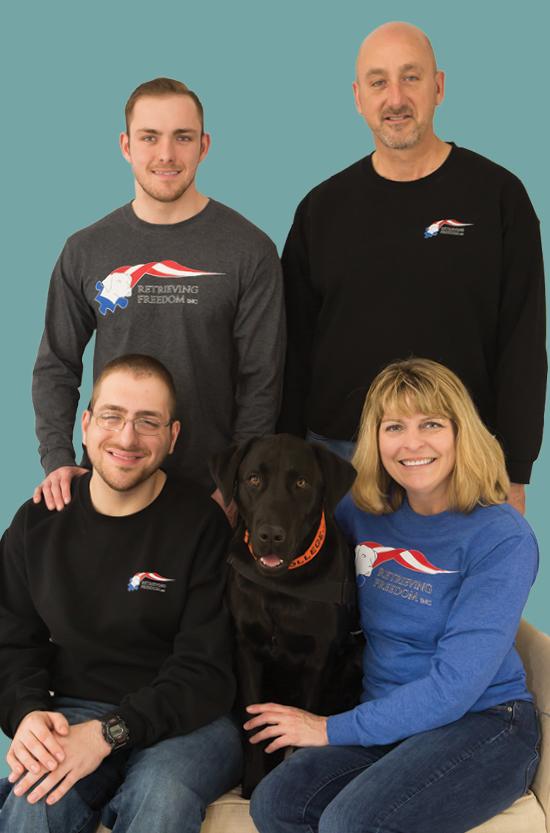 Beisners connect Wartburg mission, service dog training to educate community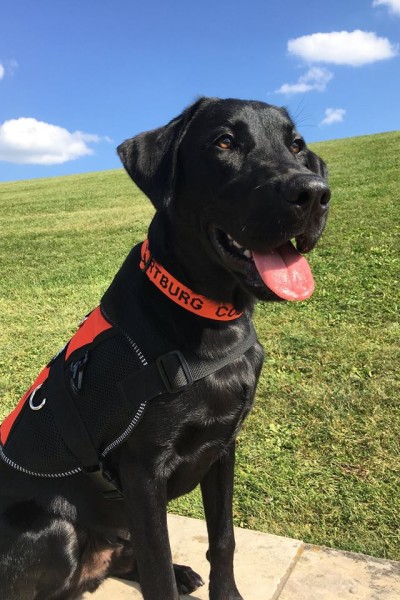 Noah '20 and Luke '20 Beisner were high school juniors the first time their parents brought home a puppy from Retrieving Freedom, a nonprofit dedicated to training service dogs to help veterans, children with autism, and individuals living with diabetes.
"I first read about Scott (Dewey, RFI co-founder) training dogs, and I didn't know if Noah would qualify for one," said Marit Beisner '88. Noah, a business administration major, has cerebral palsy, a physical disability that impacts muscle control, coordination, and balance. He didn't qualify for the RFI program, but Marit decided Dewey's work was perfect for a family service project. "I had just heard the author of Until Tuesday speak at the Waterloo library, and he said that instead of sending a check to D.C., we should think about what we can do in our own families and our own communities. We saw this as our chance to give back."
Their work with dogs started with Jake, was followed by Turner, and then there was Victor.
"Because of the Retrieving Freedom connection with Wartburg, with students training the dogs as part of their classwork, I came up with the idea of having this 'hometown hero,'" Marit said. "Scott agreed to naming a puppy after Sir Victor, the Wartburg mascot, in honor of that partnership."

Victor was the only black male puppy in his litter, which had the distinction of being the first bred from local animals. The pup, who was only eight weeks old when the Beisners started training him, got his own Facebook page so those he met in the community could follow him on his journey and see how many people influence service dogs before they find their forever match.
"When we would go out in public, people would assume the dog was Noah's service dog. As a teacher this was a great opportunity to break down barriers and educate people about service animals," Marit said. "You are bombarded with questions everywhere you go."
Each of the Beisners' dogs trained during the school day with Marit at Cedar Heights Elementary in Cedar Falls where she teaches kindergarten. A local television story about Victor was picked up by outlets in more than 30 states. But, Marit wanted to ensure that Wartburg students especially, who often only see the dogs when they are going through the second part of their training, were aware of the work done in the earlier weeks and months of each dog's life.
"I wanted them to see what it was like to be a puppy foster so that when the college students bring the dogs to campus they are well aware of what the dogs are there for and why they are 'working,'" said Marit, who worked with Wartburg music directors, coaches, and other faculty and staff to get Victor on campus during concerts, sporting events, and other special events.
Though the Beisners usually have to give up their pups when they are between 9 months and 1 year, they were able to continue their work with Victor, at least part-time, by serving as a "teacher foster" opposite of Victor's work with Wartburg students. Teacher fosters take the dog for one day in their classroom and on the weekends when Wartburg students aren't able to keep them. The final four months of a dog's training is usually spent with a potential match and learning the skills and commands necessary to help that person. Victor was recently matched with a female veteran and will be permanently placed later this year."
This experience has pushed me so far outside of my comfort zone, but I am so passionate about helping others and teaching others about this that it has driven me to try new things," Marit said.
"She's really found her purpose with this," added her husband, Les '87.
"Our family has worked together raising these dogs, and we really see this work as living out the Wartburg mission and putting it into action," said Marit, adding that the family is continuing its work with RFI and is now training Samson. "We feel so special to be a part of these dogs' journeys."