A modern-day twist on a decades-old solution has helped Dr. Daniel Wright '91 increase access to childhood vaccinations in the Waterloo/Cedar Falls community.
As Wright and his colleagues were brainstorming ways to boost vaccination rates, specifically HPV vaccines, the pediatrician at Covenant Clinic in Waterloo recalled photos from the late 1950s and early '60s of students lining up in school gyms to receive the newly available polio vaccine.
The HPV vaccine, which protects against cancers caused by the human papillomavirus, was introduced in 2006, though it wasn't recommended for young men until 2011. Wright wondered why the approach doctors used in the early years of the polio vaccine couldn't work in his community, where the rate for HPV vaccinations rarely exceeded 50 percent despite markedly higher numbers statewide and nationwide.
"In talking to the nurses, I knew we had an RV that allowed us to provide flu shots to geriatric populations who can't leave their home," Wright said. "I explored the possibility of using that same RV for this and found it would probably work pretty well."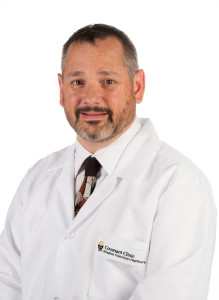 Julia Eckerman, registrar for the Waterloo Community School District, said they were happy to partner with Wright, as the opportunity coincided with a state law change that required tetanus, diphtheria, and pertussis/whooping cough boosters and meningitis vaccinations for all students entering seventh and 12th grades. Wright's team offered to provide those vaccines, as well as the HPV shot and any others students needed to get up to date, at the district's centralized registration event last fall.
"Because he was so willing to open this up to all the immunizations our students might need, that really helped us as a district," Eckerman said, adding that she is working with Wright again to ensure next year's seventh-grade class is ready for the start of the school year.
Wright's team provided 212 vaccines to 89 students during the two-day registration.
"I don't see my job as just taking care of a few kids. I'm trying to help the health of my community. It's great that I can help the kids who come see me directly, but this was a great way to help those who don't have the opportunity to come see the doctor," Wright said.
It's the desire to serve that also led Wright to help establish a Reach Out and Read chapter in the Cedar Valley. The nonprofit incorporates books into pediatric care and encourages families to read aloud together. He also is part of the Campaign for Grade-Level Reading, an effort to improve grade-level proficiency.
"My mother was always involved in the community, so I had that example from very early on, and she was a great example for me," said Wright. "I still have a very strong religious background and feel it is part of my faith as a Christian to reach out and help others."