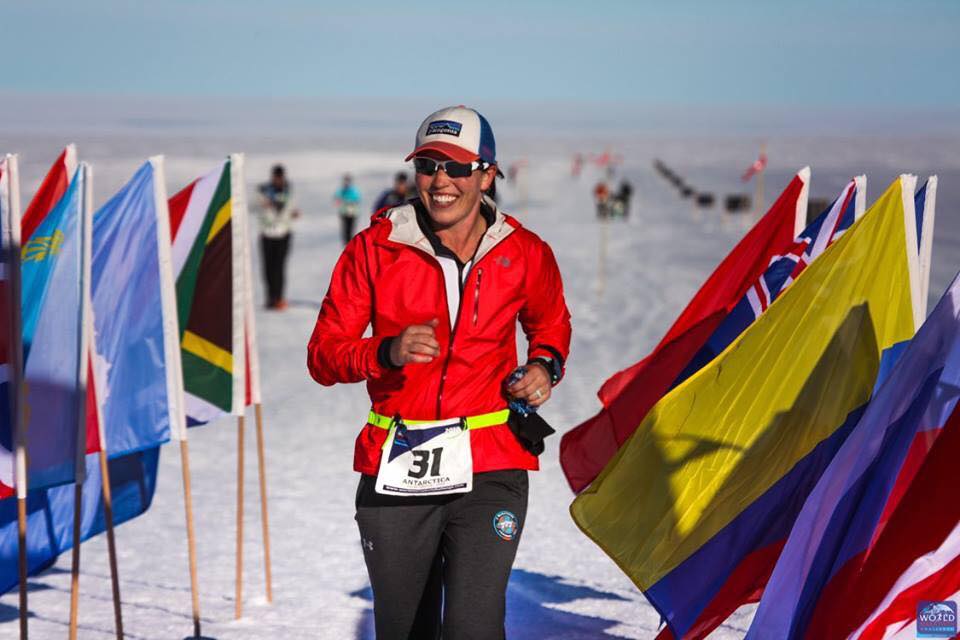 Sarah Lacina '06 has admittedly done a lot of crazy things—she's a two-time castaway on CBS' Survivor and even won the $1 million grand prize on Survivor: Game Changers—but the former Wartburg track and cross country runner thought this challenge might be too much.
"David Samson, a guy on my Survivor season in Cagayan, called me up one day and asked if I would be interested in running a marathon," Lacina said. "I told him no. Then he said, 'If you don't want to run one, then how about seven in seven days on all seven continents?'"
Though Lacina thought her friend was crazy, she watched the YouTube video he sent before once again telling him no. Samson asked her to reconsider, explaining that he was assembling a team of extreme athletes who could raise $2 million for charity while having "the experience of a lifetime."
"I had a long, hard sit down with myself, and I said, 'You know, you are always the one who tells people they can do anything they put their mind to. You don't believe you can do this, prove to yourself that you can.'"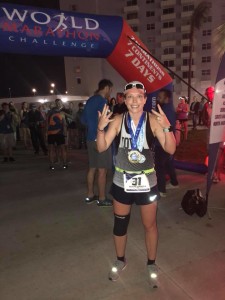 From that moment on, she did. Lacina found herself part of 777, a team of 16 adventure-seekers set on completing the World Marathon Challenge. And she did it all while trying to balance the everyday challenges of work (she's an investigator with the Cedar Rapids Police Department), motherhood (she and her husband, Wyatt, have a 3-year-old son, Knox), and small-business ownership (the couple are part-owners of a CrossFit gym).
"It was a lot of training, tears, bad days, aches, and pains, but I dedicated myself to this for about a year," she said. "The training was honestly harder than the World Marathon. I'm not sure how I was able to do it."
The clock started ticking for the team Jan. 30 in Novo, Antarctica. From there they traveled to Cape Town, South Africa; Perth, Australia; Dubai, United Arab Emirates; Lisbon, Portugal; and Cartagena, Colombia, before finally touching down in Miami, Fla., for their final run Feb. 5.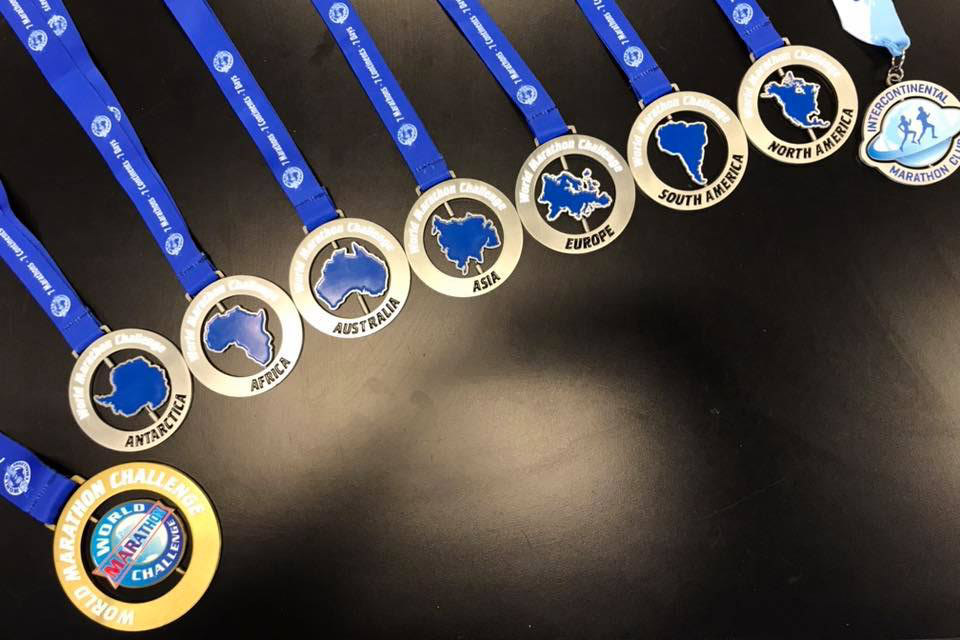 Though Lacina's passport is full of stamps, she wasn't able to enjoy any of the destinations along the way.
"People always ask me where my favorite place was, but that is impossible to answer. As soon as everyone finished the marathon in Antarctica, we immediately boarded the plane to fly to Cape Town. We had an hour and a half after the plane landed before our next marathon started," she said. "We showered after the Cape Town marathon, then had an hour and a half before we had to be back to the airport for our next plane. We had a hotel at every stop, but we weren't there more than five or six hours."
Lacina, who injured her knee in the Dubai marathon on day four, said the only things that got her through the final run in Miami were her friends, who ran part or all of the 26.2 miles with her, and the knee brace her other Survivor: Game Changers friend Troy Robertson was able to provide. After returning home, Lacina found she had torn her meniscus and had bursitis and a Baker's cyst.
When asked if she would consider completing another World Marathon, Lacina's answer was a resounding no. She wasn't as certain about another season of Survivor, adding that her son would have to be older and it would have to be a season of all winners for her to consider another adventure on a deserted isle.
She hasn't ruled out other off-beat challenges, either.
"I don't know what it will be, but I know David well enough to know that he's not going to let the World Marathon be the greatest thing we've ever done," she said. "Every time he calls, I cringe wondering what he might be thinking about now, but I know whatever it is, we will tackle it."