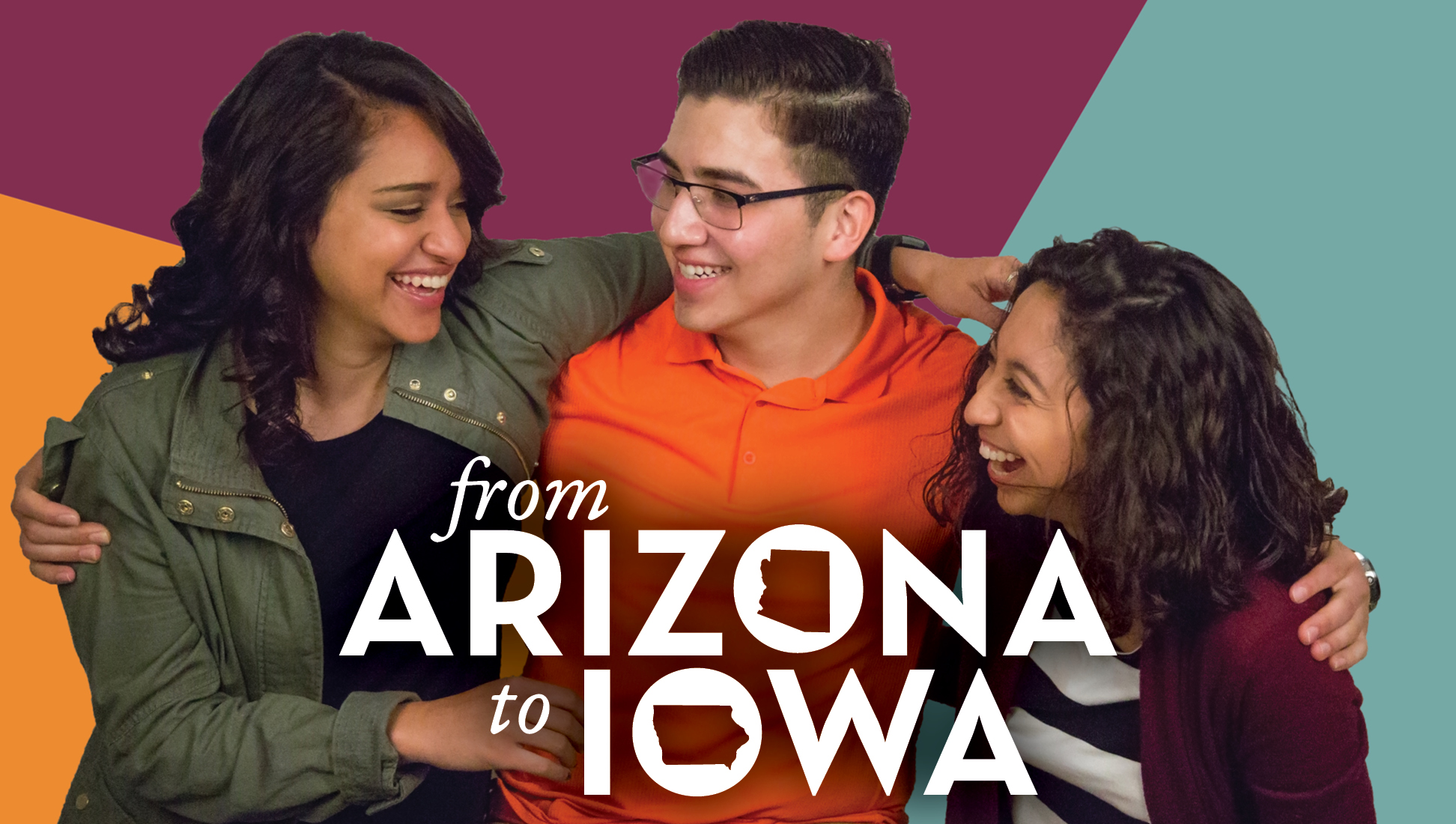 By Emily Christensen Photos MacKenzie Sellnau '18 Illustrations Katie Bender '17
Four years ago, very few high school students in and around Phoenix had ever heard of Wartburg College. Today, thanks to a partnership with the Aguila Youth Leadership Institute, that is changing.
Kyle Vowell '10, the Wartburg admissions counselor assigned to Arizona, has cultivated a relationship with the organization, which empowers and prepares youth for college admission and persistence to graduation, as well as future professional excellence. For many Aguilitas, that means anything from attending one of Arizona's state schools or private colleges to finding their fit at schools like Brown, Purdue, and now Wartburg.
"Many of these students don't even know they can go to a private liberal arts school like Wartburg. Being able to give them that opportunity is fantastic," Vowell said.
But convincing them that Wartburg should be a top consideration isn't always easy. Selling the school's academic programs is never an issue. Selling its location—more importantly, its distance from Arizona—can be a serious sticking point for many families.
Dr. José Reyes-Tomassini, visiting assistant professor of biology, understands this concern. A native of Puerto Rico, Reyes-Tomassini said there is a strong emphasis placed on the family structure, and because of that, many never leave the island.
"I think the kids from Arizona, whose parents were born in the U.S., may have less of a problem, but I think there is a sense that leaving that support system is a really big thing," he said. "Your family may not be able to understand what is going on. If you are a first-generation student, that is even worse because your parents haven't been to college and don't understand the pressures."
Sierra Lovato '18 said having her mother's support made leaving the nest much easier.
"My mom really liked Wartburg. Everyone made her feel good about me going here, which made me feel good about going here because I hate being this far away from my parents," she said.
Identifying a need
Though Iowa's high school graduation rate is more than 91 percent, the number of students graduating in the state has decreased and recouping those losses will be slow.
Projections released by the Western Interstate Commission for Higher Education show the number of high school graduates in Iowa growing from 32,000 in 2017 to 34,000 in 2023; however, this is down from more than 35,000 in 2010. In Arizona, that number increases from 66,000 this year to 68,000 in 2023. In 2010, Arizona high schools graduated 62,000 students.
"We have known for several years that the number of students in the Midwest is declining, and we had to start opening up new markets, such as Arizona, Texas, and Florida. But the cost of recruiting out of state is greater, and, as our alumni keenly know, the real value of Wartburg is 'fit,'" said Todd Coleman, assistant vice president for admissions. "While we want these students to come to Wartburg, we are more interested in making sure that this is the right choice for them so they get that feeling in their bones that so many of our alumni know; it's a special place."
To that end, the college has started a Fly-in Program that offsets the cost of traveling to campus for students who have been accepted (see sidebar). Dr. LeAnn Faidley, professor of engineering science, directs the college's IINspire program, a pre-orientation bridge program that gives under-represented populations majoring in STEM fields a chance to meet their future professors and classmates before school starts. The program offers continued support and mentorship throughout the academic year. Additional coordinated support systems also have been implemented to ensure students in all majors persist to graduation.
At home across the country
Though Vowell is based in Chicago, he makes regular trips to Arizona to meet with prospective students and their families. He encourages students, and their parents, to visit campus, usually on one of the three annual Scholarship Days. Those interested in a STEM field can attend the Scholarship Day that coincides with the Wartburg Science Symposium (formerly the Cedar Valley Science Symposium), where they meet professors and students from their area of study.
Like any other personalized tour, they spend the night on campus, eat in Mensa, visit classes, and meet with professors, music directors, and coaches. But what stands out most is the "Iowa nice" vibe on campus and in the community.
"I left campus to walk to the gas station, and there was a gentleman in his front yard doing yard work," said Abram Hernandez '19, who didn't visit campus until his registration and orientation day. "He stopped and asked me how I was doing. That just doesn't happen back home."
Many Arizona recruits also are invited to participate in one of the college's two summer bridge programs, which help students transition to the rigor of college academics and the freedom of living away from home. Both programs offer continued support throughout the academic year and provide leadership and mentoring opportunities for upperclass students.
Vowell and Dr. Zak Montgomery, associate professor of Spanish, also have coordinated several informal gatherings, both during the academic year and on breaks when the students are unable to return home. The meetings included everything from coffee and ice cream dates to bowling to meals at Montgomery's home.
Hernandez hopes to formalize those opportunities in the coming year through the Spanish and Latino Student Association (SALSA), which will provide cultural, educational, and social opportunities for the Wartburg and Waverly communities. Reyes-Tomassini will serve as the faculty adviser.
"During my interview, I talked with Jette (Irgens, assistant director of the Pathways Center), and she said the college was trying to recruit more Hispanic students," said Reyes-Tomassini. "That was a high point of the interview for me and when I could say that Wartburg would be a good fit. I hope that working with these students, I can help them be a bridge between the Hispanic and non-Hispanic students on campus so that we can all learn from each other."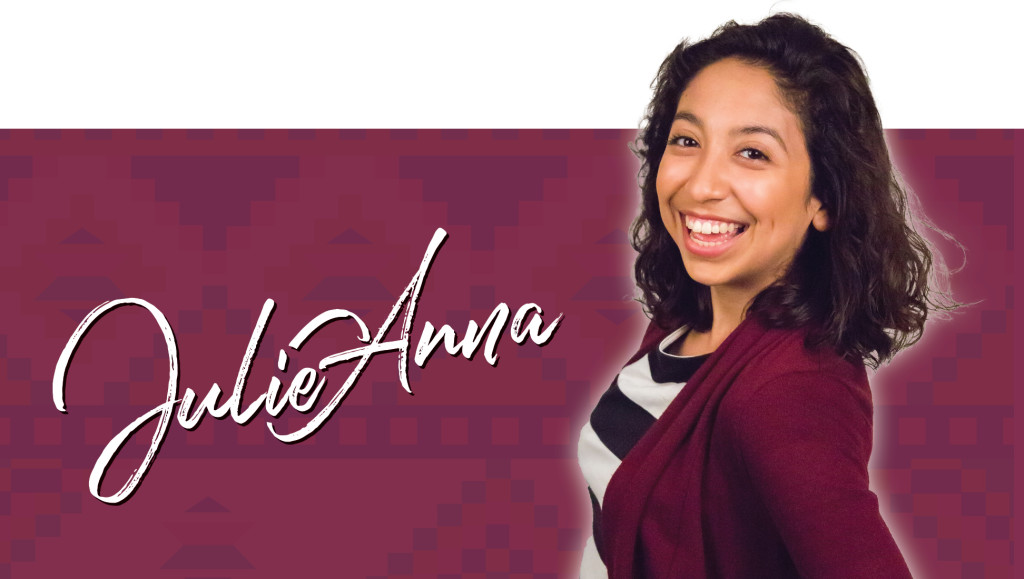 Like many other high school students in Arizona, JulieAnna Olague '18 had never heard of Wartburg College when her college search began. Though she focused almost exclusively on schools in the southwest (minus Pacific University in Hawaii), she applied to Wartburg on a whim during an overnight scholarship event hosted by the Aguila Youth Leadership Institute.
"Kyle (Vowell, admissions counselor) was there doing a presentation, and he talked about the school's biology program," Olague said. "I thought it was a cute school, so I applied online with no intention of actually ending up here."
But after being accepted and offered a large scholarship, Olague agreed to visit campus using the Fly-in Program to help offset the cost.
She liked everyone she met, and the quaintness of Old Main, the little brick college building of her dreams, didn't hurt either.
"I knew that if I came here to major in biology, I also could major in Spanish and still graduate in four years. Wartburg's acceptance rate into medical and graduate schools was another big factor," she said. "It all looked so good. I kept wondering what the catch was going to be."
Three years later, she has yet to find one.
Beginning with the IINspire pre-orientation bridge program, there have been plenty of people willing to step in if she needed anything.
"My whole freshman year, I would have people constantly asking me if I was doing OK," she said. "I had no complaints beside the obvious stress of being a new college student. I got homesick, but I think that will happen whether you are 30 minutes away or 24 hours away."
Today, she is mentoring others through IINspire and helping Abram Hernandez '19 start the student-led Spanish and Latin Student Association. She also is secretary of the Chemistry Club, an ambassador for the Admissions Office, and works on campus.
After she graduates next year, she plans to pursue a master's degree in public health with an emphasis in Latin American studies. Her end goal is to attend medical school.
"I really want to stay in Arizona or another community where there is a need for health professionals who can work with those with a Latino heritage," she said.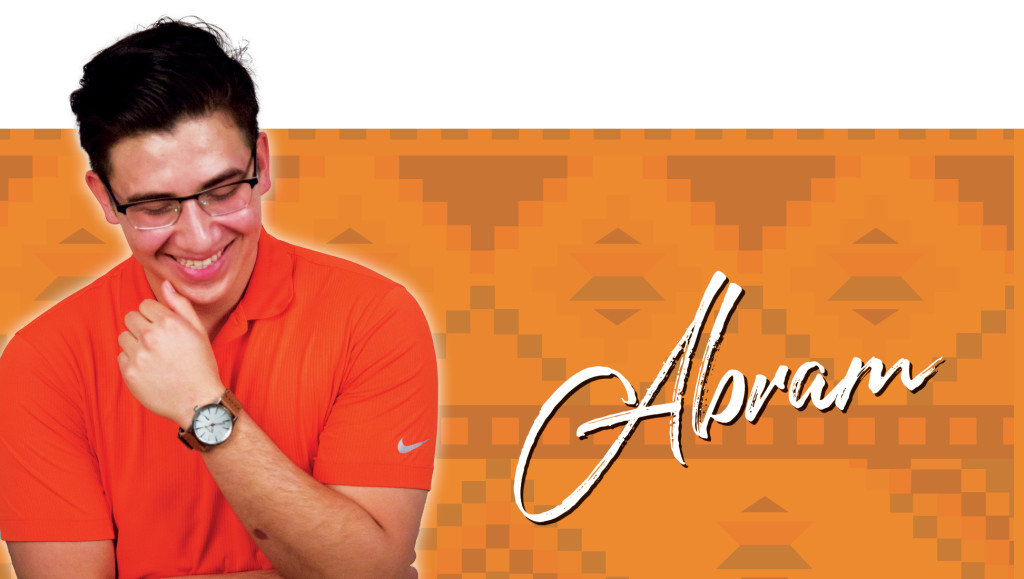 Choosing Wartburg College wasn't an easy decision for Abram Hernandez '19.
Wanting to keep her oldest of five boys closer to home in Mesa, Ariz., his mother was strongly opposed to him leaving the nest for a school more than 1,500 miles away.
Yet Hernandez, who had never visited campus, was drawn to Wartburg, where he felt he could get the personalized attention he wanted and the results he needed when applying to dentistry school (more than 80 percent of all Wartburg applicants are accepted into a post-graduate program, about double the national average). His father proved to be the voice of reason, reminding his eldest that he had to take the path that would lead him where he wanted to be.
"The way I see it, my education is an investment that I will be paying for and benefiting from for many years to come," said Hernandez, who is majoring in biochemistry and Spanish. "I wanted to do something that would benefit me."
Wartburg President Darrel Colson and Kyle Vowell '10, admissions counselor, were in the Mesa area at the Aguila Youth Leadership Institute, along with Hernandez, when he informed them he had committed to the college. The conversation eventually turned to the Hernandez family's tamale restaurant.
"Right before he left, President Colson said, 'Tell your father we will be down for dinner,'" Hernandez said. "He came, and we had tamales for dinner. I will say, President Colson can eat his chiles. It was respectable."
That meal helped assuage Hernandez's parents' concerns about their son traveling so far away from home.
"My father said he could see that the school does care for its students. It says a lot for a president to sit down to dinner with a potential student's family and even more when it's at the family's restaurant," Hernandez said.
Though his parents have yet to visit campus—his brothers start school in August, and leaving the family business for an extended period of time is difficult—Hernandez is certain he made the right choice, though he misses his family and the food.
In addition to being a student manager in the Konditorei, he has served as a student senator and also started the Spanish and Latin Student Association (SALSA).
"There are a lot of students coming to campus from Arizona, Texas, California, and Florida who identify as Hispanic or Latino. This group will offer a place for them to come together, help each other out, and have some good, authentic food," he said.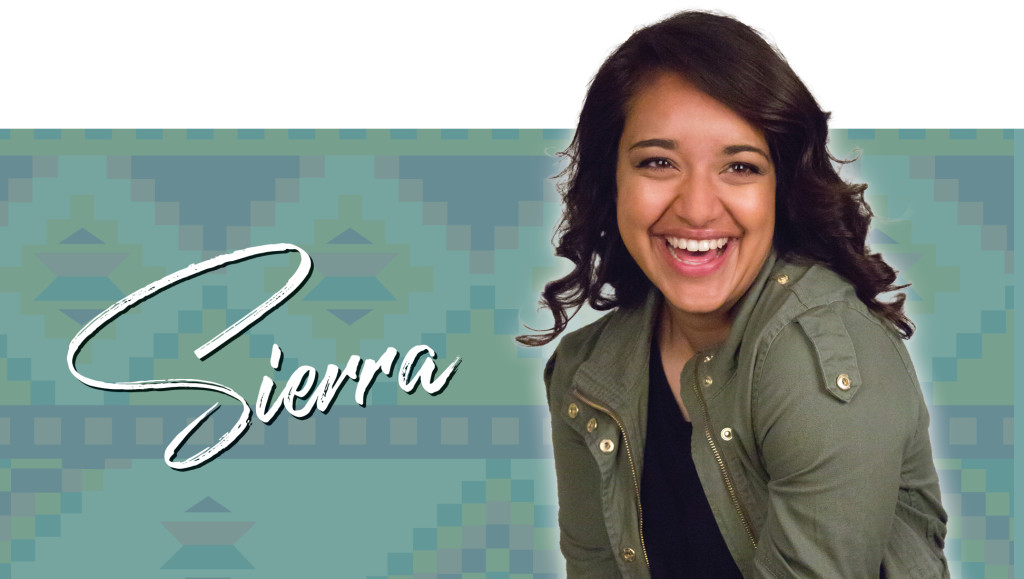 In high school, Sierra Lovato '18 played three sports, served on the student council, and maintained good grades with a particular interest in science. Though she had never heard of Wartburg College, Kyle Vowell '10, admissions counselor, knew she'd be a perfect fit.
After hearing him talk in a high school class, she thought he could be right. Using the college's Fly-in Program, Lovato and her friend, Megan Burke '18, visited campus for Scholarship Day.
"Being here on campus in January was definitely a culture shock," Lovato said. "But I liked the atmosphere. The biology program was strong. Everyone was so friendly everywhere we went. The admissions counselors all knew who we were and made us feel like celebrities all weekend."
She remembers connecting with the biology students who hosted her overnight and the Scholarship Day interviewers, including Ashley Lang, director of campus programming. Lovato and her mother, Manie, also were impressed they met President Darrel Colson, an opportunity that wouldn't have happened at her other top choices: the University of San Francisco and the University of Arizona.
With a little urging from her parents—her mother loved the campus and the people— Lovato finally decided on Wartburg. Burke sweetened the deal when she agreed to be Lovato's roommate.
Like several other Arizona students, Lovato, an environmental science major, participated in the IINspire pre-orientation bridge program.
"There were about 10 other students, and we had the chance to do our first Biology 151 lab down at the Cedar River and meet all our professors," Lovato remembered.
"Then we were paired up with mentors who could talk about their experience in the science program and what we needed to do to be successful in college."
Lovato must have taken their talks to heart, because today she is excelling academically and as an inaugural member of the college's lacrosse team (which was not one of the three sports she played in high school). She also works in the Sustainability Office and served on the Homecoming Committee.
She stays connected to her roots through informal gatherings organized by Vowell and Dr. Zak Montgomery, associate professor of Spanish.
"Zak really cares about all of us as a group," she said. "It shows that people at Wartburg don't just want you here to have you here, but they really enjoy having us on campus and want to make sure we succeed."