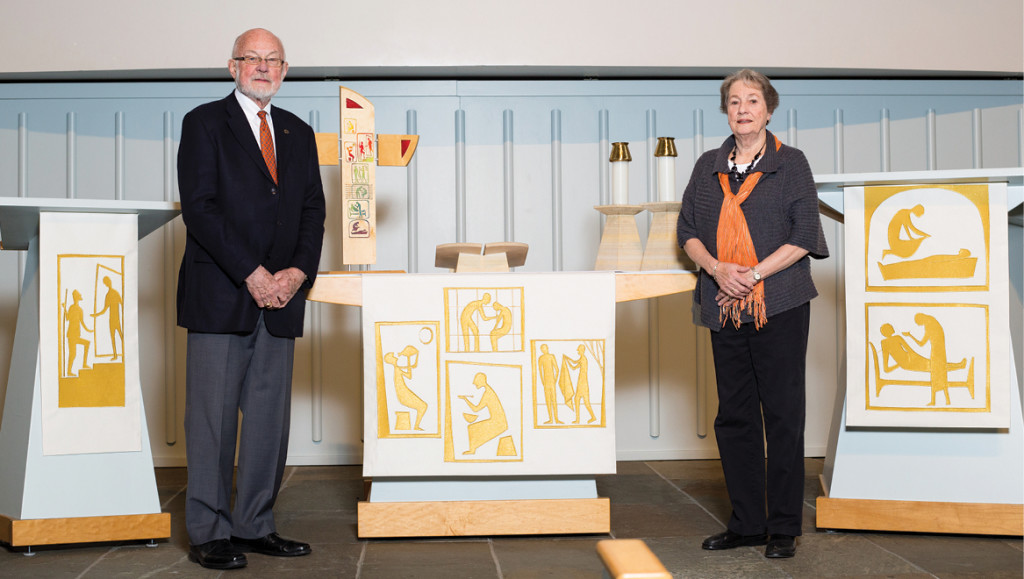 A new set of white and gold festival paraments handcrafted in Neuendettelsau, Germany, and donated by Gil '59 and Mary Reiff '60 Wessel was recently added to the collection of chapel adornments owned by the college.
Paraments are used to visually transform worship spaces and reflect the message and mood of each church season. White paraments are typically used during the Christmas and Easter seasons, as well as during lesser festivals and commemorations.
But the Rev. Dr. Ramona Bouzard, Herbert and Cora Moehlmann Chaplaincy Chair and dean of the chapel, said these paraments may find their way to the front of the chapel more often because they "are so appropriate for our mission."
The paraments illustrate the seven corporal works of mercy: feeding the hungry, giving drink to the thirsty, clothing the naked, sheltering the traveler, comforting the sick, visiting the imprisoned, and burying the dead. The same images are referenced in Matthew 25:34-40.
"They make visible a lot of what our students learn about vocation and service. Now you can walk into the sanctuary and see that," Bouzard said.
Gil Wessel, a retired physician and member of the Board of Regents, said he wasn't as concerned with what was on the paraments as he was with the college owning a set from Neuendettelsau, the home of Wartburg co-founder Wilhelm Löhe. The paraments were crafted at Diakonie Neuendettelsau, which was founded by Löhe in 1854 as an institute for deaconesses. The Wessels visited the Diakonie in 2014 while traveling with the Wartburg Choir.
"As I witnessed them making the paraments in Neuendettelsau, I figured it would be nice if Wartburg had something from there," Gil Wessel said.
The paraments were dedicated Friday, Feb. 17.
"These are an heirloom, a longstanding gift that will be used by the college for a long time," Bouzard said. "These make visible what we talk about and read about in scripture, but it puts it all in one place and allows you to reflect on it, even just going in the chapel.
"I am just so grateful that Gil and other members of our Regents understand the deep connection between our mission as it began in Neuendettelsau and here. The mission Löhe had, to infuse the world with good news through good work, is what I think is so important to our students."