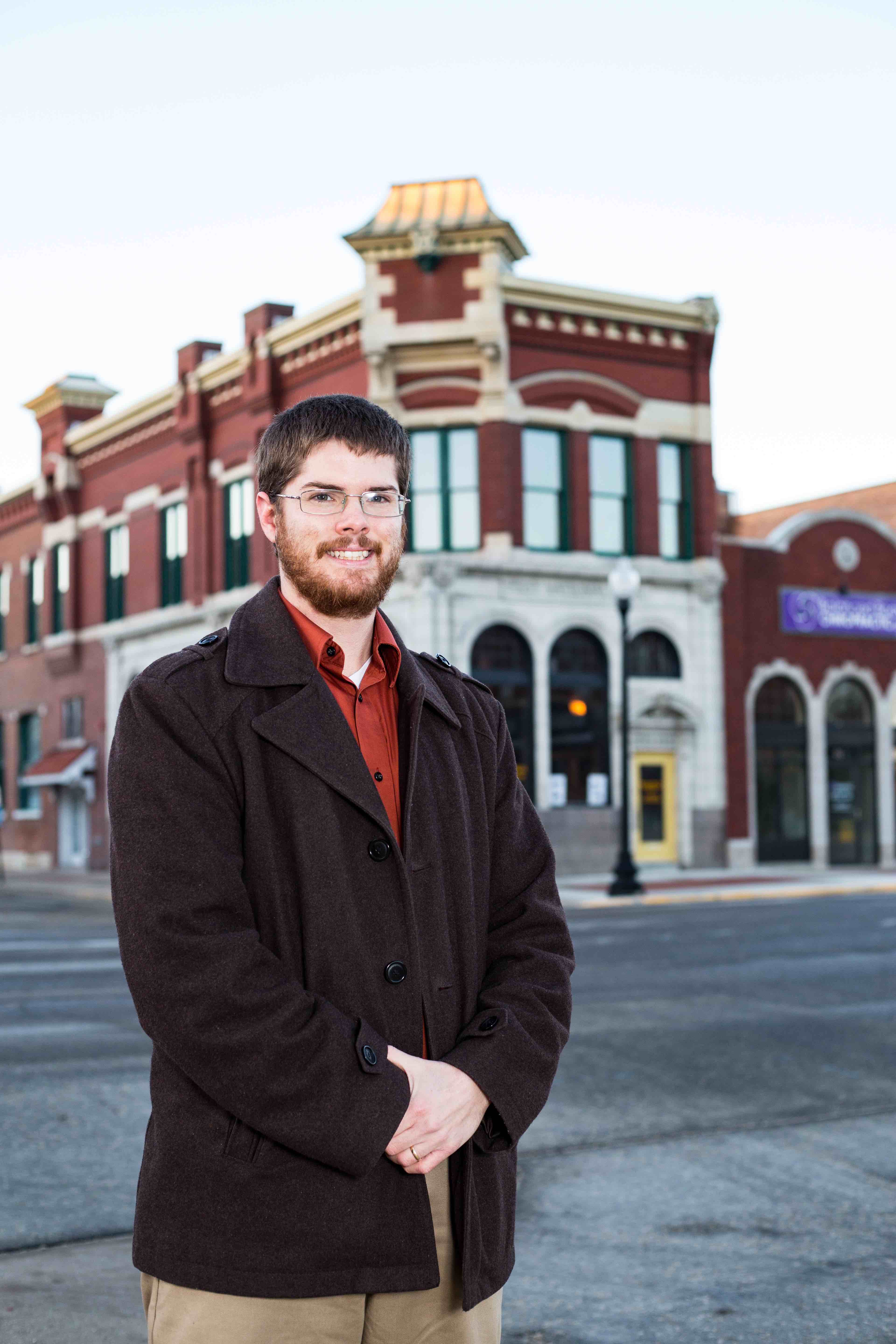 Andrew Bell's '08 passion for history started young. As a child, he read about castles and medieval history. As a young adult, he majored in it. Outside the college classroom, though, a new interest burgeoned—one that, when coupled with his history degree, would eventually lead him to his future vocation.
During his college years, Bell enjoyed serving the community as a Habitat for Humanity volunteer. On the build site, he learned valuable carpentry and leadership skills that allowed him to help build a home for himself and his then-fiancee, Ellen Engelbrecht '08. Though he cut his teeth in the construction world with new builds, his heart remained in the history of older buildings.
"It is fascinating to see how buildings respond to and reflect their inhabitants over time. Changing cultures and markets leave physical residue—from the names of children scrawled playfully in marker on the wall of a closet of my previous home to realizing that a 100-year-old building had its second-story opera house converted into cobbled-together apartments," he said. "Post offices can become bike shops. Masonic temples and former speakeasies can be converted to apartments."
At Wartburg, Bell dabbled in physics, math, and engineering in hopes of finding an outlet for this new passion. In each of these areas he kept stumbling upon a single roadblock: a lack of interaction with people.
"By then I knew I was making a choice between the three pieces of the building industry: the worker, the engineer, or the architect," he said. "I didn't want to work in the hot and cold. I didn't want to do the engineering piece and have less interaction with people. Architecture seemed like an interesting mix and a good fit."
Following his Wartburg graduation, Bell went to Iowa State University, where he earned a master's degree in architecture. Some of his peers already had earned an undergraduate degree in architecture. Others came to Iowa State with backgrounds in English, art, and engineering.
"It was an interesting experience. I was decent at math and had seen how the building industry works on a microscale, but it was still an uphill road because I am not exceptionally good at drawing," he said.
At the time of his graduation, Andrew needed 5,600 hours demonstrating professional capabilities before applying for his architect's license (which he earned late last year). To begin accumulating hours, he helped design and construct his brother-in-law's home. He then interned with the Iowa Historic Preservation Office, where he learned about historic tax credits.
This experience allowed him an opportunity with John Lott at Benjamin Design Collaborative in Ames. Lott and a developer were rehabilitating the Sheldon-Munn Hotel on Main Street in Ames and were seeking historic tax credits to complete the project.
Bell helped shepherd the project, working with a historian to prove it was a historic building, then showing the architectural firm's plans for the renovation, including laying out the building's historical features and how the developer would preserve them while reworking the single-room apartments into larger suites.
"One of the most interesting things that has happened through this process was that my definition of 'historic significance' has changed," Bell said. "While I may not find a fabled relic, I often get a real glimpse into the lives of a building's previous occupant. That can be as profound as seeing a marvelous painting or a knight's ornate armor."
However, a permanent position in Ames was never the plan. The Bells settled in Cedar Falls, where Ellen, who had completed the Doctor of Veterinary Medicine program at Iowa State, had accepted a job with Brookside Veterinary Hospital. At a professional conference in Des Moines, the stars aligned again for Andrew when Lott introduced him to some of the partners at AHTS Architects in Waterloo.
"AHTS does a lot of churches, senior living, historic rehab, and downtown redevelopments. It just seemed like that really aligned with where I want to be. It was all about people and how the building affects them," he said.
What sealed the deal for the higher-ups? They were working on a historic tax credit project in West Union that would result in upper-level apartments in three downtown buildings. In addition to ushering the tax credit paperwork through the system, Andrew also was tasked with the construction management piece of the project, despite being the new guy on the team. He followed that up with a similar downtown project in Waverly.
"Seeing a historian's diligence and success in piecing together the lives of a particular building's owners, builders, or architects is wonderfully engaging and makes me appreciate that the places around us have a significance that is unique and doesn't need to express some greater movement in history to be profound," he said.
Andrew credits his Wartburg education with at least some of his success, so now he's finding ways to give back to the college as a mentor through ACES, a scholarship program for academically and civically engaged students.
"My own track and current position would not have been possible without the help of several individuals willing to offer their advice and support through the years," he said. "My liberal arts education has offered me a broad perspective that has paid dividends in working with people from a variety of backgrounds and being sensitive to their needs and goals. While an undergraduate degree in architecture may have allowed me to graduate two years earlier, I would not trade that for the foundations that a more diverse curriculum helped create."