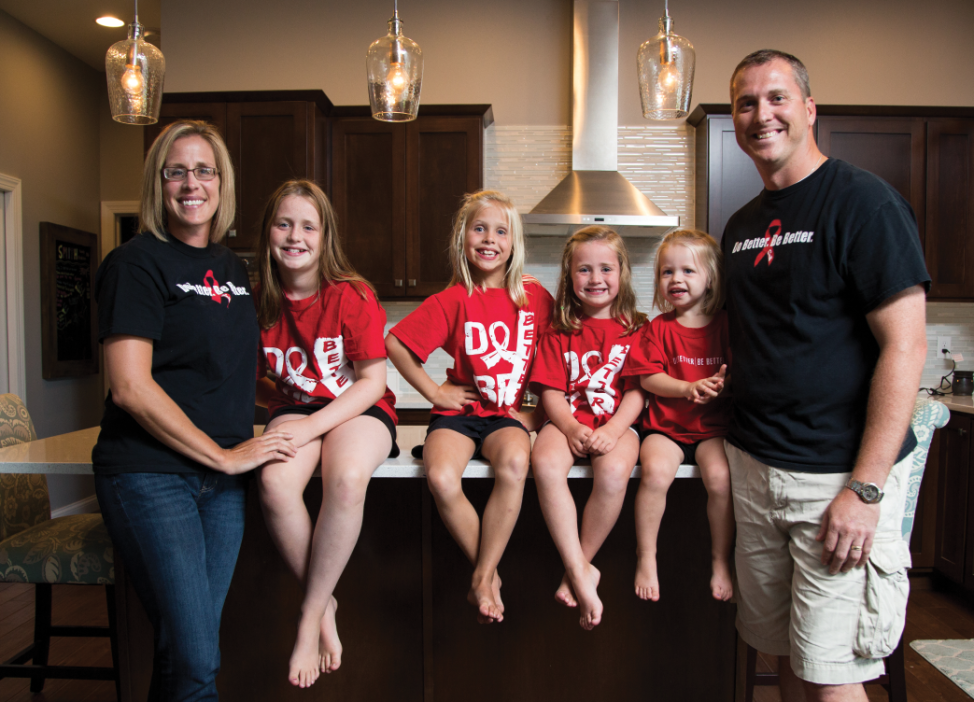 BY STEPHANIE ROBBINS BOEDING '99 PHOTOS JULIE PAGEL DREWES '90
JAMIE GARBES SMITH '03 WAS ONLY ONE year removed from a medical diagnosis that rocked her family to the core when a late-night Facebook check reminded her that she didn't struggle alone.
There, in between family photos and inspirational sayings, were posts about two area children and their families engaged in very different, yet still similar, battles for life. Feeling an urge she couldn't ignore, she asked her husband, Patrick Smith '03, how they could help.
"I knew better than to ignore Jamie when she gets an idea," Patrick said.
That conversation eventually led to the "Do Better. Be Better." fund, which provides financial gifts to families facing medical emergencies.
"We wanted to give back," Jamie said. "It's about paying it forward."
THE STROKE STRIKES
It was a Monday in October 2013 when Jamie, who was 15 weeks pregnant, first noticed something was wrong—a "pop" in her head that nearly caused her to pass out at work and then an unexplained tingling in her fingers. She continued on, assuming the symptoms were related to her pregnancy or that she had picked up a virus from her daughter Jaelyn.
But as the week went on, the tingling spread, reaching her left hand, left leg, and her face. She also had a severe pressure headache. In the bathtub Thursday night, her vision doubled. The next morning, the room was spinning, and she couldn't make her hand pick up her phone.
Patrick rushed her to the emergency room, where a CT scan showed bleeding on her brain. Jamie had suffered a stroke and was airlifted to University of Iowa Hospitals and Clinics.
As Patrick, who lost his own mother in high school, raced to Iowa City, he couldn't help wondering if his own children were about to experience the same loss. He asked his brother, a Johnson County Sheriff's deputy, to meet Jamie's helicopter at the hospital.
"My brother got there, and I asked him if she made it," Patrick remembered.
A NEW NORMAL
In Iowa City Jamie was met by a team of 15 doctors, including ones tasked with keeping her unborn baby safe. She was poked, prodded, and allowed time to rest before starting grueling physical therapy to help counteract the lingering effects of the stroke. In her first session, the therapist asked Jamie to tie the drawstring on her pants.
"For one minute I tried feverishly to tie that string and was sweating by the time I finished," she later wrote on her blog. "My fingers couldn't even hold the string, let alone manipulate it. I couldn't sense or feel the string in my hand. I was trying to tell my hand and fingers how to move, but I didn't even know what to tell it to do."
After a week in Iowa City, Jamie returned to Waterloo for three more weeks of rehab and one week of assisted nursing before finally coming home to Patrick and their daughters, Seeri, Jaelyn, and Linden, just in time for Thanksgiving. Despite continued out-patient therapy, Jamie still battled stiffness and decreased sensation on her left side and double vision in her right eye. And she still didn't know what had caused her stroke.
Jamie stayed home the rest of the school year to focus on the health of her unborn child. Patrick settled into his job as a vice president at First National Bank in Cedar Falls, a position he took just three months before Jamie's stroke, and the entire family eagerly anticipated the arrival of baby No. 4.
In December, a follow-up MRI offered a clearer picture and diagnosis: Jamie's stroke was caused by a cavernous malformation (CM) in the pons of her brain stem. CMs are a cluster of abnormal, dilated vessels. They can remain stagnant or bleed with no symptoms at all. Jamie's case was rare because of its location on the pons of her brain stem and because of her pregnancy.
"The doctor told me I'd have to have surgery, and that I may not be the same person afterward," Jamie said. After learning more about CMs—the chances of the CM bleeding again were low, at just 10 percent
after the first year and 3 percent after the second year—the Smiths decided to wait on surgery and instead focused on getting Jamie healthy and strong enough to deliver baby Myah, who was born at Mayo Clinic in Rochester, Minn., without complications, in April 2014.
"We were both crying so hard we were shaking," Jamie wrote on her blog. "She was here. She was healthy. I had done it."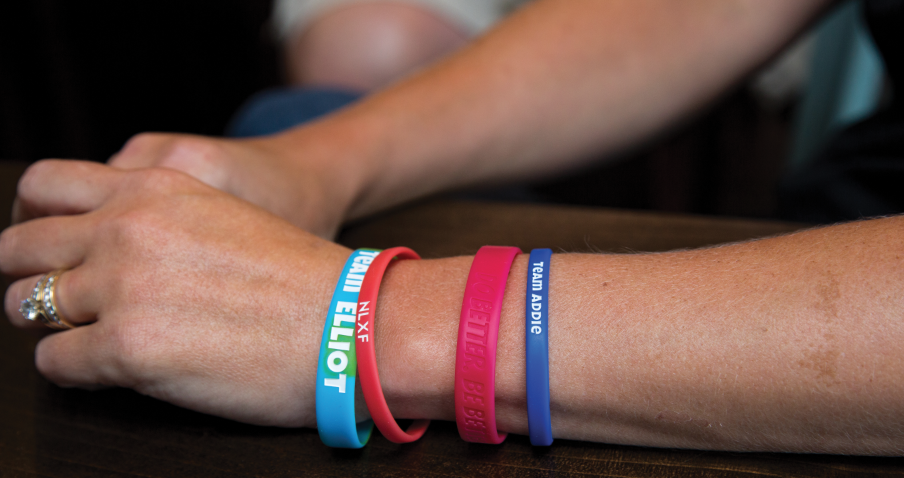 DO BETTER. BE BETTER.
As the Smiths adjusted to life with a fourth daughter, Jamie couldn't help but worry that a second stroke could strike at any time. But even more prominent in her mind was a lingering desire to help others who were fighting their own medical battles.
The opportunities were there; the Smiths just needed to find a constructive way to channel their efforts. In July 2014, high school friends organized a golf benefit for Jamie. That fall, Dunkerton High School, her alma mater, and Cedar Falls High School, where she works as a P.E. teacher, each established a scholarship in her name, and now a 5K benefit color run rotates between the schools.
Then in December came the late-night conversation with Patrick about helping other families, and an idea was born. Jamie garnered the support of her Next Level Extreme Fitness (NLXF) gym family and raised $1,400. More fundraisers garnered more money. The organization developed a nomination process and began to hand out money to families in need.
When a friend made red bracelets to support Jamie, a phrase was needed. A trainer from NLXF pulled "Do Better. Be Better." from a note Jamie had sent to trainers, thanking them for helping to save her life because of their impact on her fitness.
After months of chronicling her journey on Facebook, she started the "Do Better. Be Better." blog in February 2014. The online journal contains dozens of honest, gut-wrenching, and sometimes humorous posts about the high and low points in her recovery.
THE SECOND STROKE
The first hint of a second stroke was an abnormal headache on another Monday, this time in February 2016. The next day, which was Linden's fourth birthday, the tingle in Jamie's face returned. She pushed through the birthday celebration, but on Wednesday went to the hospital, where an MRI showed her CM had grown and was bleeding again.
On Thursday, with symptoms worsening, the couple drove to Mayo Clinic to be treated by Jamie's neurosurgeon. They decided it was time to have the surgery and arranged to work with Dr. Robert Spetzler, a world-renowned neurosurgeon at the Barrow Neurological Institute in Phoenix.
Erik '03 and Angie Hulse '03 Danielson arranged a party for friends before the Smiths left, and Angie accompanied Jamie, Patrick, and Jamie's parents and brother to Arizona to offer support.
"Ever since Wartburg, Jamie is one of those people I'd literally drop everything for," said Angie, who met Jamie on the volleyball team and later became her college roommate. "The night before surgery, we bawled and talked. We wrote on her blog; it was completely surreal."
Despite the risks, Jamie was calm before the 10-hour surgery. She came to with a stiff neck, double vision, and decreased sensation on her left side, but no headache.
"I was hoping I was going to be the same," Jamie said.
Though she felt OK and was able to give Patrick the "I love you" sign, only an MRI would show if the operation had removed the CM. Two days later, the family heard the words they had been waiting for: The surgery was a success. Jamie was going to be OK.
"I couldn't be happier with how it went. I could finally breathe," Jamie said.
JAMIE 3.0
Jamie still has stiffness and impaired vision. Her balance isn't always the best, and she has damage to her nervous system that isn't visible to others.
"When I'm running, it feels like a 25-pound weight is strapped to my left leg," she said.
But, she's here, and together the Smiths are living life to the fullest.
"In the last two and half years, we've had to let go and let God," Patrick said. "We realized we were not going to be able to handle everything on our own. We depended on so many people to help guide us through this challenging time."
The legion of family and friends who've helped them along the way now helps raise funds for other families.
"She's by far the strongest person I've ever witnessed, with her physical therapy and double vision," Danielson said. "Her attitude has been, 'Yes, this is happening to me, but there's a reason.' … She wants to help anyone she can through her blog and foundation."
Patrick focuses on the good that has come out of Jamie's journey the past three years. "It's opened a lot of doors we wouldn't have opened willingly," he said.
A total of 35 families have been helped financially through "Do Better. Be Better." and four scholarships have been awarded in Jamie's name.
"It's hard to be negative with all the positivity around you," he said.