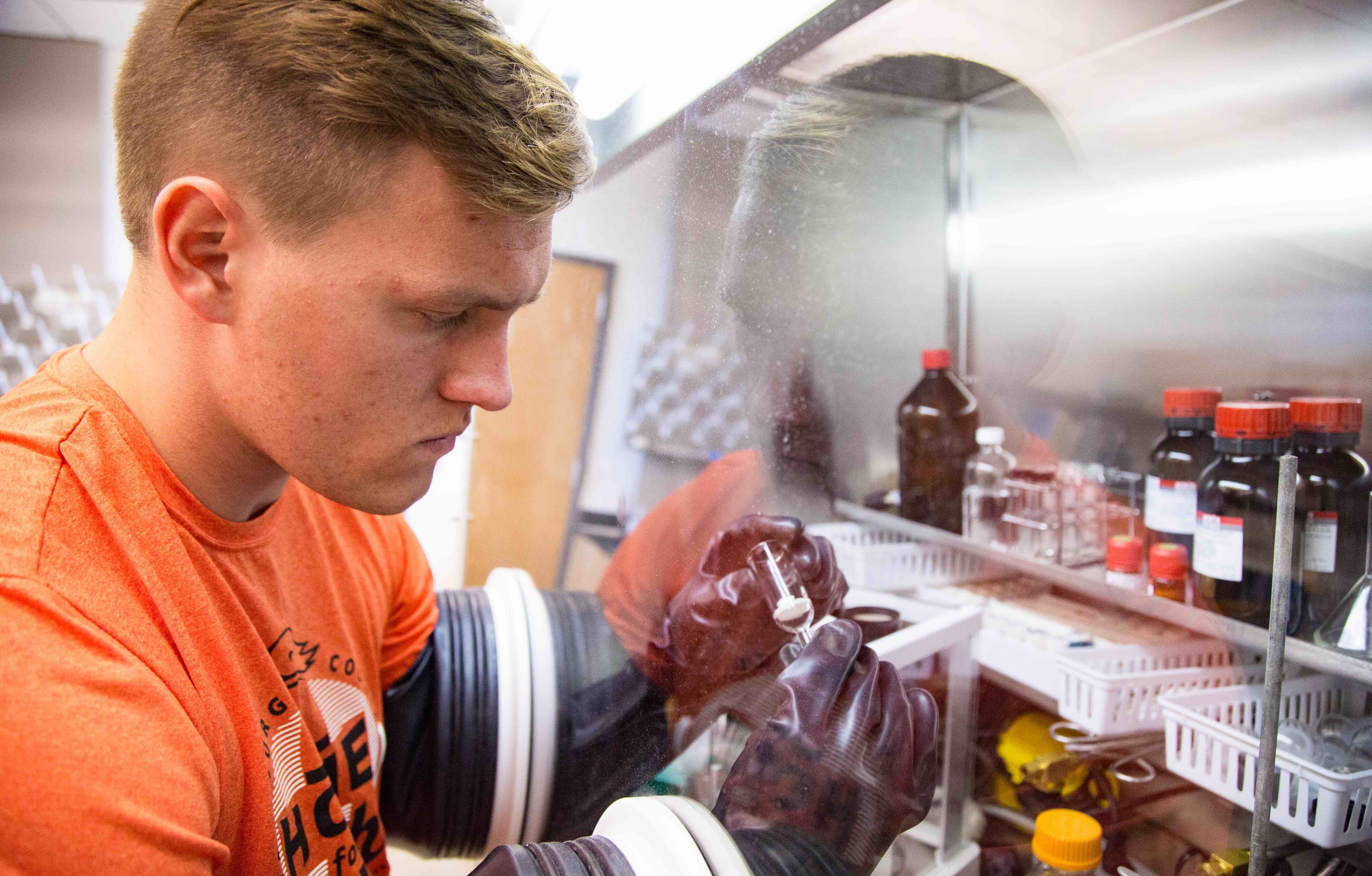 By Emily Christensen | Photos Julie Drewes '90
Whether it's discovering the connection between gut bacteria and Alzheimer's disease or analyzing how college students interpret the cues of sexual assault, Wartburg College students are finding ways to engage in meaningful research, all before earning an undergraduate degree.
In addition to completing mandatory classroom research projects, many Wartburg students delve even deeper into their passions, seeking tangible ways to solve real-world issues, while padding a resume already laden with extracurriculars. For many, the hours spent poring over data and presenting their findings translate into a comfortable confidence that can set them apart in the interview process.
"That is very attractive to employers, and it speaks to their competence to take charge of something and complete a project on their own," said Dr. Brian McQueen, assistant professor of sociology.
The benefits grow exponentially for those continuing with graduate studies.
"They've done research and presented at conferences, but they've also developed a research agenda, which is increasingly important as graduate schools become more competitive and selective," McQueen continued. "During the selection process, we can focus our efforts on the schools that would be a good fit for their research."
A tradition of excellence
When Dr. Roy Ventullo, professor of biology and the Dr. Myrle Burk and Vera Burk Will Endowed Chair in Biology, came to Wartburg in 1994, senior research projects were embedded in the biology curriculum. Students would take one term to write and research their proposal. Their findings were presented to the professor between classes and in the evenings.
Ventullo was aware of how research was presented at the national level. He asked his chair, Dr. Ann Henninger, for permission to expand the research methods curriculum to two terms and to arrange a group poster presentation for all students at the end of the year. The first presentation in Buhr Lounge was well attended and positively received.
Ferol Menzel, then dean of academic affairs, named Ventullo as director of undergraduate research, a newly created position. In 2012, more than 400 students—from across all academic disciplines—participated in the college's inaugural Research, Internship, and Creative Endeavor (RICE) Day.
"This is more the norm now, but we were on the leading edge of research presentations when we started doing those poster sessions," Ventullo said. "We used to write four or five requests for McElroy grants and were the only college requesting money. Now other schools are competing for those same dollars."
With the new position came a small budget to provide fellowships for students who spend their summer working alongside faculty—or on their own—researching a mutually agreed upon topic. That same fund helps students cover the cost of traveling to regional and national conferences to present their findings.
Dr. Shawn Ellerbroek, associate professor of chemistry/biochemistry and the Ralph E. Otto Endowed Professor in Chemistry, and his students have benefitted from the fund several times over the years.
"Through the support, in part, of this program, my laboratory has been able to publish four peer-reviewed articles in science journals in the last five years," Ellerbroek said. The students were named as co-authors of those articles and were able to present their findings at major conferences in Washington, D.C., San Francisco, New Orleans, and San Diego.
This year, Ellerbroek went from being the program's biggest "client" to its director, taking the reins from Ventullo.
"I'm stepping into the directorship in large part due to my past success with undergraduate research," he said. "I understand what it takes to get undergraduate research done on this campus."
Research reaches across campus
Ellerbroek is intimately familiar with the ins and outs of science-based research, but he also knows that some of the best research at Wartburg is happening in the social sciences and humanities.
"If you look at the projects we fund in the summer, the majority are not in the sciences. They are in criminology, psychology, and the fine arts," he said.
In his first year at Wartburg, McQueen used the fund to take Bob Leonard '17 to the Midwest Sociological Society meeting in Kansas City, Mo., where he presented his research on what causes people to protest when police kill an African-American male while at other times they remain silent. Last year, McQueen and Dr. Daniel Sundblad, associate professor of sociology, took three students to the same conference.
"They are doing poster presentations in front of public audiences and professionals from the field. They have 45 minutes for people to come up and ask them about their research," McQueen said. "It's entertaining to help them set up and then disappear into the shadows. We see them get nervous, then get into their research and realize they are having a good time."
McQueen said in the last two years the college has seen its profile rise at these conferences with graduate schools approaching students, trying to recruit them.
Research in a liberal arts environment
At some larger institutions, professors spend more time in research than in the classroom. At Wartburg, teaching is every professor's No. 1 priority. When they do make time for research, it's almost always with a student by their side.
"The strength of the undergraduate research program is the relationship that faculty can have with their students," Ellerbroek said. "Their ability to work alongside their students is at the core of how these projects become successful. Really, that is why students choose an institution like Wartburg."
Though not every research project is worthy of presenting at a major conference or can get published in a peer-reviewed journal, Ellerbroek believes they all merit the investment of his time.
"Our students are experiencing the joys and the pain associated with real research, and like any institution, we can hold up projects that have been published or stood shoulder to shoulder with work from any institution," he said. "When our prospective students visit with faculty members and learn they are required to do a research project, that scares them but attracts them at the same time. This is a model vehicle we have established to get research completed on this campus and at other institutions similar to ours."