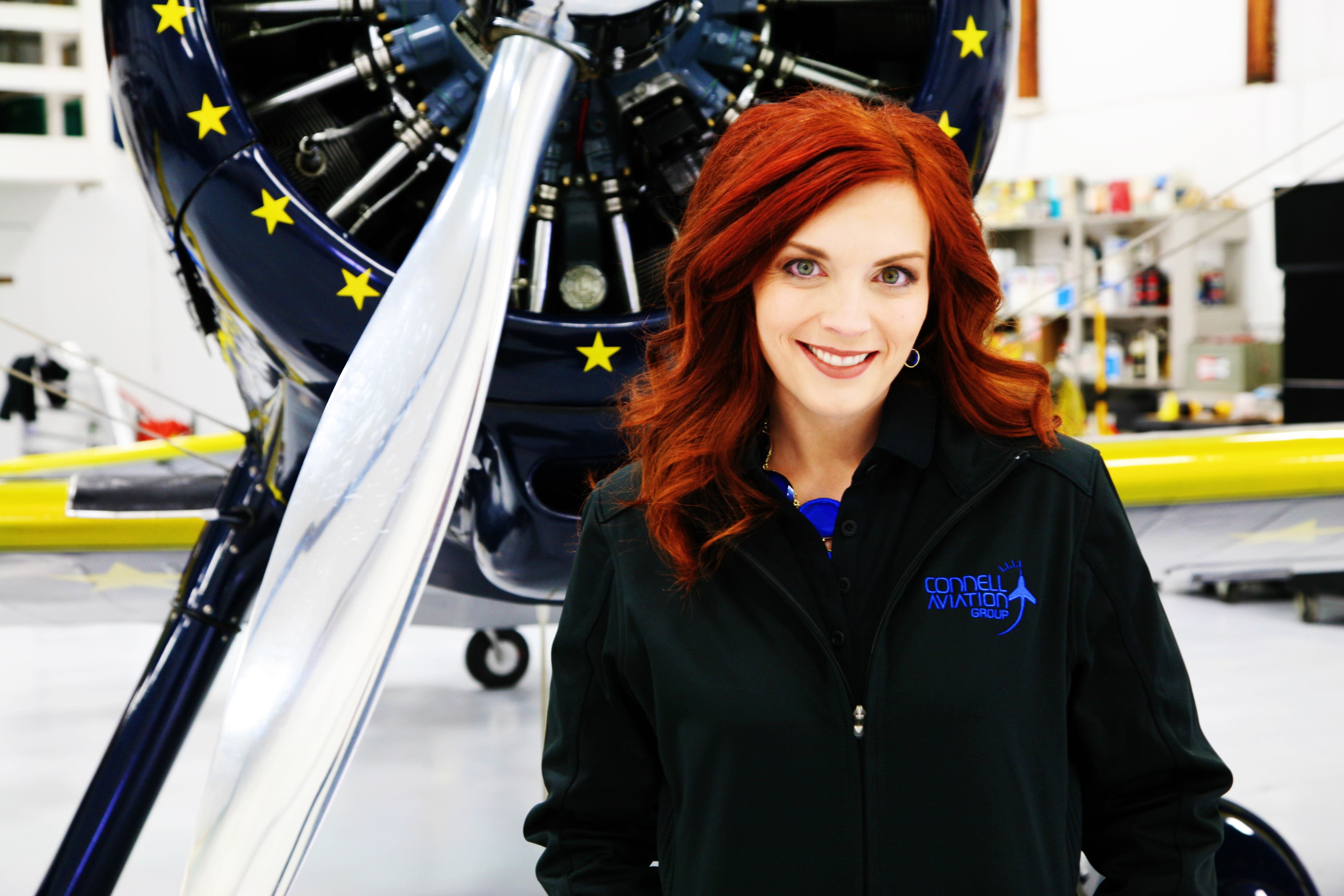 By Suzanne Heseman Behnke '97
ALYSSA CONNELL '02 GREW UP IN A TRAILER off the ramp of an airport. Her grandfather is a flight instructor and multi-rated pilot. Her grandmother is a private pilot, and her father is a flight instructor, multi-rated pilot, and nationally recognized aviator. Her uncle and brother are both private pilots.
To say that aviation runs in her blood might be an understatement–she hopes to take her first solo flight this summer–so it came as no surprise when Connell, a communication arts major, combined her passion for flying with her love of marketing to open Connell Aviation Group, an aviation and aerospace communication firm based in Cedar Falls with offices in Arizona and Minnesota.
"We have a worldwide client base with a trajectory for growth that is straight up," she said. Connell Aviation Group isn't the only investment for this young entrepreneur. She also runs Connell Communications Inc., a general turnkey marketing and communication firm; The Point of Style, a women's clothing boutique; and runway THREE-SIX, an aviation/aerospace apparel shop that opened in early March.
Here is what the National Association of Professional Women's 2014 Woman of the Year had to say about her time at Wartburg, being an entrepreneur, and making the most of a college experience.
QUESTION: What experiences as a student sparked your entrepreneurship or fueled your abilities as a leader and person in business?
CONNELL: When I was a student at Wartburg, I developed the entrepreneur spirit. Because of the vast leadership roles offered to students, it was easy to gain a working knowledge of guiding people and organizations. And because of the college's servant-leadership focus, it has always been my focus to find ways to make a positive impact.
Q: What were some of the challenges you faced in starting your own business, and how did you overcome those?
C: I think one of the hardest challenges any new business owner faces is effectively articulating your vision to others. That, and stamina to see it through. This is some of the hardest work I've ever done but also the most rewarding.
Q: Going forward, how do you see yourself and your companies working in the world?
C: The aviation and aerospace industry is underserved. While it has been a tough year for the economy with only glimpses of slow growth, we are able to serve the market with affordable communications programs. That's how we have found our niche. We modeled our business after serving those without large budgets or resources. Because of this model, the rise and fall of the markets hasn't hurt us. In fact, it has made us the option for those who can't execute better communications in-house. With more than 7,000 airports in America, plus the thousands of related suppliers and manufacturers, Connell Aviation Group has more opportunity than we can fulfill.
Q: What are the perks or benefits of being in charge of your own business?
C: In previous roles, I've had to stay within the confines of someone else's boundaries. We often use the expression around the office, "There is no glass ceiling when the sky is home." I really like being in charge of running a business but also realize how vitally important it is to have the right team alongside you. One of the greatest perks I exercise is the ability to adjust my schedule to spend time with my young children. Putting them on the school bus every day, attending their events, carpooling friends, and helping with homework, these are the moments in life you can never get back.
Q: How are you able to fit in downtime?
C: I am on most of the time. Downtime is precious and sacred. Too much of anything is likely too much—finding a balance truly is key to it all. I haven't perfected it completely; it's more like a work in progress.
Q: How does your Wartburg education come into play in your day?
C: I call on my experiences at Wartburg College daily. I cannot imagine receiving a better foundation to launch from than what I received at Wartburg. There are still so many goals I haven't reached. As an alumna of Wartburg, I know the resources are there to help get me to where I want to go.
Q: What advice would you give to Wartburg students based on your professional experiences so far?
C: First of all, we love Wartburg students at our company and have employed several in important communications roles. I would tell Wartburg students to pay attention to how they communicate. Unfortunately, most people have the attention span of an Instagram feed. However, the written word is still valuable. Good written and oral communication skills are what will set recent graduates apart in a crowd. For the students thinking of starting their own business: Work for someone else first. Gain some experience on their dime.