By Stephanie Robbins Boeding '99
YOU MAY NOT EXPECT A DRUMMING GROUP to catch your eye as much as your ear.
But at Kastle Kapers last fall, Wartburg's Orange Drumline did just that, wowing the crowd with its choreography as much as its sound. The performance featured bass drums pushed on wheeled carts, and at the climax, snare-drummer
Stephen Klaassen '18 was standing atop the drums of two other snare players.The audience roared with shouts and applause in approval of the 4-year-old music group, which is finding its niche.
When Klaassen started at Wartburg, the Orange Drumline still was in its infancy.
"I heard there was a drumline just getting started, and I looked forward to a leadership opportunity," the biology major said.
The organization wasn't ready for the competitive environment Klaassen thrived on in his large high school, where the marching band program placed as high as sixth nationally at the Music for All Bands of America Grand National Championships.
Klaassen knew that when he chose Wartburg. But the college's nationally known medical science program and his family's Wartburg legacy—he's the fourth generation to attend; his parents are Daniel '88 and Katherine Janssen '85 Klaassen—brought him from Broken Arrow, Okla.
And he's making the most of his experiences.
Though it doesn't directly impact his biology studies, Klaassen said drumline does enrich his college experience and provide a leadership opportunity that can't be found in the classroom.
"Drumline is a way for me to reach out and impact others through past experiences that I have," Klaassen said. "It is a nice change of pace from the textbooks, and it enhances teambuilding and leadership skills."
The drumline vice president also is sharing love of drumming and his expertise to cultivate the next generation of drummers by volunteering with the Denver High School band.
"He was able to devote a lot of time and energy to the drummers' improvement and brought a level of expertise that I don't have," said Dan Cooper '01, Denver High School band instructor. "He really did a lot to develop the skill and confidence of our players."
Next fall, as Orange Drumline president, he hopes to host the organization's first one-day drumline camp for high school students. Klaassen also has started a new indoor drumline group, Revolution Indoor Percussion. Participation is open to the Waverly community, and the group incorporates marching drums and a stationary front ensemble to create thematic shows during the winter months. Revolution's 21 members march on a giant tarp and rehearse weekly at The W.
"Indoor drumlines are not well-known around here, and that's one reason we wanted to start one," Klaassen said. "It can serve as an inspiration to the community."
Klaassen hopes raising the groups' visibility around the community will lead to more drumline outings; Revolution booked performances at area high schools this spring, and Orange Drumline will be looking for more shows in the fall.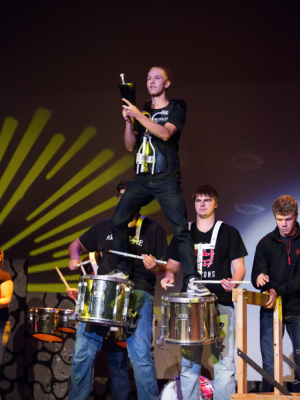 "We can't compete with this group just yet, but we can have local shows at high schools to spread the knowledge of indoor percussion ensembles and inspire others through it," Klaassen said. "Then hopefully down the road, we will be able to compete at local and regional competitions."
To do that, the drumline also must build up its equipment arsenal, a daunting task for a fledgling group that started with mostly secondhand and loaned drums. Though the student organization does receive some funds from Student Senate, it's not nearly enough to buy and maintain the pieces they need.
Some members have stepped up and purchased music, drumsticks, and drum heads on their own, but there are other more expensive items still on the wish list. Now they are raising funds for new drum harnesses, drum heads, a bass drum, snare drums, a vibraphone, and a marimba."
Previous drumline presidents had to buy the cheapest harnesses possible, and we're honestly finding them to be inadequate to do what we need to do," Klaassen said.
He won't, however, allow that to stand in the way of his vision to build up the Orange Drumline and push his fellow musicians to bigger and better performances, a view he shares with this year's president, Steven Zahn '16.
In addition to Kastle Kapers, the drumline played with the Pep Band at Wartburg football games, accompanied the Outfly morning proclamation, and performed along Bremer Avenue for Waverly's popular Christmas on Main event.
To prepare for these events, drumline members commit to weekly practices and must memorize the music. The men and women—most are not music majors—play snare, tenor, and bass drums as well as cymbals.
Though most of the drumline's 10 to 12 members took the summer off, Klaassen knew the group couldn't simply wait until fall if the performing percussionists wanted to reach the next level.
"A friend and I back home started writing music and the drill, the choreography," Klaassen said. "Then we sent that music out so people could start looking at it over the summer, and when we got back to campus, we started rehearsals."
The extra effort paid off on the big stage during Kastle Kapers.
"We've played at Kastle Kapers for four years, and this year was our best," said Zahn, who graduates in May. "I can't wait to see their performance next year—I'm coming back to see it."