More about Kunihiko Terasawa
B.A., Aoyama Gakuin University, Tokyo, Japan
M.Div., Drew University
M.A., Ph.D., Temple University
Dr. Terasawa joined Wartburg in 2012, has been teaching RE 202 World Religions in Dialogue, RE 341 Buddhist Traditions, RE 342 Religions of China, RE 343 Religions of Japan, and RE 340 Islam and the Modern World. Terasawa is a board member and an international advisor for East Asia for the Society for Buddhist-Christian Studies and active in the Cedar Valley Interfaith Councils. Terasawa's recent research focuses on how interreligious/transnational solidarity of religions can overcome ultranationalist populism in the Pacific Rim. During his sabbatical for 2019-20, Terasawa became a visiting professor in South Korea (Sogang University, Fall 2019) and Hong Kong (The Hang Seng University of Hong Kong, Spring 2020).
Terasawa was raised in Japan, following Buddhism and Confucianism, but wanted to better understand Christianity as it related to Western culture. Terasawa became interested in the differences between Buddhism, which often focuses on inner spirituality, and Christianity, which has affected social issues and ethics in communities.
"By learning a different religion, we can awaken our own religious roots, re-identify our own traditions and have an interreligious dialogue with others," Terasawa said. Terasawa's older brother, Junsei, is a Buddhist monk.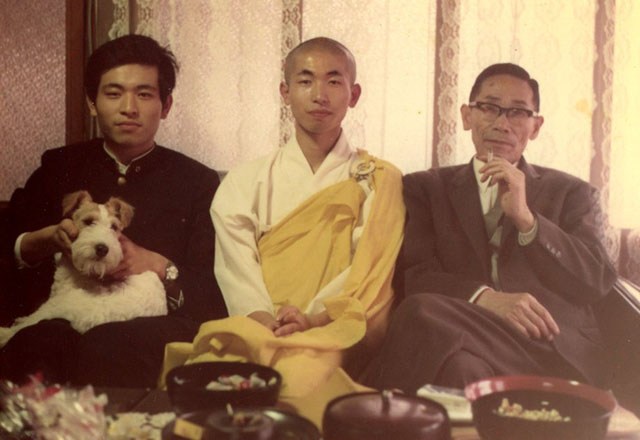 (Left to right) Dr. Kunihiko Terasawa, associate professor of world religions (as a high school student), sits with his brother Junsei Terasawa and their uncle soon after Junsei became a Buddhist monk.
Recent works:
"Struggles for Democracy in Hong Kong," based on his sabbatical research in Hong Kong, in the September, 2020 issue of Living Lutheran, an ELCA monthly magazine.
https://pubs.royle.com/publication/?m=62112&i=669240&p=42&pre=1
"Hong Kong students are a treasure of Asia" in the June 2020 issue of Chikyū-za (Global Eye News), Tokyo, Japan
http://chikyuza.net/archives/104229
"The Improvement of Korea-Japan Relationship Through Repentance and Forgiveness" by a South Korean national daily newspaper, The Kukmin Daily News (The Citizen News) on Nov. 27, 2019, Seoul, South Korea.
http://news.kmib.co.kr/article/view.asp?arcid=0924109823
"The Case of Hirose Akira: The Ethical Predicament of a Japanese Buddhist Youth during World War II," Religions by MDPI, June 10, 2018, Basel, Switzerland
https://www.mdpi.com/2077-1444/9/6/185/htm
"Seno'o Girō's Buddhist Socialism, Antiwar Movement, and Dialogue with Social Christianity in 1930s-1940s Japan," Journal of Buddhist-Christian Studies, University of Hawaii Press, Vol. 37, 223-235, November 2017
https://muse-jhu-edu.ezproxy.wartburg.edu/article/675595
"Der Fall Hirose Akira (1919-1947): Japans buddhistische Jugend im Konflikt mit der Militärgewalt im Zweiten Weltkrieg," in Freiheit, Bewusstheit, Verantwortlichkeit. Edited by Friedhelm Köhler, et al. 213-224, München, Germany, December 2016.
"Buddhist-Christian Double Belongings," Dharma World, Vol. 43 January-March, 2016, Kosei Publishing, Tokyo
"Japanese Buddhism Copes with Imperialism: 1900-1945,"Japan at War: An Encyclopedia, Santa Barbara, California: ABC-CLIO, January 2013