Susan Meyeraan
Library Director / Associate Professor of Business Administration
Office: WBC 106
(319) 352-8315
More about Susan Meyeraan
B.B.A., M.B.A., M.A. University of Iowa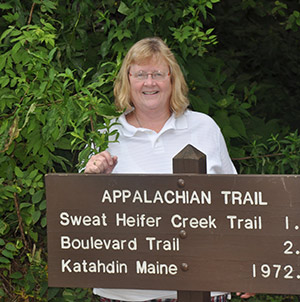 Professional History:
Just celebrated 10 years in the Department of Business Administration, Accounting and Economics at Wartburg College
Other teaching experience has included:
University of Northern Iowa – Departments of Management, Marketing, and Industrial Technology
University of Iowa – Department of Management Sciences
Business Experience includes:
Management & Professional Development Center, Assistant Director, University of Northern Iowa
Ruth Consulting Group, Senior Management Consultant, Cedar Rapids, Iowa
EBI ~ The Net Worth Advisors, Director of Operations, Waterloo, Iowa
Family/Hobbies:
I live in Waterloo and love to be outside working in my yard or trying to get my flowers to grow. However, most weekends during the summer you'll find me at our family cabin at Holiday Lake (about 60 miles south of Waterloo). When my niece (age 13) and nephew (age 16) come to visit, we spend most of our time skiing and wakeboarding. The best (and worst) part about being at the lake is our internet access is very limited (we only have old-fashioned TV too – whatever the antenna pulls in is what we get)! Its great to be mostly disconnected from our high-tech world for 24 – 48 hours each weekend, but I do sometimes miss communicating with students.
When I have spare time (and money), I love to travel. I've been to 47 of the 50 states and at least 14 countries. If I have a choice, I'll head to the mountains and avoid big cities.
I also am a proud graduate of the University of Iowa and attend many sporting events there. My Mom and I have only missed one home football game in 37 years. And yes, I started young, attending my first college football game when I was 6 months old.
In summary, if you need me, you'll find me outside somewhere!
Favorite Thing about Wartburg:
After spending many years involved in teaching/training through the state university system, I found my passion at Wartburg College. In my "prior life," I would have a student in one class, than I might never see him/her again. The best thing about being at Wartburg is that I get to know my students (and, in some cases, their families) over the course of 4 years. I get to watch young people grow up and learn about themselves and the world they live in. I get to be a part of helping 18-year-olds become outstanding, involved, passionate adults who give back to their communities in countless ways.
Awards, Recognition, Committee Work:
Professional In Human Resources Certification
Faculty Advisor for Wartburg College Dance Marathon
member of President's Budget Advisory Council
member of Health Insurance Task Force
served on EPC, FRC, FDC, LESC, Student Media
former Leadership Fellow
former faculty advisor for Student Senate
Research Interests:
Human Resources, including legal, performance, behavioral, and disability issues
Business Communication issues, including peer assessment of assignments and documentation of performance issues
Confronting poverty with job training, micro-enterprise, and social entrepreneurship
Decision Making Biases and Heuristics

Courses Taught:
BA 325 Business Communication
BA 345 Principles of Management
BA 346 Human Resource Management
BA 438 Organizational Behavior
BA 449 Organizational Leadership
IS 201 Working in a Diverse World
and the occasional class in marketing, consumer behavior, and advertising
Inspirational Quotes:
Claus Moser: Education costs money, but then so does ignorance.
B. F. Skinner: Education is what survives when what has been learned has been forgotten.
B.B.King: The beautiful thing about learning is that no one can take it away from you.
Chinese Proverb: I hear, and I forget. I see, and I remember. I do, and I understand.