Justin Crouse
Associate Professor of Accounting
Office: WBC 104
(319) 352-8719
B.A., Wartburg College
C.P.A.
C.P.A., M.B.A., Iowa State University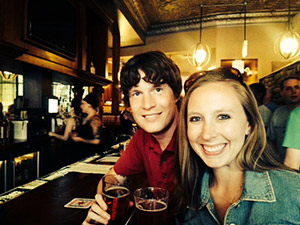 After graduating from Wartburg in 2008, I took a job with with Kiesling Associates LLP, a small, public accounting firm in West Des Moines, Iowa. While at Kiesling I did a combination of auditing, book-keeping, regulatory reporting and tax work. I worked with them for about two years and a half years before leaving to attend Iowa State University full-time to earn my MBA. During my time at Iowa State I did some teaching in the accounting department as well as for Career Services. I also did some consulting work for a new financial reporting company called WebFilings (now called Workiva). I now find myself back home at Wartburg College and am loving every minute of it.
Research Interests:
Focus a lot on teamwork in the classroom and also incorporating technology that will be essential in the workplace.
Favorite Thing About Wartburg:
My favorite thing about teaching at Wartburg is the opportunity to really help develop the next wave of accountants. Not only do I get the chance to work with them in the classroom, but also in my office and outside of class as well. Plus, with Wartburg being the size it is, I get to work with students in many different courses as they move their way through the accounting curriculum. These opportunities give me the chance to really get to know the students in my classes and help to foster the best learning environment possible. When senior students want you to meet their parents on graduation day, it shows how close that bond has become.
Courses Taught:
Principles of Accounting 1 & 2
Cost Accounting
Accounting Systems
Income Tax Accounting 1 & 2
Senior Seminar in Accounting
CPA Review

Awards, Recognition, Committee Work:
Licensed CPA in state of Iowa
Serve on Admissions and Scholarship committee at Wartburg College
Member of Pastoral Council for St. Mary Catholic Church
Favorite Inspirational Quotes:
"Don't cry because its over, smile because it happened." – Dr. Seuss
"Crouse is accounting's #1 fan. That helps us want to be here more at 7:45 when he is excited to be here. Also he's literally always in his office for questions, which is awesome."
"The way you teach with energy and passion EVERY DAY. You're always prepared and ready to share your knowledge with us."
"I think Prof. Crouse did a very good job teaching. I learned from his class, rather than just cramming."
– Comments left on Student Ratings of Instruction- Winter 2014