For the second time in as many years, an aquaponics program developed by Wartburg College Professor Michael Bechtel is available to all Iowa educators, thanks to the Iowa Governor's STEM Advisory Council's STEM Scale-Up Program.
The program, called Ioponics, combines aquaculture (raising fish) and hydroponics (growing plants without soil) to create a controlled micro-ecosystem for year-round hands-on learning. The state award will pay for the physical materials and continued technical support for the aquaponics system, which comes with cross-curricular lesson plans for PK-12 students that align with Iowa Core and Next Generation Science Standards.
The state award also will support the Ioponics program in other areas where kids of all ages gather to learn and grow, including after-school programs, youth groups, libraries and other educational programs. To apply for the Ioponics program, visit https://iowastem.org/Scale-Up-Application.
Bechtel is hosting free online workshops on Jan. 26 and Feb. 18 at 7:30, 11:30 a.m. and 3:30 p.m. so interested individuals can learn more about the program. Additional information and webinar registration is available at www.wartburg.edu/ioponics.
The application period for the STEM Scale-Up Program closes on Feb. 28. Classrooms and other programs selected to receive the Ioponics program will be announced in April.
"I appreciate the support I have received from Wartburg College and the interest from so many state educators," Bechtel said. "I am extremely excited to be chosen again by the Iowa STEM Advisory Council. We have made more lessons and next year's systems will be even better. I really hope we can reach those last 44 counties in Iowa and then start looking at those other 39 states."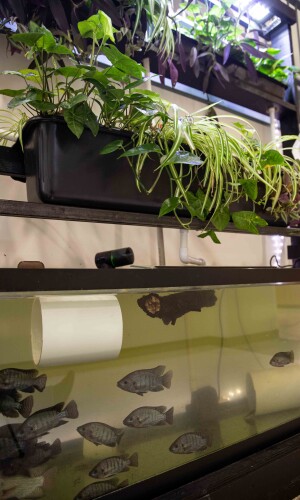 In 2021-22, Bechtel and his team of Wartburg students placed 129 systems in 55 of Iowa's 99 counties. This spring, Paul Mugan, a Waverly-Shell Rock High School science teacher, will use the system to help teach concepts in his ecology course.
"Without these resources, this course would be much drier, using online simulations," Mugan said. "Having this system in the classroom, which also includes lesson plans, is a huge asset for teachers, especially those teaching all subjects who may not have strengths in science. This allows them to dive in without having a ton of background knowledge."
The STEM Scale-Up Program provides STEM educational opportunities to approximately one-fifth of Iowa students each year, bringing some of the nation's best STEM lessons, labs, kits and software to PreK-12 students. Students who participate in the STEM Scale-Up Program have a proven success rate of performing better on the Iowa Statewide Assessment of Student Progress as well as more positive attitudes about STEM study and careers, compared to students who did not receive STEM Scale-Up Programming.
Visit https://iowastem.org/scale-up/menu for more information on the 2022-23 STEM Scale-Up Programs.