Wartburg College senior Silvia Oakland was named the Pat Pisarik Journalist of the Year by the Iowa Collegiate Media Association at the organization's annual awards ceremony.
The editor-in-chief of The Trumpet, the college's student-run newspaper, is pursuing a degree in journalism and communication with emphases in public relations, digital cinema and multimedia journalism. She also is active with the college's student-run livestream network, Knight Vision.
"I'm incredibly honored to have been nominated for and presented this award," Oakland said. "I'm also extremely grateful for the support and encouragement from everyone in my life and the Wartburg Department of Journalism & Communication."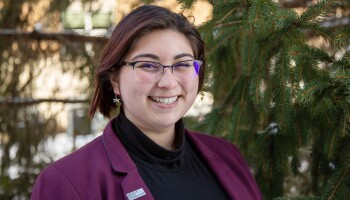 In addition to this top award, Oakland also earned a first-place finish in Best Feature Story, Best Page 1 Design and Best Use of Social Media in the news media division from the ICMA in its recently announced 2020 awards. She also earned third-place honors for Best Social Justice Coverage in the media division and Best Feature Package in the radio division. She earned an honorable mention in Best News Photograph, Best Interactive Content and Best Staff Editorial in the news division and Best News Programming in the television division.
Pisarik was a founding member of the ICMA and longtime journalism professor at Loras College. The award honors the outstanding journalist serving collegiate media in the past calendar year.