By Emily Christensen | Photo Alexandra Coppock | Retouching Amy Nichols | Copywright Ben Ulin Productions 2019
Growing up, Lindsay Mickelson '13 spent hours watching magicians David Copperfield and Lance Burton on television.
"Magic has always intrigued me. I thought it was so cool and a different form of theater, which I also was very into," Mickelson said. "I don't think they are necessarily fooling people, but it's a different way of looking at things, and it's really mind bending as you grow older. You realize the things they say they are doing just aren't physically possible."
Though magic was never Mickelson's passion, performing on stage was. At Wartburg, she was a member of St. Elizabeth Chorale and Castle Singers, which allowed her to travel through Sweden, Denmark, Estonia, Germany, and Paris during May Term. She also performed with the Wartburg Players.
Mickelson started her Wartburg journey as an education major, but after spending some time in a classroom realized it wasn't the career for her and switched to music performance.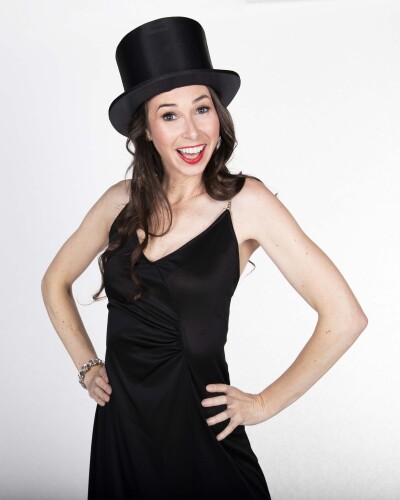 Now living in Des Moines, Mickelson is an administrative assistant in the real estate division at HyVee, a position that is flexible enough to allow her to follow her true passion on stage as an actress with the Des Moines Playhouse and as an assistant for Ben Ulin, the magician who has provided entertainment at Adventureland in the Des Moines area since 1988. "Not many people can say they get cut in half and then put back together on the weekends," she said.
Her work with Ulin introduced her to the bigger magic community and eventually led to gigs with magician and illusionist Keith West, who works with Entertainment Group. Her work with West, who often does larger illusions, took her to Las Vegas where she partnered with her childhood favorite Lance Burton, as well as Fielding West and Michael Goudeau, a juggler and ex-circus clown who graduated from the Ringling Bros. and Barnum & Bailey Clown College.
"The last show we did before the pandemic was at a magic convention in Blackpool, England. We've also done shows in New Mexico, Arizona, California, and Colorado," Mickelson said. "Magic has taken me all over the place. These experiences all just fell into my lap, and it's been a blast ever since."
During normal times, when she's working with Ulin for more local shows and preparing for larger shows with Keith West, she will set aside at least a couple of hours each week to rehearse. On show days, the team is at it early, running through their set on the stage to ensure they have the room they need to make each trick or illusion work.
"There have been weird instances where we had to create our own dressing rooms or walk through other rooms or outside to get to the other side of the stage," she said. "We have to make sure we can do everything safely, because accidents can happen. We don't want anyone to get hurt, and we don't want any of the magic or illusion to be exposed."
Despite her years as a magician's assistant, or box jumper, as she's sometimes called, Mickelson said she still gets nervous whenever they are set to do a new trick in front of a live audience. "You can never be sure how the audience will take it or if something will go wrong."
And don't bother asking Mickelson for any insider's information on how the tricks or illusions are done because her lips are sealed. "Now that I know the trick, the wonder is kind of gone for me, but I love the idea of helping others believe the impossible is possible."