The Wartburg Community Symphony Orchestra's "Homegrown Talent" will be on display when the ensemble takes the stage Saturday, Feb. 8, in Neumann Auditorium on the Wartburg College campus.The 3 p.m. concert will be followed by a reception.
The symphony, under the direction of Sam Stapleton, will open the concert with Joseph Haydn's final symphony, No. 104, which is also known as the "London" symphony.
"It's a happy piece, which I'd liken to a ray of sunshine or a pleasant spring day — a nice reprieve from the current winter we're experiencing," Stapleton said.
Soprano Autumn Voyles, a junior from Kenosha, Wis., is one of this year's solo competition winners. She will sing Antonio Vivaldi's aria "Domine Deus," a setting of the hymn "Gloria in Excelsis Deo," accompanied by Stapleton on violin and Professors Liudmila Lebedeva on cello and Suzanne Torkelson on piano/continuo.
"Performing with the symphony as a soloist is a very surreal and humbling experience. I am very honored to have been chosen," Voyles said. "I am very excited to have this opportunity because it will be unlike anything I've ever experienced before as a performer. 'Domine Deus' is beautiful because it expresses faith and longing and shows humanity's deepest humility."
Trombonist Travis Blanks, a senior from Houston, is this year's other solo competition winner. He will be featured during the symphony's performance of Launy Grøndahl's "Trombone Concerto."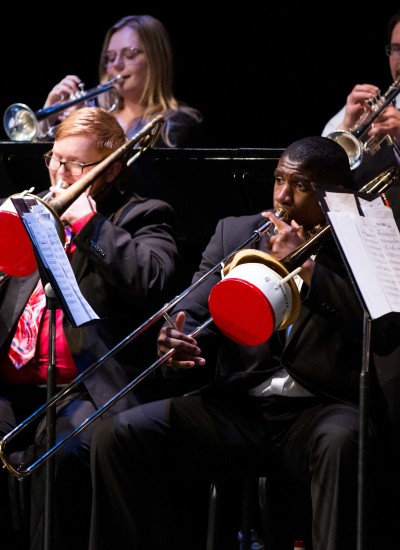 "One of the main things I've been trying to focus on is the musicianship of this song," said Blanks, who has sought this solo since his first year at Wartburg. "There are parts where I, as the musician, have to interpret the music. It's almost like ad libbing, without any tempo in mind, so there can be a very freestyle feel to it. One of the reasons I like this song so much is because I can express myself."
The concert will conclude with a more recent piece, Joshua Penman's "Songs the Plants Taught Us," which is inspired by the ayahuasca rituals of the Amazon.
"I first played this as a violinist with the Cedar Rapids Symphony about 15 years ago and have been wanting to program it as a conductor ever since. It was one of the most fun pieces I've played with an orchestra," Stapleton said.
Tickets are available at www.wartburg.edu/symphony or at the door for $17 for adults and $7 for students. Children 10 years and younger are free. Wartburg College students are admitted free with their student IDs. Tickets are available at the Waverly Chamber of Commerce (cash or check only), online with a credit card at www.wartburg.edu/symphony or at the door.