Annika Wall, a Wartburg College junior, has received an Advancement of Women in Sports & Entertainment Scholarship from the Floyd Mayweather Jr. Foundation.
Wall, a journalism and communication major from Jesup, has worked in the college's Sports Information Office and as a sports editor and anchor for the school newspaper and television station.
"What intrigued me most about this scholarship was how broad yet narrow its scope was. On one hand, it was a national-level scholarship, which really made me wonder if I should bother applying," Wall said. "On the other hand, it seemed like it was begging me to apply because it was meant for women who want to pursue work in sports or entertainment."
In addition to her practical experience — she also works with Knight Vision, the college's live streaming network — Wall said being surrounded by strong female role models encouraged her to apply for the scholarship.
"My very first year, I began in the Sports Information Office under KatieJo Kuhens and Riley Cole. Had I not seen those two in positions such as that, I wouldn't have even considered a career in athletic communications," Wall said. "It's common knowledge that women in athletic fields are few and far between. Working under strong women, both prior to and during my time at Wartburg, has been instrumental in seeing myself in an athletic field after graduation."
Wall continued to build her resume and confidence in her career plans this summer as a baseball journalist intern for Perfect Game U.S.A., the country's largest baseball scouting organization.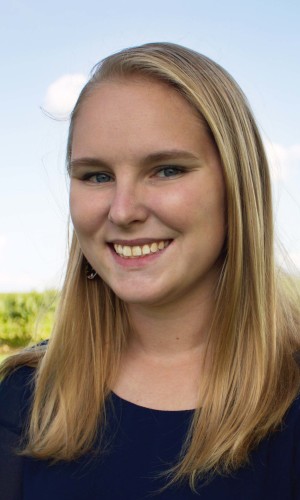 "The majority of the time, I was the only woman in the press box. I had the opportunity to expand my knowledge of the industry and sport, which has definitely prepared me for my time after Wartburg," she said.
Her work at Wartburg hasn't gone unnoticed. In addition to earning the Grant Price Scholarship from the Iowa Broadcast News Association, she took home first place in Sports Coverage for her piece on Wartburg wrestler Brock Rathbun. She also earned first place for Best Page 1 and Best Newscast from the Iowa College Media Association.
"Annika is an outstanding student who is dedicated to her craft. She has tackled sports reporting with such focus and energy, it is truly inspiring. She is a student who turns her research into a compelling story, a skill that has been earned through constant trial, error and feedback," said Penni Pier, Grant L. Price Chair in Journalism & Communication. "That she is the recipient of the Floyd Mayweather Jr. scholarship is evidence of her excellence in an area of journalism to which women are relative newcomers and face unique challenges. To say I am proud and humbled by Annika's accomplishments would be an understatement."
After she graduates in December 2020, Wall hopes to pursue work in either sports information or sports journalism as well as begin a master's program in sports management and eventually pursue a career in athletic communications, where she can set an example for the next generation of female sports journalists.
"As my career progresses, I want to give back to those who helped me by paying it forward and setting an example for aspiring female sports journalists," she said.