Fundraising has begun in support of a $3.7 million renovation and construction project that will include a new Health and Human Performance Center where the strength and conditioning room currently sits inside the Wartburg-Waverly Sports & Wellness Center (The W). A new strength and conditioning room will be constructed on the south side of Levick Arena.
The college is allocating $500,000 from a recent unrestricted gift from Darwyn (Dar) Meyer, a 1961 Wartburg graduate, to support the project. A former Wartburg wrestler, Meyer took pride in his alma mater's intercollegiate athletic program and wanted to help the Knights sustain that success into the future. The Charles City native, who later lived in California, died in February. The Board of Regents approved the naming of the Meyer Strength & Conditioning Annex, which will house the (Don) Canfield Athletic Weight Room, in celebration of Meyer's legacy.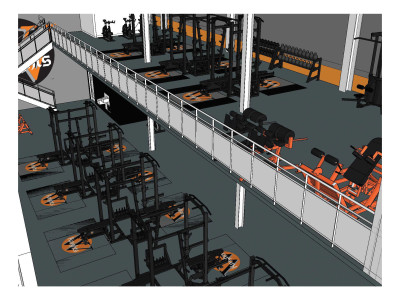 "Dar would be so pleased and humbled to have this annex named after him. He was always so grateful to be a Wartburg alumnus and blessed to have the ability to give this generous gift to Wartburg," said Dora Burke, Darwin's wife. "He truly believed in paying it forward. With Dar, I was able to visit the beautiful campus twice and am so pleased and proud his legacy will live on."
The college also has secured about $1 million in gifts and pledges, including a $750,000 gift from Mike and Marge McCoy of Ellison Bay, Wis. The McCoys are parents of Wartburg graduates Matthew (1993) and Michele (1997). Mike McCoy, who retired as CFO of Hormel Foods Corporation, is the chair of the Board Regents. The McCoys also chaired the college's successful Transforming Tomorrow comprehensive campaign.
The new Health and Human Performance Center, which will be used by students majoring in exercise science, will include a 1,000-square-foot Human Performance Lab featuring a built-in force plate for testing with movement analysis software and several metabolic carts for cardiac, pulmonary, and stress-testing activities. The Anatomy & Physiology Lab will occupy 1,000 square feet and accommodate up to 32 students. Furniture will be easily movable, allowing for maximum flexibility.
The Meyer Strength & Conditioning Annex will offer a larger footprint to a growing intercollegiate athletics program and allow for integration with student-faculty research opportunities in exercise science. The two-story addition, which will be roughly 25 percent larger than the current strength and conditioning area, will feature 17 weight platforms, allowing two teams to utilize the space at one time. The facility also will offer expanded areas for cardio and conditioning activities.
When the new space opens, Wartburg is expected to become the first Division III school to utilize the EliteForm motion-capture system throughout its entire weight room, allowing for unique student-faculty research opportunities and better leveraging of the connections between intercollegiate athletics and the academic program. The technology, which is more commonly used by professional sports teams and Division I athletic programs, can help manage the college's strength and conditioning program by tracking each athlete's individual workout in the system and making it available at each machine.
"This is going to help us in recruiting. Prospective student-athletes are going to walk into our weight room and their jaws are going to drop," said Ed Westen, chair of the Department of Health and Human Performance. "Every current student-athlete I talk to is like, 'You have got to be kidding me!'"
Fundraising and construction are expected to be completed by Dec. 31, 2020.