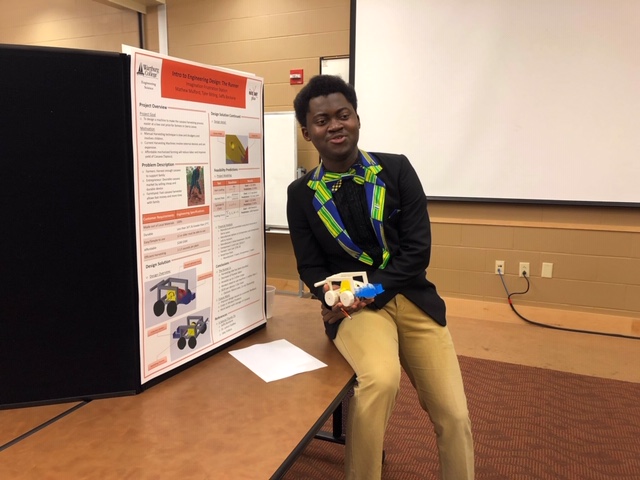 Two Wartburg College student projects will get a boost thanks to the college's incubator and Cedar Valley leaders trained to see the potential in new businesses.
Junior Saffa Bockarie and senior Madison Bloker were among the four students who presented to a panel of judges during the college's second annual Wicked Problems Challenge, held in conjunction with RICE Day, an annual event celebrating research, internships and creative endeavors. Both will receive $1,500 and the mentors needed to help them take the next steps in supporting their work.
"At the end of the day innovation and entrepreneurship are all about people. It's people who solve new problems and create new opportunities, and it all starts with the individuals who take the risk and responsibility of trying to start something new, whether that's a new product, a new service or an entirely new business," said Danny Laudick, a judge and co-founder of the entrepreneurial community Red Cedar. "The individuals in this challenge are trying to tackle some of the biggest problems facing society, and it's an exciting opportunity to help them make a meaningful contribution toward addressing those larger-than-life problems."
Bockarie's money will go toward the creation of a cassava harvester prototype he hopes could alleviate hunger in his home country of Sierra Leone and around the world. Cassava, a starchy tuberous root found in tropical and subtropical regions, is a staple in African cuisine. However, the harvesting process is quite hard on the farmer and current machinery is too costly for the average family.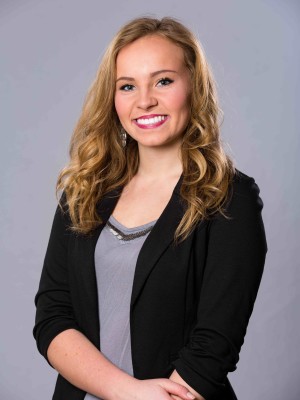 Laudick hopes to connect Bockarie with staff at Cedar Valley TechWorks to assist with the build.
"Ours would be made from material that could be found locally in Sierra Leone, mostly at a recycling station," said Bockarie, who partnered with other student engineers to create the harvester for their junior design project. "Many families start working their children to harvest the cassava at 8 or 10 or 12. Some families have to hire other people to help with the harvest because it takes so much work, and it is hard on the body. This would free up people to help in other processes."
Bloker founded Bound Blessings in 2017. Since then she has published a devotional, penned two biographies, coached other young entrepreneurs and launched a Bound Blessings apparel line. With the help of Laudick and Bart Schmitz, program associate for the University of Northern Iowa's John Pappajohn Entrepreneurial Center, she will focus her business plan, which she hopes will include a book geared for college students and an online boot camp that will bring together a community to study the book of Romans.
"I'm really excited to sit down and get their perspective on my business," Bloker said. "I'd love to do this full-time. I have no idea if that is in the cards or not, but I'm hopeful that it could be."
Laudick said those connections are oftentimes more valuable to start-up companies than financial backing.
"Many times, for a startup, money can be a distraction if they aren't solving the right problem for their customers, so we decided to provide support primarily to two companies that we felt would be empowered by that funding to accomplish the next step of their development," he said. "Solving wicked problems like access to education and sustainable food practices is never something done in one fell swoop, so we looked for companies/projects that had a real, actionable opportunity they could move forward with and the potential to grow and be sustainable."