Two Wartburg College student-led projects have each received $10,000 Davis Projects for Peace grants.
Sophomore Rachel Ndjuluwa will return to her home village to construct a classroom at Ndjukuma Primary School, the only primary school in a village of 20,000. Juniors Saffa Bockarie and Tyler Bitting will work to improve access to clean water for drinking and irrigation in the Mobai village in Sierra Leone.
Philanthropist Kathryn Wasserman Davis founded Davis Projects for Peace in 2007 to celebrate her 100th birthday. Davis, who died in 2013, committed $1 million annually to fund 100 grassroots efforts by college students. Wartburg students have received a grant every year since the program's inception. This is the fourth time Wartburg has received funding for two projects.
Hope for the Namibian Child
Though primary education is free in Namibia, a lack of resources prohibits some children from attending school. Ndjukuma employs 11 staff members who are responsible for the school's 269 students, but there are only four permanent classrooms. Students who aren't enrolled in school must stay home to look after livestock and work in the fields.
"This project will set a standard to the Namibian government that letting our less-privileged groups remain in poverty will continue to hinder world peace," Ndjuluwa wrote. "I believe that educating our youth will ensure that the future is bright in the global community because we live in a codependent world."
In addition to constructing a classroom, Ndjuluwa's project will provide school supplies provided by Wartburg College's Volunteer Action Center. Bernadine Johannes, a Namibian activist, will monitor progress at the school and help Ndjuluwa determine needs in other area schools.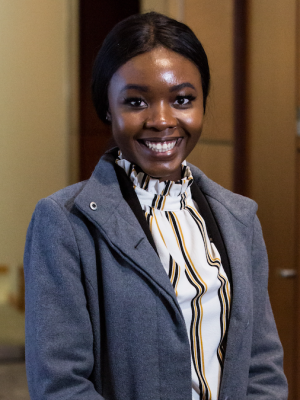 Water Management for Peace Through Food Security
Through a partnership with Whole Farms Enterprise, Bokarie and Bitting will construct a simple irrigation system on land used by small farmers. The system will allow the farmers to produce crops year-round while also improving crop handling and storage, thereby increasing food security and income generation. The project also will assist in providing clean drinking water for a village school that serves 300.
"With their partnership, we can help improve food security and decrease malnutrition, thereby reducing the effect of one of the major drivers of unrest and conflicts and contributing to peace and social cohesion in households and communities in Sierra Leone," Bokarie wrote in his proposal.
"Farmers get a very small yield from their labor. With irrigation, families can feed themselves and not have to move to urban areas to try to find jobs. This process will not only reduce stress, but also increase valuable family time," he continued. "We are encouraging local farmers to benefit by learning about improved agriculture as a business, as well as reducing hunger by creating a viable source of income to improve their livelihoods and well-being."