Only a couple of years ago, Marissa Buresh '16 was sitting in a journalism and communication class taught by Cliff Brockman '75. Now a personal trainer at the Wartburg-Waverly Sports & Wellness Center, Buresh is helping her former professor find a way to delay the disease that forced him into an early retirement.
Buresh and her mom, Kerri Buresh, are certified instructors for OhioHealth's Delay the Disease, a fitness program designed to empower people with Parkinson's disease to delay the progression of symptoms through daily exercise. The progressive nervous system disorder affects all facets of movement and usually results in tremors, stiffness or slowing of movement, muscle rigidity, and speech changes, among other things. The W is one of less than a dozen locations across Iowa offering the program, which targets the daily functional challenges these symptoms cause with exercise plans that can be adapted to all levels of the disease.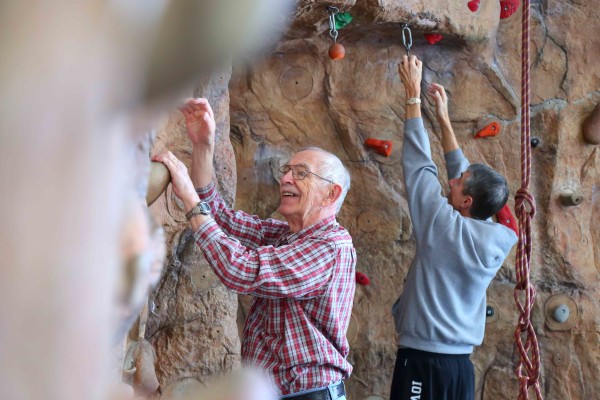 "The exercises we do in class have helped every participant, but each in different ways. With Parkinson's and other special diseases, the symptoms differ depending on the person," Marissa Buresh said. "We've seen improvement in participants' gait, hand movement, strength, balance, and confidence. The most rewarding part of this class is when a participant first comes and says they can no longer do something, such as walking backwards or getting out of a chair, and we help them find a way to do it. It just takes a few steps to get there."
Balance has been the biggest obstacle facing Brockman since his diagnosis four years ago. Even before the Delay the Disease class was first offered last year, Brockman was cycling every day on his personal stationary bike. Though he knows there is no stopping the disease, he has enjoyed the class and the camaraderie among its participants.
"We have our own little support group here," he said after a recent class that had him focusing on his gait while walking around the indoor track and working his hand muscles and grip on the rock wall. Class members also used a PVC pipe and a partner to simulate the natural swing of the arms while walking (all while seated) and ended with a class favorite, "Big and Loud," which got everyone moving their arms and legs while exercising their vocal cords, too.
Though Brockman hasn't noticed any specific improvements since starting the program, his wife, Cindy Dawes Brockman '76, has seen his confidence in his ability to move increase.
Walt Beck doesn't have Parkinson's, but said the class has helped him find new ways to deal with the essential tremors that have plagued his right hand for about two decades.
"I couldn't eat soup because my hand would shake so bad nothing would make it to my mouth," Beck said. "I've always just coped with it or tried eating with my left hand. Some of the exercises in this class taught me that I can handle my tremors better if I tense the muscles in my wrist as I am lifting it to my mouth. I'm still careful about what I eat in public, but it's not as bad."
Even though Delay the Disease is a slower-paced class, the mother-daughter duo agree they couldn't do it alone because each person's needs are different depending on how the disease has progressed.
"Even if we are doing similar things, the work they are doing is very individualized," Kerri Buresh said. "But they all know it is so important for them to be here because exercise is the one thing that statistically has shown to delay this disease."
According to a study published in the Journal of Parkinson's Disease, participants who exercised at least 2.5 hours per week during the two-year study period reported higher quality-of-life outcomes and a slower decline in their mobility at the end of the study than those who didn't exercise. Marissa Buresh's clients know this and come every day ready to work.
"With Parkinson's disease, as well as other illnesses, patients fight symptoms every day. You can't take a break from the fight," she said. "Each member of our class has very different, specific goals they are working toward. Three days a week we get to help them work toward these goals, and watch everyone get closer to the standard of living they want to achieve."