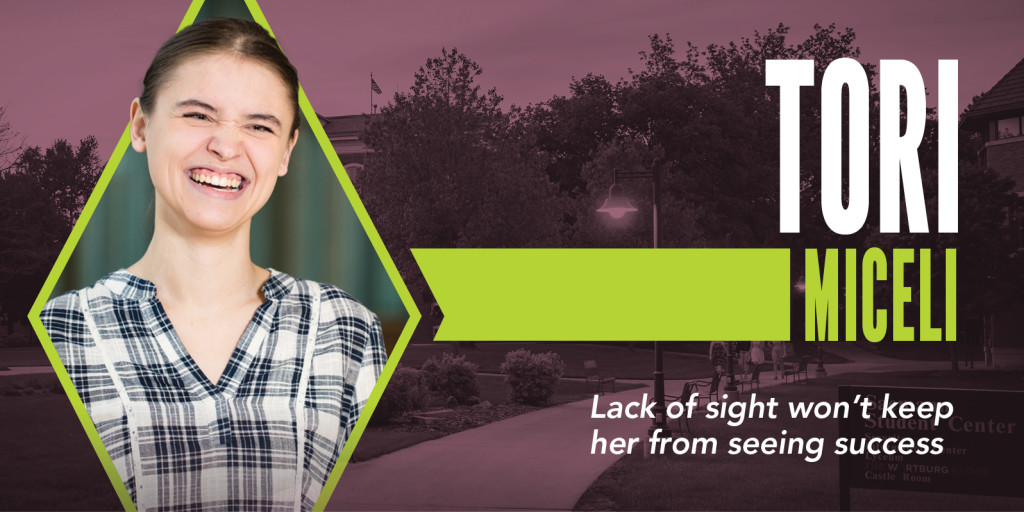 By Emily Christensen | Photo Julie Pagel Drewes '90
Tori Miceli '21 was raised in what she calls a "blind-positive environment." Though she was born with multiple eye defects that caused a severe lack of sight in both eyes, her parents never let her use that as an excuse. She was expected to pitch in around the house. She tried soccer, gymnastics, ballet, cheerleading, and show choir.
"If anyone said I couldn't do something, that would push me to do it all that much more," said Micili, a science education major from Waukee.
That independence and confidence has served her well in college, where students must be their own advocates. All students with documented disabilities have the opportunity to work with Nicole Willis, the academic success associate who oversees disability services in the Pathways Center, to determine what accommodations can be made in residence halls and classrooms. Unlike in the K-12 setting, colleges are not required to abide by the Individuals with Disabilities Education Act or the other legal protections afforded to younger students.
For Miceli, that means working with professors to ensure they send her materials for class at least 24 hours in advance and are reading out loud the notes or equations they are writing on the board. An iPad and braille keyboard, dubbed her second set of eyes, allow her to take notes in class, and the camera has come in handy on multiple occasions when she has relied on her friends and roommates to read something from a photo she took earlier in the day. The washers and dryers in her residence hall also are marked with braille signs.
Miceli took financial responsibility for compensating the readers who help her with texts that don't come in audiobooks or braille. It was a cost she was willing to accept, though, for the benefits of attending a smaller liberal arts school. That choice paid off in fall 2017 when, only a couple months into the school year, Miceli found herself in Iowa City for two weeks dealing with a new eye condition. She returned to school completely blind and scared that she would be unable to finish school.
"I walked into (Dr. Michael) Bechtel's office and told him I couldn't see anything. I asked if I should take the incomplete for his physics class, and he said, 'Absolutely not,'" she recalled. "I remember in the days after that discussion he was teaching us about sound waves, and just as naturally as could be, he would hand me objects to illustrate what he was talking about. At one point he even grabbed my hands to show me what he was teaching. That was the moment I realized I would make it through.
"If it wouldn't have been for the incredible faculty being willing to work with me, I would have left, but they surpassed what I could ever have hoped for in that situation, and I don't think I would have received that kind of help anywhere else."
In recent years, Willis has worked with students to hire notetakers, provide tests in larger print, and provide the tools needed to enlarge white board notes, among other things. Across campus, strides have been made toward increasing accessibility in both academic buildings and some residence halls, including the installation of additional automatic door buttons and a new ADA-accessible suite with a single restroom in Clinton Hall. At a micro level, Willis will work with students who need small accommodations in their living spaces, including lowered towel bars, shower or tub grab bars, or a shower wand to allow for a seated shower.
"Students need to remember that it is their right to request accommodations or choose not to seek them," Willis said. "The goal is to get everyone on a level playing field, and we will work with them in any way we can to make that happen."