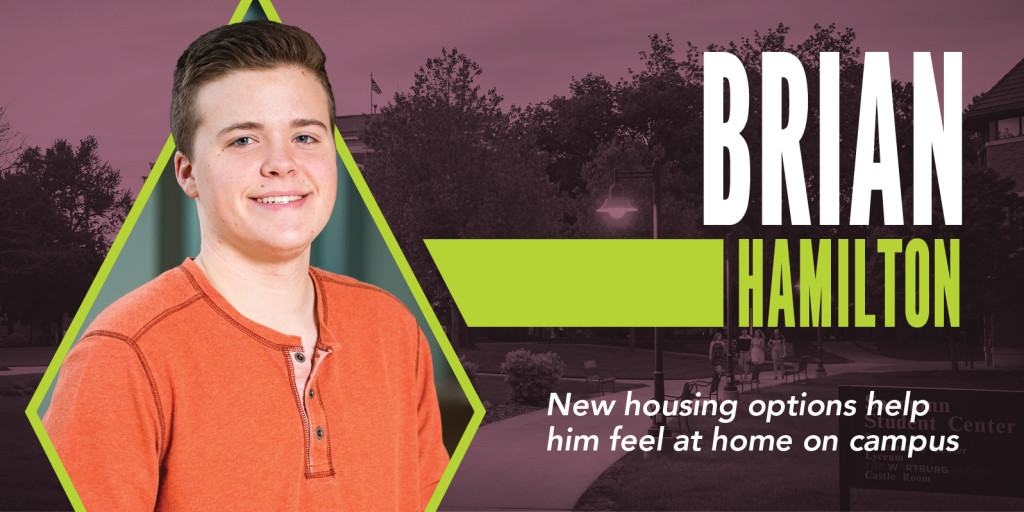 By Emily Christensen | Photo Julie Pagel Drewes '90
When Brian Hamilton '19 came to Wartburg nearly four years ago, he had serious concerns about how the college's residential living environment would be able to safely accommodate him.
Hamilton, a neuroscience major from Cedar Falls, had only recently started the process toward living his true identity and knew not everyone accepted that a person could not identify with the gender they were assigned at birth. He considered himself among the "lucky" ones, in that his parents supported him through the transitioning process both emotionally and financially.
"They were willing to pay the extra money for a single room because they wanted me to have that space where I could be unapologetically myself and feel safe," he said. For Hamilton, that meant a single room on a male floor in Centennial Hall, one of the smaller first-year floors. Though he had hoped to live in Löhe in his second year, the communal bathrooms weren't an attractive option, so he opted for the Waverly Manors, where he was able to have his own bathroom.
As he looked toward his final year, he had hoped to find a spot in Knights Village, the college's "townhouses." There was just one small problem: Most of Hamilton's friends were females, and Knights had always been designed for single-sex living. Until this year. In 2017, several students approached Dr. Dan Kittle, dean of students, and Cassie Hales, director of residential life, about the possibility of offering gender-inclusive housing (or more simply put, suites that are not split by gender) in Knights Village.
Hales said they both supported the idea and encouraged the students to draft an official proposal, including research about what other institutions offered.
What they found was that some of Wartburg's peer institutions, including Luther and Simpson, already offered more robust gender-inclusive housing options. After obtaining Cabinet approval, the Residential Life Office was able to offer three Knights Village suites with a gender-inclusive option in the spring housing lottery. All quickly filled.
Though Wartburg is moving in the right direction, Hales said there are still many obstacles the college has yet to overcome, including gender-inclusive housing options for underclassmen.
"My next step would be to implement changes in The Residence and Waverly Manors," she said.
While Hales and Hamilton are both looking toward the day when everyone will be able to find a comfortable living arrangement on campus, Hamilton said including The Residence and Manors in the list of gender-inclusive options would be a good next step.
"We had a student who wanted to be in our group in Knights because he was transitioning, but because he was only going to be a sophomore, he wasn't allowed that option, and he ended up transferring to another school," Hamilton said. "This issue is affecting students here and now. For me, having this option available this year means I can finally and wholly focus on my academics. When I go to my room, it really feels like going home. I don't have to put on the mask I feel like I have been wearing since I came to Wartburg, and I want that for all students."
Though Hales knows it will take time, she too wants all students to feel welcome and at home on campus and in the residence halls.
"There are not a lot of schools who have mastered this or figured it out yet. We want to be able to say, 'Come here to Wartburg. We are a college of the ELCA. Here's what the ELCA says, and here is how we are living that out in our halls,'" Hales said. "We are a four-year residential school and I don't want to go away from that, but we need to make sure that everyone who wants to live here is happy here."