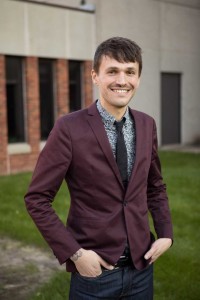 Author and atheist Chris Stedman will talk about the influence the Lutheran church had on his story as a religion major discerning his calling as a humanist on Dec. 6 at Wartburg College.
Stedman's public talk, "Faitheist: How the Lutheran Church Influenced an Atheist Activist," will begin at 7 p.m. in McCaskey Lyceum in the Saemann Student Center. A reception and book-signing will follow in the Castle Room. He also will speak Friday, Dec. 7, during the college's monthly Interfaith Chapel service, which begins at 10:15 a.m. in Wartburg Chapel. This opportunity is also open to the public.
In addition to his book, "Faitheist: How an Atheist Found Common Ground with the Religious," Stedman also has written for Salon, CNN, MSNBC, The Advocate, USA Today and Huffington Post Religion among other outlets. He earned a bachelor's degree in religion from Augsburg University and a master's in religion from the Meadville Lombard Theological School at the University of Chicago. Today, Stedman is the founding executive director of the Humanist Center of Minnesota and serves as a fellow at the Sabo Center for Democracy and Citizenship and the Christensen Center for Vocation, both at Augsburg.
"This event is just one example of how the Lutheran heritage and mission of Wartburg is expansive and inclusive," said Caryn Riswold, Wartburg's McCoy Family Distinguished Chair in Lutheran Heritage and Mission. "Chris's work is also a great example of what vocational discernment looks like from the perspective of a nonreligious person and the influence of Lutheran higher education on non-Lutheran persons, hence its connection to our work together."
Stedman's visit is sponsored by the McCoy Family Distinguished Chair in Lutheran Heritage and Mission, the Saemann Chair in World Communities and the Spiritual Life and Campus Ministry Office.