One day after celebrating Wartburg Homecoming in October 2012, Mike Jensen '96 had his first grand mal seizure. He got up the next morning and led worship at Nazareth Lutheran Church in Cedar Falls, just like he did every other Sunday morning. He did not seek medical attention.
"We had a high-deductible insurance policy so we just let it go. He was good for a while and then four months later he had a second seizure while he was sleeping," said his wife, Jen Johnson Jensen '97. "Then we knew something was going on. We know people can have one seizure in their lifetime, and that doesn't necessarily mean something is going on, but two?"
This was just weeks before Mike was set to lead a tour with Wartburg's Hope Overflow. A neurologist ran numerous tests with few results. They talked about the possibility of an old injury—a goalpost had once fallen on his head—causing the seizures. An MRI was scheduled for after the tour, and that's when doctors found a large tumor in the frontal lobe of his brain.
Together the Jensens researched their options, consulting with neurologists at the country's leading hospitals and trying several alternative therapies, including flaxseed oil and other vitamins. In May 2013, Mike had surgery to remove the tumor. At the time, the family didn't think further treatment would be needed. However, Mike was diagnosed with a Grade 3 anaplastic astrocytoma, a rare brain tumor requiring aggressive treatment with a median survival rate of two to three years.
After recovering from surgery, Mike began 40 days of radiation as well as Temodar, an oral chemotherapy. The chemo, which Mike took for five consecutive days once each month, lasted from June 2013 to January 2014. Those treatments kept Mike healthy until his six-month check-up in February 2015, when his neurosurgeon noted a change in his MRI. This time, a tumor was growing in Mike's corpus callosum, which connects the right and left side of the brain. Doctors told the Jensens it was inoperable.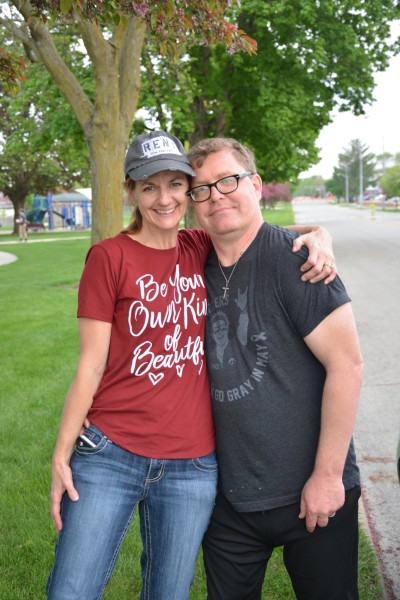 But never ones to give up, Mike and Jen again sought alternative opinions, including reaching out to a Harvard surgeon practicing at Cleveland Clinic. They sent him Mike's MRI to see if Mike would be a candidate for his robotic surgery.
"We were so hopeful, but he said he couldn't do it because there was a two-millimeter spread into the ventricles of the brain," Jen said. "We were that close to being able to do an alternative treatment."
Instead, the Jensens moved forward with more traditional therapies. The tumor was just far enough away from the original tumor site that radiation was once again an option. But this time, Mike did a very targeted, high-dose treatment that delivered 40 days of radiation in just three treatments.
"That radiation is what caused the majority of his brain damage and the swelling, but he rocked through the treatments. We didn't see any real negative changes until April, when we started to see some evidence of central nervous system swelling," Jen said. "They were jarring to us, but as a chiropractor, I know those are serious neurological problems that you get with a brain injury."
In August 2015, they went to Mayo Clinic to see if Mike would qualify for any clinical trials. He didn't, but another doctor suggested Mike switch from his oral chemotherapy to Avastin, an intravenous chemo administered every two weeks. He continued on that for two years, during which time he lost much of his ability to speak and control of his right side.
Today, Mike requires constant supervision, a task that is split among family and friends. Some days are harder than others. Mike still wakes up in the morning wanting to go to work. Jen has caught him trying to sneak out a window so he could return to the college and the church. In October 2016, he went missing for six hours leading to an areawide search.
Following their work on This Day Forward, the Jensens again sought alternative treatment.
"We knew that healing wasn't going to happen doing the same thing," Jen said. "We told our oncologist we were ready to go to England or Israel or any of these places doing amazing research to try and do something different."
Their oncologist instead suggested Novocure, a cancer therapy that uses electric fields at specific frequencies to disrupt cell division and inhibit tumor growth. The Jensens, having already looked into the option, accepted the offer that kept them closer to home.
"It was put on the market very quickly in the U.S. because of the research done in Israel and because there are no side effects," Jen said.
The device, which can be used in conjunction with chemotherapy on a first occurrence and as a standalone therapy on a reoccurrence, must be worn 18 hours a day. The electrode strips, which are connected to a small generator worn in a bag, are attached to Mike's shaved head allowing him to go about his day. Usually, Mike only feels a small amount of heat from the electrodes, though Jen says on occasion they have caused very minor burns, adding that's a small price to pay for a chemical-free treatment.
"I know that some of Mike's lack of function is tumor- and radiation-related, but some of it also is from the chemicals in the chemotherapy," Jen said. "We are excited for brain cancer research to go in this direction. It's really promising for people with first-occurrence tumors and young people, like Mike."