For God so loved the world that he gave his one and only Son, that whoever believes in him shall not perish but have eternal life.
– John 3:16
When Jennifer Johnson Jensen's cell phone rang on March 21, 2013, she knew it couldn't be good. Only a short time earlier, Jensen '97 and her husband, Mike '96, had left Advanced Diagnostics Imaging in Waterloo following an MRI of Mike's brain. The neurologist on the other end of the line solemnly told her that she and Mike needed to be in the office at 8:30 a.m. the following morning to discuss what had been found.
When Jen looked at the clock, it read 3:16 p.m.
"Retrospectively, I will never forget that phone call, that feeling of panic, both of us thinking we don't have time for this … then looking at the clock. Maybe that was God's way of saying, 'I'm still here, and I still love you,'" she said.
The following morning, the neurologist told them there was a large tumor in Mike's frontal lobe.
"The world just drops out from underneath you," Jen said. After one month of researching their options, consulting with neurologists at some of the country's leading hospitals, and trying several alternative therapies, the Jensens proceeded with surgery. What the doctor had found was a Grade 3 anaplastic astrocytoma, a rare brain tumor requiring aggressive treatment. The median survival rate is only two to three years.
From the beginning, the Waverly family—which includes Aria, 18; Alexandria "Allie," 15; and Naomi "Mimi," 10—shared Mike's battle publicly on a GoFundMe page. They posted updates about his 40 days of radiation and seven monthly doses of oral chemotherapy. They shared the blessings of repeated clean MRIs in 2014. Then in February 2015, the nearly defunct page was resurrected to share that a new, inoperable tumor was found in Mike's corpus callosum.
Fellow Knight Brian Ide '96 was one of the hundreds who followed along from afar. Then, in January 2017, his church, All Saints' Parish in Beverly Hills, Calif., contracted his company, Meriwether Productions, to create a film focused on telling a story about faith from a different perspective. He instantly thought of the Jensens.
"We wanted to honor stories that haven't been perfect, to show people that it is OK to struggle with their faith, but hopefully it will remain intact," Ide said.
Ide's church-funded production team was on board. It didn't take long for the Jensens to agree, either. A second round of radiation, called tomotherapy—a high-dose treatment that delivers 40 days of radiation in just three treatments—had taken its toll on Mike. He was unable to work and needed near-constant supervision. Jen had sought volunteer outlets for Mike to serve, but kept finding dead ends.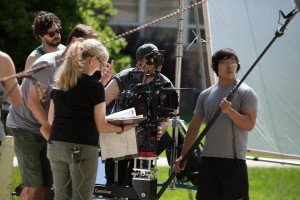 Wartburg students were an integral part of the This Day Forward production crew. Click below to read more about their experiences.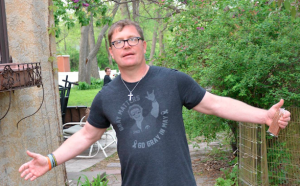 Mike Jensen has battled brain cancer for nearly five years. Click below to learn more about the treatments, their side effects, and how he is finding new ways to fight.
"I knew God was still using him for something, I just had to find out how. He needed something to fulfill his soul and God's mission for him," she said. "Then Brian called. Mike getting his message out this way is bigger than anything we could do here. It's bigger than the church, or Wartburg, or even Iowa. We are learning to trust that God has a plan, even if it isn't my plan or Mike's plan."
Ide flew from Beverly Hills to Waverly just a few days later. He met with city and Wartburg officials—in addition to being an alum, Mike also taught courses in the music department and led Hope Overflow—to see what in-kind support might be available for the donor-funded project. In February, he returned with the writer and lead actor, Randy Coleman.
"I told the writer I didn't want him to write anything until he came to visit. I didn't want any Iowa stereotypes. I wanted him to spend time with Jen and Mike and the family and their friends," Ide said. "On the flight home, we started solidifying our story."
Ide brought a small crew to town in March to scout locations, then he returned in April to begin filming. Using a crew of about 30 from All Saints' and more than 20 Wartburg students, Ide completed filming in only a few weeks.
"Working with the Wartburg students was great. They got the opportunity to see what it was really like to work on a set, but also had the benefit of sitting in Mensa for lunch with the crew and talking to them about things they wouldn't have been able to if they were working in a traditional production environment," said Ide, who estimated the students logged more than 5,000 hours total during May Term. "We never could have done this without them."
The Jensens, who lived in a hotel during the shoot, were integral throughout the process. Their home was used as the main set. Jen's parents, the Jensens' two youngest daughters, and Jen's closest friends played themselves. Jen was even cast as one of her best friends.
"It really made it a familial experience for everyone. This is their house, their reality," Ide said. "It was so honest and so real. If we needed to talk about seizures or anything else they were dealing with, we could just sit down and talk to them. Emotionally the highs and lows were extreme."
Jen, a chiropractor who owns Worldwide Wellness Center in Cedar Falls, adjusted her schedule to spend as much time with the team as possible. And Mike was there every step of the way, asking Ide and producer Spero Stamboulis to take him back to California so he could learn to surf, Jen said.
"It was really fun to have so many people here we trusted. This was an incredible and amazing opportunity."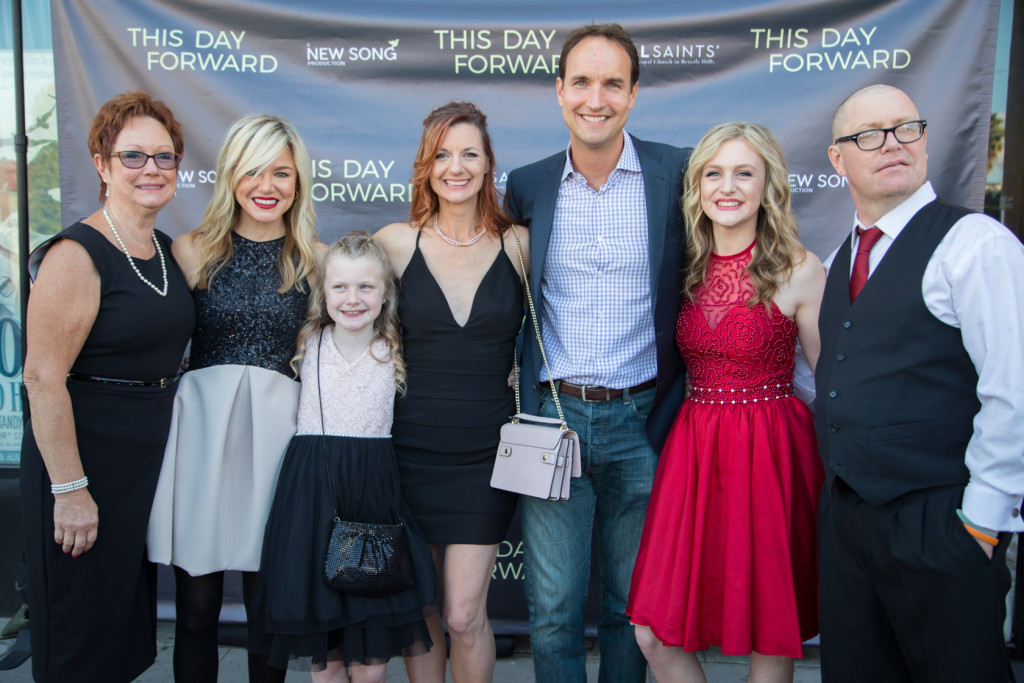 More than 20 people from Waverly, including most of the Jensens, flew to California for the film's premiere in November. The film, titled This Day Forward, will debut in Waverly at the Palace Theatre on Jan. 19.
"We had two goals with this movie: to tell a story of faith for those who are on their own journey so that they feel a little less alone and to honor the Jensens, and I think we did that," Ide said. "When people watch this, we hope they feel that."
Jen said she certainly felt it during her first viewing on the big screen.
"Everybody who worked on this movie did so because they were called to do it and because they wanted to be a part of it. Everyone on that production team, their intentions were clear and their intentions were good," she said, adding that the profits from the movie will fund mission work for peace and justice. "Of course I am going to give them my story. How could you ever tithe to that magnitude? We can't give money like that to the world. That we not only can have an impact on the people who watch the movie, but the people who will benefit from the proceeds, that's really cool to me.
"The entire idea behind the story is that it is not a cancer story, it's not a brain tumor story. It is the story of a struggle," she continued. "And it's not if, but when every human on this planet is going to have a struggle, and it is going to be unimaginable. What are you going to do when the unimaginable hits? How are you going to get up the next day?
We just hope that this helps them feel a little less alone."