The house lights dimmed as approximately 270 singers walked onto Perelman Stage in Carnegie Hall, spilling over the sides of the risers and into the orchestra. Dr. Lee Nelson, Wartburg's Patricia R. Zahn Chair in Choral Conducting, took his place on the podium, inhaled deeply, and turned to face the sold-out audience.
"It's such a storied concert hall. The world's greatest conductors have performed there, and there is nothing like waiting backstage to go out onto the Carnegie Hall podium. I had to take a moment to stop and breathe and take it all in," said Nelson. "Then we started making music, and in the first 30 seconds I knew it was going to be something exceptional."
Though Nelson has conducted at Carnegie before, he said this experience, leading choirs from across the country, including 44 members of Wartburg's own Ritterchor, through Randall Thompson's The Testament of Freedom on Presidents Day weekend was his "most memorable" yet.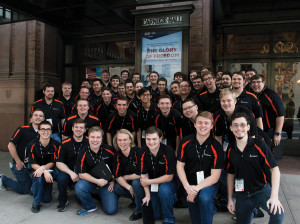 "This was my fourth time conducting at Carnegie, but I've never worked with this many singers before and never with a full orchestra," he said. Other firsts included a sold-out house and a review by a New York music critic.
Like Nelson, Austin Pauling '17, a secondary math education major from La Porte City, had performed at Carnegie before but said this time was extra special.
"When I saw that the house was packed, I started to tear up, first because of the number of people in the audience and the impact that we as musicians would make on them and second because I realized that this was my second-to-last performance as part of the Ritterchor," Pauling said.
The concert promoter, Distinguished Concerts International New York, asked Nelson if Ritterchor would anchor the four-movement Testament of Freedom, which is scored for men's choirs. Nelson presented the February concert opportunity to the group, and many of the 70 members jumped at the opportunity (most of those who didn't already were committed financially to performing abroad with the Wartburg Choir during
May Term).
Nelson led the full choir in two four-hour rehearsals, creating a cohesive sound among the men, who ranged in age from 14 to 87. Finding meaning in the text, penned by Thomas Jefferson, also was important to Nelson, who spent hours not only with the music but learning more about the history behind the words.
For Jakob Hamilton '18, an engineering science major from Algona, those discussions taught him how important music lyrics can be.
"We've been singing this work for more than a year, so the lyrics can become monotonous. But as the seriousness of this performance set in, the lyrics painted a picture of the Revolutionary War and the struggles of our ancestors," Hamilton said. "I not only appreciate our ancestors' actions much more, but I appreciate Thomas Jefferson's writings much more than I would have."
The men of Ritterchor also were able to enjoy the city, visiting iconic sites like Times Square and Rockefeller Center, and seeing shows.
"Going to New York City from Waverly is certainly a major adjustment, but I enjoyed the hustle and bustle and will never forget how bright Times Square shines so late at night," said Cory Brannaman '18, a business administration major from Mount Vernon. "I enjoyed all the things to do, from grabbing a burger and fries at Five Guys in Times Square, to ice skating in Central Park, to seeing the city from the Top of the Rock Observatory. This trip is definitely a top highlight of my time at Wartburg."