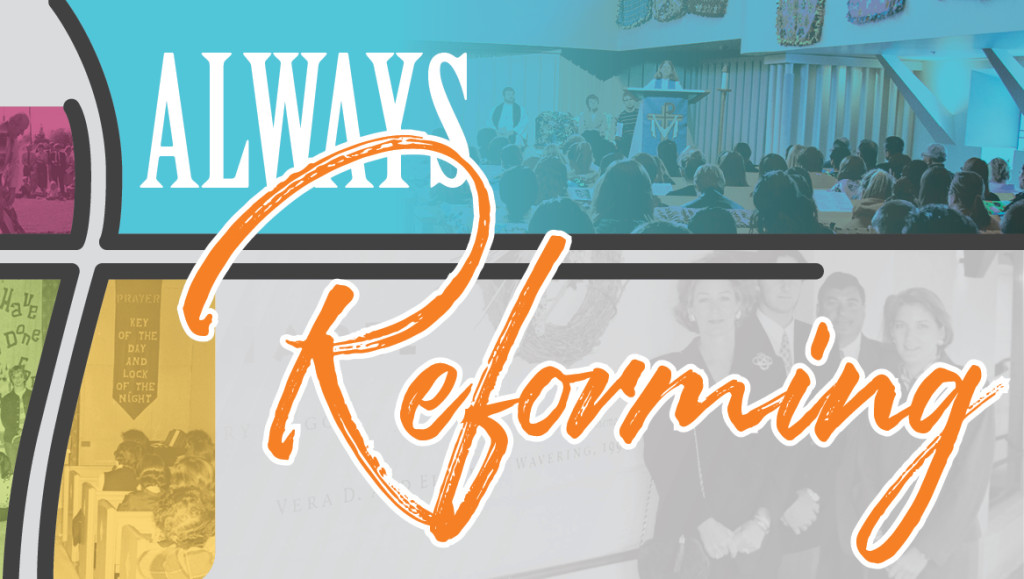 The lights dim in the Chapel Commons. From the back of the room, the first chords of the piano sound in the nearly quiet space. Soon a guitar, electric violin, and several voices join in.
Though the numbers are smaller during May Term, the feel of Sanctuary is the same. Relaxed. Intimate. Safe.
"I know when I come here I can let everything go and recharge spiritually and mentally," said Sarah Gruman '19, a music education major from Harpers Ferry. "As a Catholic, it's more comfortable for me than Eucharist was because it is relaxed, more like a church camp or people just hanging out and talking about their faith."
The Rev. Brian Beckstrom, campus pastor, and the Rev. Dr. Ramona Bouzard, dean of the chapel and Herbert and Cora Moehlmann Chaplaincy Chair, started Sanctuary in fall 2016 as a way to revitalize the college's traditional Wednesday night Eucharist gathering. The gathering is more Bible study than traditional worship, but still includes time for music, prayer, and communion.
"The culture has changed. The church has changed. Big Eucharist-styled gatherings are still happening on larger campuses, but even in those contexts the numbers have declined," Beckstrom said. "For our younger generation, it's all about creating relationships, and that is something Sanctuary can help them do. This is a space for them to ask questions, share what is going on within them, and contribute to the product of the service."
Switching up the weekday gathering is just one way the Spiritual Life & Campus Ministry team has evolved in recent years to better relate to students on their individual faith journeys. Other changes include a more robust social media presence and live-streamed weekday and Sunday services.
"The church's job is to see what God is doing in the world and then partnering with Him on that mission. How is God remaking the church today through all these cultural changes? What is God calling us to be in this time?" Bouzard said. "Those are the mini reformations that you can't say for sure are going to work, but you have to experiment. I would hope that Lutheran churches and all churches would be doing a lot of experimenting right now. We don't know what God is calling us to do, so let's spend time listening to God, discerning and trying things out, and coming back together and reflecting on that."
This year, Lutherans around the world are celebrating the 500th anniversary of the start of the Protestant Reformation. Martin Luther, a professor, composer, and priest, took issue with several teachings and practices in the Roman Catholic Church and penned his Ninety-Five Theses, outlining his position against the selling of indulgences, which were believed by many to reduce the amount of punishment for sins committed by the purchaser or their loved ones in purgatory.
In addition to leading to sweeping changes in the church and the birth of Lutheranism, the Reformation also succeeded in the widespread dissemination of information. Luther, who was excommunicated by Pope Leo X, sought refuge in the Wartburg Castle in Eisenach, Germany. During his months in hiding, he worked tirelessly to translate the Bible from Latin into the vernacular of the people. This effort, along with the new availability of the earliest printing press, made the Holy Scriptures more accessible to laity.
While the first years following the Reformation were full of changes, Beckstrom said in more recent times the church has neglected its own principle of "ecclesia semper reformanda est," or "the church must always be reformed."
"We institutionalized the Reformation," Beckstrom said. "And because of that, we've made it harder to adapt to change, be nimble, and follow where the Spirit is leading."
The challenge: Where God is leading isn't the same for everyone.
"Luther brought faith into the everyday lives of his people. We have to do the same," Beckstrom said.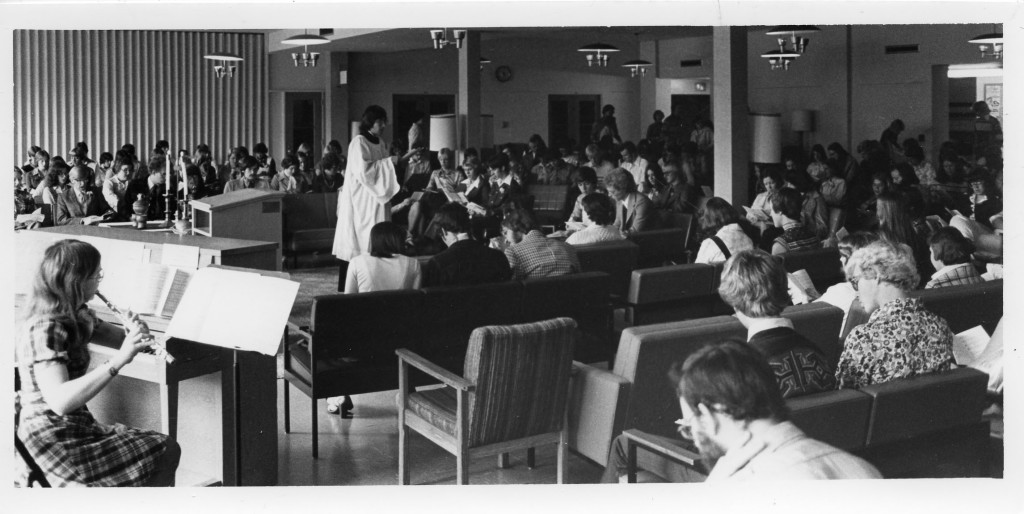 When the Rev. Larry Trachte '66, Wartburg's campus pastor from 1974 to 2009, came to Wartburg as a student in 1962, the college didn't have to work very hard to share its Lutheran heritage. The majority of the faculty, staff, and students came from a Lutheran upbringing. Students were required to attend a twice-weekly convocation, with Tuesday being a traditional convocation and Thursday dedicated to worship. Only students who were not Lutheran could apply for an attendance waiver.
"Herman Diers was the campus pastor, and he was a very dynamic preacher. We called him 'Helicopter Herman' because his hands were always going," Trachte recalled. "But it was a very different time. Religion was taken for granted."
Shortly after Trachte graduated, spiritual life on campuses across the country began to shift. At Wartburg, students occupied the president's office, and Diers was leading peace marches against the Vietnam War. In general, Trachte said students were becoming "more radicalized toward social issues."
"When I came back to Waverly in the '70s, Wartburg had changed dramatically," said Trachte, who was pastor at St. Paul's Lutheran Church from 1970 through 1974. "Sometimes I would come up for a campus worship, and there would only be 25 or 30 students in Sunday worship."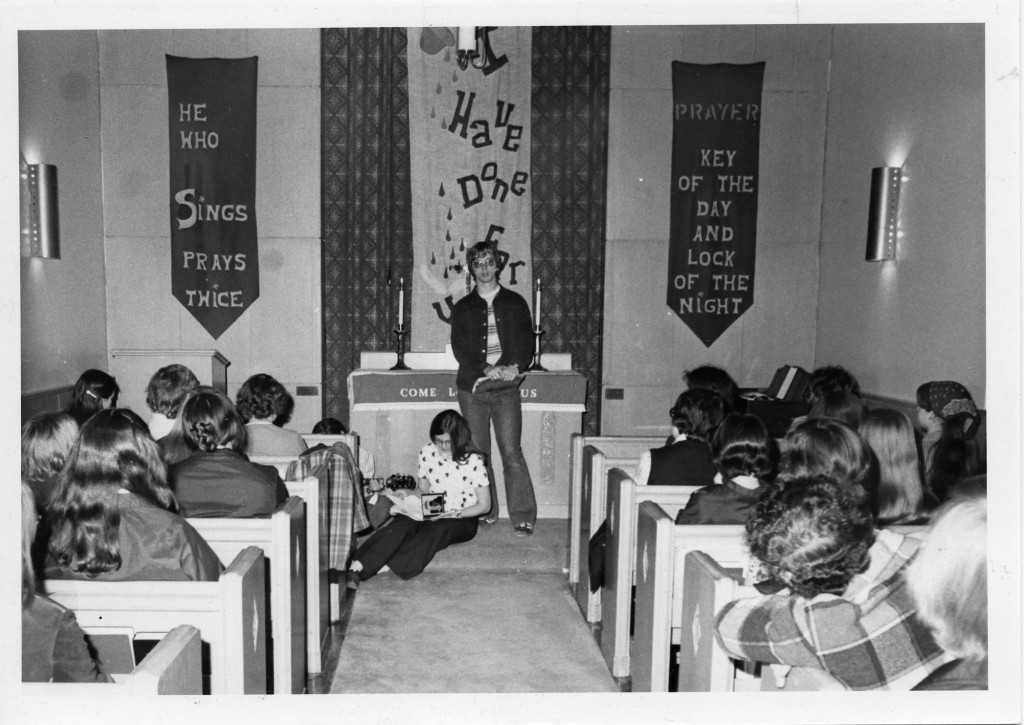 Challenged by the Board of Regents to reinvigorate the campus ministry culture and preserve the college's Lutheran heritage, Trachte took the helm in 1974. Even then, he faced the same issues today's campus pastors are working to overcome: welcoming an increasingly diverse group of students into the college's religious life, even if they weren't Lutheran or even Christian.
"It was a balance of trying to be true to your heritage and affirm those traditions while at the same time moving decidedly toward an ecumenical ministry on campus and working with those of other faiths," Trachte said.
In addition to chapel on weekdays, Trachte oversaw Sunday worship, Wednesday night Eucharist, a Christmas candlelight service, and several outreach programs, including a clown ministry troupe and an Adopt-A-Grandparent student organization.
The college's Campus Ministry Board included faculty and student representatives from each of the special ministries, regardless of their religion. In an effort to connect faculty with the Lutheran faith and the college's mission, Trachte led Winter Break trips to the top Luther sites in the '80s. Eisenach and the castle were added to the itinerary after the Berlin Wall fell in 1989. Similar trips continue today and have been opened to all faculty and staff.
The reformation continued under Bouzard, who in 1994 was called to serve as director of church relations and associate in campus ministry. In 2009, when Trachte retired, the college called her to serve as dean of the chapel and the Herbert and Cora Moehlmann Chaplaincy Chair. Soon after, the college called Beckstrom to serve as a second campus pastor, a first for Wartburg.
The two continued to respond to the ways students organized around spirituality and faith. In 2011, the name was changed from just Campus Ministry to Spiritual Life & Campus Ministry, reflecting the more open approach that students had to spiritual life and to be more inclusive of the college's commitment to help all students explore faith and learning. Still, Bouzard felt they weren't doing enough to ensure that everyone felt welcome on campus and in the chapel.
"Our experiences in the United States with interfaith engagement were so narrow. I remember there were three women from African countries and a couple of our Muslim students, and they told stories about how they went to each other's worship services because they were neighbors, not because they practiced the same religion," Bouzard said. "That is not how we do things in the U.S., so it is very foreign for adults to realize that this is not new for the Christian church."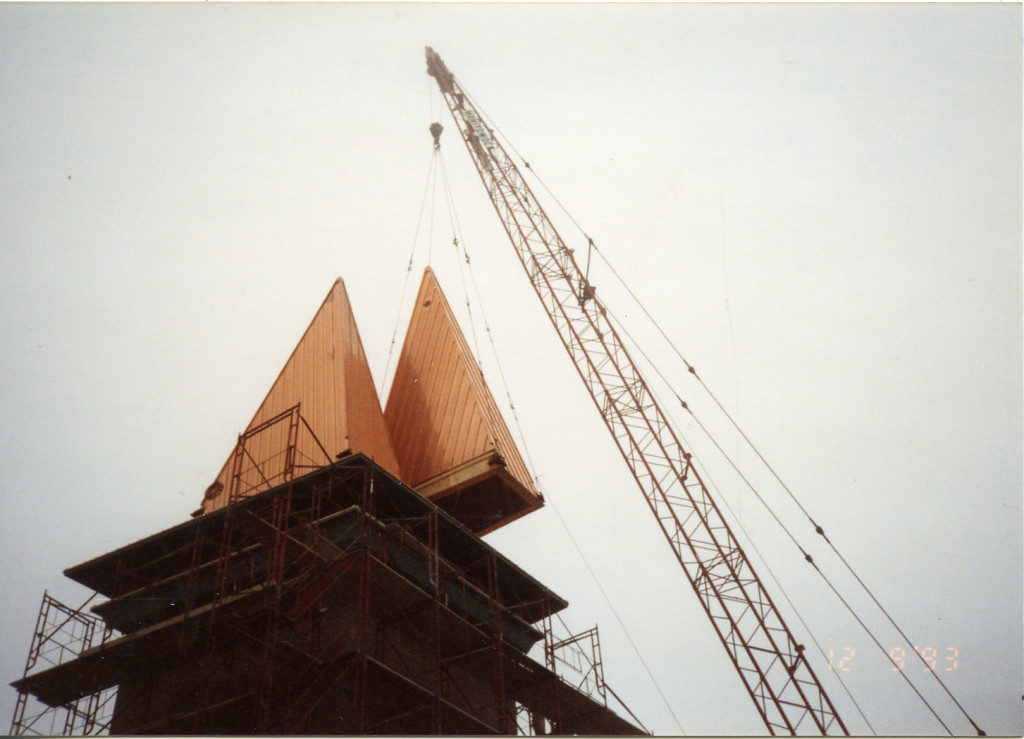 Today, about 32 percent of Wartburg students who report a religious affiliation select Lutheran. More than 28 percent self-identify as Roman Catholic. Of the 1,253 who answered the question, 70 said they did not identify with a religious tradition and 229 did not respond. In all, more than 25 Christian denominations and several world religions are represented on campus. While faculty, staff, and students from other Christian religions always have been welcome to offer the message at Weekday Chapel, those who practiced other religions, including Judaism, Hinduism, and Islam, were only offered the opportunity to share their faith in that setting about four years ago. Bouzard said it took quite some time for those students to feel safe speaking about their faith so publicly in a Christian setting.
I attended Wartburg from 1986-90, and Pastor Larry Trachte played such an important role in my life during that timeframe. I was involved in Spirit Song, which proved to be such a great outlet to express my faith, as well as being surrounded by a wonderful group of students who a) loved to sing and b) loved God. Luckily, I'm still friends with many of those students today – nearly 30 years later. We had a ball traveling and expressing our faith through contemporary Christian music.
My spiritual life as an adult was heavily influenced by Wartburg's campus minister, Pastor Trachte. He was such a mentor to me during the four years I was a Wartburg student. It chokes me up 30 years later to think about the impact he made, actually. Pastor Trachte was the first pastor that I had had as a young adult that actually felt like he was just one of us. He was authentic, warm, and approachable. A man of such strong faith, but a man who made me feel like he had a million hours … just for me. His messages during chapel and Sunday services were meaningful, applicable, and thought provoking for students who were in the audience … often times like they were meant just for me.
Thirty years later, when I think back to those four years on campus, Pastor Trachte helped me examine my faith and expand my world view on what being a Christian really means. It wasn't the small slice of rural Iowa I was raised in … it expanded across the world. It meant embracing those who were different from me, giving back to your community and helping those in need, regardless of their religion, ethnicity, sexual orientation, or their race.
Angie Heuck '90
I was privileged to serve as the first president of a church council established on the Wartburg campus. It was probably around 1959 or '60. I don't remember a lot of the details of our responsibilities on that council, but at the time it seemed like a big deal because it marked the move from students attending worship primarily at St. Paul's Lutheran Church in Waverly to worship on Sundays in the athletic court/auditorium spaces on campus.
Although many students had attended St. Paul's on a regular basis, others lacked transportation that made participation more difficult. Also, as I recall, attendance was required at midweek morning assembly, which often included visiting pastors as speakers. There were assigned seats in the auditorium, and attendance was taken by cameras. If your seat was empty, you were marked absent and I suppose reprimanded.
Attendance, again as I recall, was excellent in these early days because I can remember that it was part of the church council's responsibilities to get to the auditorium early on Sunday mornings to set up for worship, including setting up all the folding chairs and making sure all the furniture and the organ were In place. Also, Pastor Herman Diers, one of the religion professors at the time became our campus pastor. His enthusiasm for this new mission and the opportunity to direct his messages more to the student population alone proved attractive to many of the students.
I believe that this early experience on the first church council at Wartburg probably had something to do with channeling my interest to seminary and eventually to ministry in the Lutheran church. I am so pleased to see the evolution of this early venture of worship on campus leading to the beautiful worship chapel and full-time campus pastor at Wartburg.
The Rev. Dr. Ron Beckman '60
I was a faculty member in the biology department from 1990-2001. During that time, I served as a faculty rep on the Campus Ministry Board. I appreciated the leadership shown by Pastor Larry Trachte and Pastor Ramona Bouzard. They encouraged students to try a variety of things to involve students in the spiritual life of Wartburg College. Students led many of the groups under the guidance of the pastors. I regularly attended the weekday chapel services and occasionally did a faculty chapel talk. Campus ministry was an important anchor for me during my time at Wartburg College. I occasionally "drop" in via live feed on Knight Vision, as I miss that important part of my day.
Peggy Tilgner
I remember the Rev. Herman Diers, who was the campus pastor in the '60s. He was ahead of his time in being concerned about ecological issues and how mankind mistreats our homeland—the Earth. He wrote a skit that I later used several times in church on Earth Day. It was a dialogue between God and Earth. I lost my copy of it many years ago, but still remember how well-written and thoughtful the Rev. Dier's writing was. Almost every year I wish I still had that copy.
I think he has been an influence in some of my writings. I published a contemporary book of prayers in 2015. Several of the prayers in So Prays My Soul reflect Pastor Diers' message of God's desire for us to take care of the Earth. Loving and caring for God's creation is a spiritual experience.
Deanna Nickel Rose '63
The ways that Campus Ministry at Wartburg has impacted my life are too many to number. First, regular opportunities to worship, to study, and to pray provided a spiritual community that I needed. It was especially important that this community left space for questions.
Serving on the Campus Ministry Board and as chair of the Sunday morning worship committee gave me experience in planning and coordinating worship and affirmed the vocation I was discerning toward ministry of Word and Sacrament.
Finally, both campus pastors were invaluable support. Pastor (Larry) Trachte was incredibly gracious when I sat in his office just a week after campus gushing about how happy I was to be there. Pastor Ramona (Bouzard) actually made the phone call to get me a new adviser when I realized that I would be changing my major to religion—and four years later preached at my ordination. She has continued to be an important conversation partner for me since graduation.
The Rev. Kristin Wendland '00
When I was a student, it was just Pastor Larry Trachte (PT), and he also taught several classes (his Living with Death class was hard to get into and memorable for many). Chapel was in Neumann Auditorium and other events were held in the old Buhr Lounge.
In the fall of 1981, Wartburg alum Vicki Klotzbach was murdered in Iowa City. PT called students across campus who he knew were friends of hers to tell them personally, not a small feat as at the time the only phones were in hallways, not in individual rooms. PT gathered us, grieved with us, and helped us through those very dark days. He made that very sad time a little easier by his presence and support.
That being said, I also can't count the number of weddings and happy occasions that PT (Larry), Ramona (Bouzard), or Brian (Beckstrom) have been a part of. It is a memory that is still very vivid after all these years that PT cared so deeply for us students.
Jean Buckingham '82
"Developmentally, they are just like our Christian students. They come to us in the same place as our Christian students. They have learned their faith from their family traditions, and now they are sorting through it," Bouzard said. "They are at a time in their life when they are asking the same questions about their purpose and meaning and what they are being called to do."Beckstrom said it is important to remember that these interfaith conversations still happen in the context of Christian worship.
"It takes courage for them to come in and share something about their tradition with us," he said. "I don't know how I would have felt as a college student speaking at a mosque. It has to be hard for them, too."
Though the idea of an interfaith chapel isn't always welcomed by everyone, Beckstrom believes the college's faith community is stronger because of it.
"Research shows that constructive engagement with others is more likely to strengthen the faith you have than to make you into something else. We don't have a lot of students from other world religions on campus, but I have many more interfaith relationships and friendships here than I ever did when I lived in Phoenix or Minneapolis," Beckstrom said. "As a rule, we tend to segregate ourselves by our faith tradition, whether intentionally or not, or just not talk about it at all. That's not how we try to operate here. We are a small enough place that you are going to meet someone from a different faith background, and we want everyone to feel comfortable enough to talk about what that means."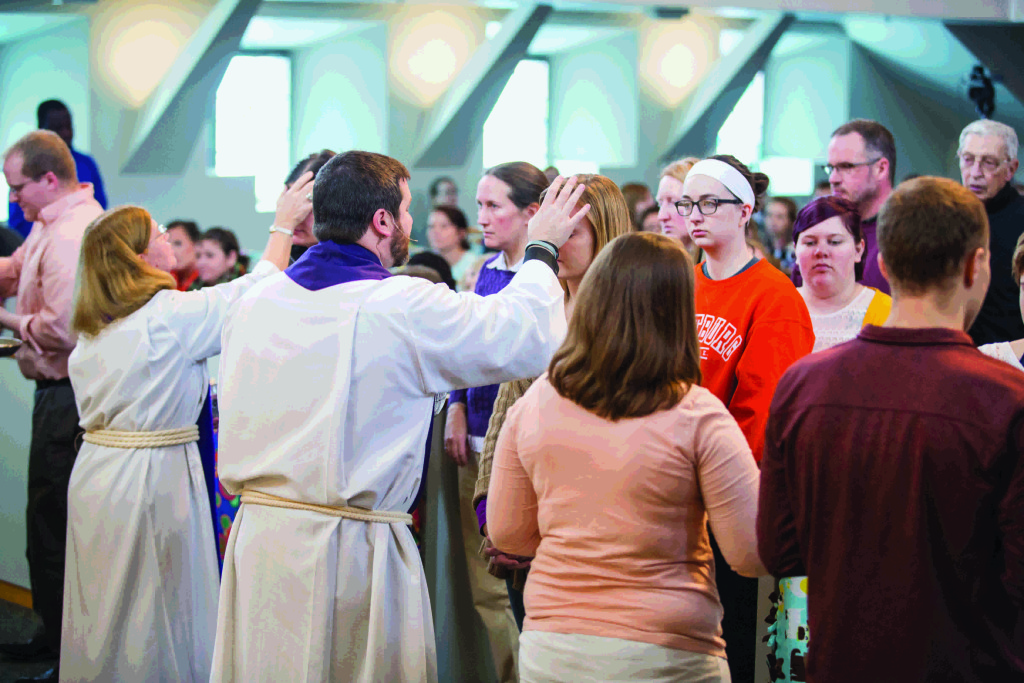 In the early years, Eucharist would draw hundreds, including students from the University of Northern Iowa.
"It was standing-room only. People were sitting in the aisles," said Trachte. "In the early '90s, contemporary worship was where it was at. We had the worship band. We offered a place for community. The result was beyond any of our expectations.
"The first night Ramona and I were standing at the altar, and they were singing a Catholic hymn, One Bread, One Body, and the whole place was just vibrating. It was thrilling."
But as students changed over the years, the service also changed. Beckstrom recognized this shift and, with the help of a new group of students, this year changed the Wednesday evening gatherings from the traditional Eucharist service to the more relaxed and intimate Sanctuary gatherings.
Beckstrom vividly remembers the week Bree Truax '96 visited campus and Sanctuary. Truax, who will be ordained this summer, was instrumental in starting the college's Eucharist gathering in 1994, the same year the Wartburg Chapel opened.
"I really thought Bree was going to think this was ridiculous. Here we are, with our 60 people, gathered in Chapel Commons, sitting on bean bags," he said. "But she agreed that this was exactly what we should be doing right now."
In 2008, Phyllis Tickle wrote in The Great Emergence that "every 500 years the empowered structures of institutionalized Christianity, whatever they may be, become an intolerable carapace that must be shattered so that renewal and growth may occur. Now is such a time."
Beckstrom calls it reformatting.
"Most people, in terms of looking at religion and culture today, would say we are at that time right now. There was a long time of stability in the church where, especially here in the U.S., you could just about assume that everybody was going to come from the same kind of faith background, where they would go to church on Sunday and that was just part of their civic life."
Today, that demographic is changing. Wartburg students are coming from more diverse backgrounds, and more and more of them do not have the same faith development or identity that young adults did 10 to 15 years ago.
Along with a guiding team, Bouzard and Beckstrom will soon complete a program review to help determine what Spiritual Life & Campus Ministry might look like in the coming years.
"We have to experiment. One of the big things we've learned from our meetings and our student focus groups is that religious faith is not disappearing," Beckstrom said. "If anything it may be becoming more important, but the way people are relating to it is changing, and we have to find how we adapt to that in ways that are faithful and innovative."