To say Kailas Kokare's '17 life has been difficult would be an understatement. He grew up in a shepherding family in a rural community in Pune, India. Neither his mother nor his father completed high school. When he was 1, while his mother was out fetching water for the family, he put his right hand in the indoor cooking fire, causing severe burns to his hands and wrist. A lack of appropriate wound care during the healing process caused his hand to fuse to the inside of his arm.
But Kokare finds only the good in all of his life experiences. He was sent to boarding school when he was 11. With the help of the Akshara Foundation, an organization that works to improve access to education in India, he eventually attended a United World College in Italy where he met Todd Coleman, Wartburg's assistant vice president for admissions.
He was drawn to Wartburg's campus and the helpful nature of everyone he encountered. The possibility of running on the cross country and track teams was a bonus for the small but athletic Kokare.
"I'm not really that fast now, but in the beginning, I was always dead last," said Kokare, who ran competitively in India but never experienced the training commitment of a collegiate athlete. "I didn't know anything about rigorous practices and workouts. I didn't even really know how long a mile was because I was used to tracking distance in kilometers."
His old track shoes weren't adequate for this new level of competition, but buying new running shoes wasn't in Kokare's budget. Though they hardly knew him, his teammates and then-head coach Steve Johnson stepped in and bought him a new pair of shoes so he could safely train and compete.
"It was really a blessed moment for me," he said of their generosity.
But it wasn't the only "blessed moment" he had in those first few months. When the weather turned cold, Johnson stepped up again, providing Kokare with a warm coat and clothes. He also was introduced to Peggy Hamilton, a woman he would come to think of as family.
"She was the first person to show me around the town. During breaks I would stay at her house. I've learned so many things from her," Kokare said. "We've gone mushroom hunting and on vacation. I've met her relatives and celebrated holidays and birthdays with them. She's like my mom in Waverly."
Hamilton takes her Friendship Family role very seriously. In addition to inviting Kokare along on day-to-day and special events, she regularly attends meets.
She's seen him take 12th at the conference championships, 14th at regionals, and 131st at nationals. He also earned All-Region honors in 2015.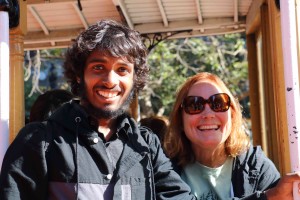 "I don't have any kids of my own, so having someone who looks for me and counts on me to be there is new for me," she said. "I think he has affected me more than I've affected him. Nobody will be able to replace him."
Kokare, who majored in peace and justice studies, philosophy, and international relations, wants to help build peace wherever he lands. He hopes to spend at least one more year in the U.S., working under the Optional Practical Training program for international students. He's also considering graduate school.
"I want to work with the United Nations or be an ambassador," he said. "There are a lot of ways to build peace, and I want to help."